UPDATE
ANOTHER CME:

On June 14th, for the second day in a row, sunspot AR1504 erupted and hurled a CME toward Earth. The fast-moving (1360 km/s) cloud is

expected to hit

our planet's magnetic field on June 16th at 14:00 UT, possibly sparking a geomagnetic storm. High-latitude sky watchers should be alert for auroras
THERE HAVE BEEN TWO M1 FLARES IN A ROW.
THERE IS A 60% CHANCE THAT THERE WILL BE MORE M-CLASS FLARES IN THE NEXT 24-48 HOURS.
----------------END UPDATE------------------
Here is your www.spaceweather.com space weather forecast...

Solar wind
speed:
375.3
km/sec
density:
3.1
protons/cm
3
Updated: Today at 0234 UT
X-ray Solar Flares
6-hr max:
C6
1926 UT Jun13

24-hr: M1
1319 UT
Jun13
Updated: Today at:
2359 UT

Daily Sun: 13 Jun 12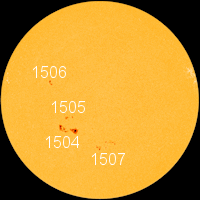 Sunspot 1504 poses a growing threat for
Earth-directed M-class solar flares. Credit: SDO/HMI
Coronal Holes: 13 Jun 12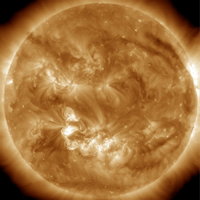 There are no large coronal holes on the Earthside of the sun. Credit: SDO/AIA.

SPACE WEATHER




NOAA Forecasts
Updated at: 2012 Jun 13 2200 UTC
The above has all been from www.spaceweather.com What will happen when the new coronal mass ejection glances Earth? Right now, there seems to be a quiet level of earthquake activity (as you can see from the pic below from the USGS). It should be interesting to watch this in the next few days to see if the magnetic disturbance from the geomagnetic storm that will hit with the CME will cause an increase in the pull on the Earth enough to cause some major earthquake activity.
Again, the above graphic is from the USGS site. Below, you will find more information on the incoming CME. This information is from www.spaceweather.com.
CME TARGETS VENUS, EARTH MARS: Active sunspot AR1504 erupted on June 13th at 1319 UT, producing a long-duration M1-flare and hurling a CME into space. According to analysts at the Goddard Space Weather Lab, the cloud will deliver a glancing blow to three planets: Venus on June 15th, Earth on June 16th, and Mars on June 19th. This animation shows the likely progression of the cloud: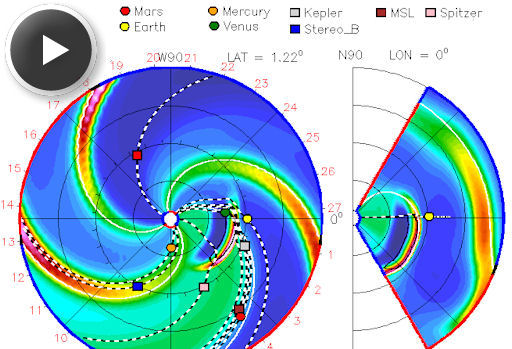 NOAA forecasters estimate a 25% - 30% chance of geomagnetic storms when the cloud reaches Earth. High-latitude sky watchers should be alert for auroras.