Interestingly, while the Sunspot activity has been pointed away from the Earth, the earthquake activity has calmed down to a scary low. I say "scary" because, as low as the earthquake activity has become, the pressure build up that may cause a rather large, if not a mega earthquake is much higher during this time.
Today, with the Sunspot activity turning Earthward bound, the seismic activity has slowly started to increase again. With all things in this solar system connected by magnetic and other energy forces, we are sure to see another phase of earthquake, weather, volcanic, and other activity.
Just for today, up to this point (12:51pm MST), here is the list of earthquakes, which, by-the-way, includes one large 6.7 quake...
source: USGS
Here is the current Space Weather data and forecast...
CHANCE OF FLARES: Sunspot AR1465 has developed a 'beta-gamma-delta' magnetic field that harbors energy for strong flares. NOAA forecasters estimate a20% chance of M-class eruptions during the next 24 hours. Because the active region is located on the Earthside of the sun, any flares from AR1465 will likely be geoeffective.


Even without a strong eruption from AR1465, ionization waves are already rippling through Earth's upper atmosphere. Dave Gradwell of Birr, Ireland, recorded a series of sudden ionospheric disturbances (SIDs) on April 27th: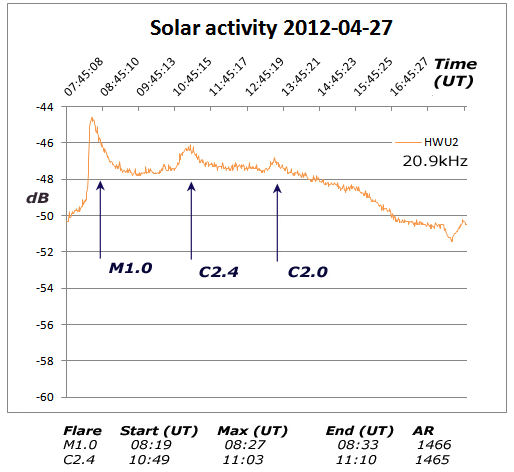 Low-level flares from several sunspot groups (especially 1465, 1466 and 1467) are strobing the atmosphere with ionizing radiation. Using a VLF receiver, Gradwell detected their effect on the propagation of radio signals transmitted from France. So far the disturbances have been relatively weak, but this could change if AR1465 unleashes a more potent eruption over the weekend. Solar flare alerts: text, phone.
To keep you aware of earthquake news, this is what has been reported today, April 28, 2012...
Southern California earthquake downgraded to magnitude 3.8
An earthquake that hit Southern California on Saturday morning was downgraded from a magnitude 4.1 to 3.8.
The quake, centered near the San Andreas Fault, was felt over a large swath of the region, according to the U.S. Geological Survey's "Did You Feel It?" website, including Northridge, Marina del Rey, downtown Los Angeles, Long Beach and West Hollywood.
But the strongest jolt was felt near the epicenter in Devore, about 60 miles east of downtown Los Angeles.
The temblor struck at 8:07 a.m. No damage or injuries were reported.
A 2.0 aftershock was reported nearby a short time later.
The San Andreas Fault is one of California's most active and potentially dangerous, capable of producing the catastrophic quake euphemistically known as as the Big One, seismologists say. Saturday's quake, however, was considered small.
Still No Earthquake Study by Well Operator
April 28, 2012
COLUMBUS, Ohio (AP) - The operator of a northeast Ohio deep-injection well tied to earthquakes in the area has yet to receive the state clearance it says is necessary to conduct independent seismic research aimed at proving the well wasn't the cause of the quakes.
Documents show D&L Energy in Youngstown sought state permission in February to re-open the shuttered well - after plugging it to a shallower depth - and then to measure the vibrations for its analysis. The Ohio Department of Natural Resources has yet to respond, in what could signal a permanent delay.
D&L closed the Youngstown well after a New Year's Eve quake reached 4.0 magnitude. The state then imposed a moratorium on deep-injection drilling near the site, halting regional disposal of millions of gallons of wastewater from hydraulic fracturing for natural gas or oil and other forms of drilling.
ODNR spokesman Carlo LoParo said Friday the state can't approve the request as long as the indefinite moratorium is in place.
A March 9 state report tied the well to the quakes and imposed new state regulations on deep-injection activity.
The state review pointed to previously unidentified fault lines under the well site, which reached 8,000 to 9,000 feet below ground, as the likely source of the quakes. Smaller tremblers had been occurring over the well's first year or so of operation, but it wasn't until back-to-back quakes on Christmas Eve and New Year's Eve that the issue grabbed widespread public attention.
D&L had said it would hire its own independent consultants to study the earthquakes, with the hope of disproving any link and getting the year-old well re-opened.
Company spokesman Vince Bevacqua said D&L is still waiting for the agency's guidance on its Feb. 28 letter.
In it, the company proposed procedures its consultants, Schlumberger Reservoir Group and Microseismic Inc., would undertake to plug North Star No. 1 in Youngstown to a shallower depth, re-start operations, and monitor for seismic activity going forward. The letter also addressed procedures at three other wells the company operates within a 7-mile radius.
Bevacqua said in an e-mail that the company's independent studies "would proceed contingent on ODNR's approval." He declined to interpret the delay as a bad sign for the well's future.
"D&L makes no assumption about ODNR's intentions and continues to work cooperatively with the agency pending the resolution of these matters," he said in an e-mail.
LoParo said that shouldn't stop D&L from seeking answers about the quakes.
"They can conduct a comprehensive review of their well regarding the activity that occurred in the past year, and all possible induced seismic activity, without state approval," he said. "It is their well, it is their property. If they want to analyze the geography surrounding the well, if they want to analyze the well itself, collect core samples, study previous injection, they're certainly free to go with that."
6.7-magnitude earthquake shakes islands in Tonga
NEIAFU, TONGA (BNO NEWS) -- A strong earthquake struck just off the Pacific island nation of Tonga on late Saturday evening, seismologists said, but there were no immediate reports of damage or casualties.
The 6.7-magnitude earthquake at 11:08 p.m. local time (1008 GMT) was centered about 78 kilometers (48 miles) west of Neiafu, a town on the island of Vava'u. It struck about 129.4 kilometers (80.4 miles) deep, making it an earthquake with intermediate depth, according to the United States Geological Survey (USGS).
The USGS said no damage was to be expected but estimated that some 123,000 people living on islands near the epicenter may have felt light to moderate shaking. Several residents on a nearby island confirmed they felt light shaking, but there were no immediate reports of damage or casualties.
Because earthquakes with a magnitude below 7 do usually not generate tsunamis, no tsunami alert was issued. "A destructive tsunami was not generated based on earthquake and historical tsunami data," the Pacific Tsunami Warning Center said in a bulletin.
Tonga is on the so-called 'Pacific Ring of Fire', an arc of fault lines circling the Pacific Basin that is prone to frequent and large earthquakes. Volcanic eruptions also occur frequently in the region, which is one of the most geologically active parts in the world.
Tonga, with a total population of around 104,000 people, is made up of 169 islands sprinkled over the Pacific Ocean about one-third of the way from New Zealand to Hawaii. Only thirty-nine of the islands are inhabited.
On September 29, 2009, an 8.1-magnitude earthquake struck 185 kilometers (115 miles) east-northeast of Hihifo on Tonga, unleashing large tsunamis that killed nearly 200 people and injured hundreds more in Tonga, American Samoa, Samoa, and other nearby islands.
Science
NASA to Test GPS Earthquake Monitoring Network for Disaster Response
The READI GPS network can accurately pinpoint details about larger earthquakes, which can help government agencies properly predict the tsunamis that follow NASA will test a new system for collecting information on earthquakes, which is intended for disaster response, across the western United States.
The new system is called the Real-time Earthquake Analysis for Disaster (READI) Mitigation Network, and it was created by researchers at Scripps at the University of California in San Diego, the University of Nevada in Reno, Central Washington University in Ellensburg, the University of California at Berkeley, UNAVCO in Colorado, and the California Institute of Technology/Jet Propulsion Laboratory in Pasadena.
These institutions used years of research from the likes of NASA, the National Science Foundation, the U.S. Geological Survey and the Department of Defense to make the network. In fact, these agencies along with federal and state partners are helping to support the READI network.
The READI network is based on global positioning system (GPS) data, which is capable of calculating important information of earthquakes such as location, fault rupture details and magnitude. READI aims to particularly target larger earthquakes with a magnitude of 6.0 and stronger.
There is great need for a system that can readily detect and monitor stronger earthquakes because it is currently difficult to obtain data such as location and magnitude using conventional instruments that simply measure ground shaking. By using the READI network, this data can be easily acquired on a strong earthquake and can then be used to calculate the strength of a following tsunami.
"Conventional seismic networks have consistently struggled to rapidly identify the true size of great earthquakes during the last decade," said Timothy Melbourne, director of the Central Washington University's Pacific Northwest Geodetic Array.
"This GPS system is more likely to provide accurate and rapid estimates of the location and amount of fault slip to fire, utility, medical and other first-response teams."
With better tsunami predictions, agencies like the U.S. Geological Survey (USGS) and the National Oceanic and Atmospheric Administration (NOAA) will be able to issue more accurate and timely warnings.
"With the READI network we are enabling continued development of real-time GPS technologies to advance national and international early warning disaster systems," said Craig Dobson, natural hazards program manager in the Earth Science Division at NASA Headquarters in Washington. "This prototype system is a significant step towards realizing the goal of providing Pacific basin-wide natural hazards capability around the Pacific 'Ring of Fire.'"
NASA will test the READI network this year using 500 stations throughout California, Oregon and Washington.
SOURCE: DAILY TECH.COM