AURORAS OVER THE USA:
A solar wind stream hit Earth's magnetic field during the waning hours of Saturday, Feb. 18th. Although the stream was expected, the bright auroras it produced were not. Northern Lights spilled across the Canadian border into several US states including
Wisconsin
,
Michigan
,
Nebraska
,
North Dakota
,
Iowa
, and
Minnesota
: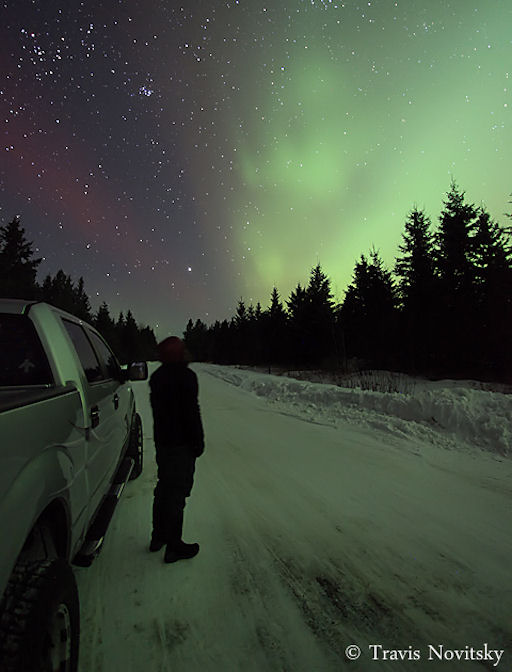 Travis Novitsky took this picture from Grand Portage, MN. "My girlfriend and I were just settling in to watch a movie when the auroras made a surprise appearance," he says. "A quick look out the back door of my house revealed that, yes indeed, the lights were out! For the next hour and a half we were treated to a green glow peppered with dancing curtains of green, purple and red."
In Nebraska--yes,
Nebraska
--"I saw
auroras
on and off for approximately 2 hours from around 9pm to 11pm local time," reports Chris Allington of Crofton, NE. "There was a brief spell where color was visible to the eye with rays and bands." Allington stitched together a series of 20s exposures to create
this movie
.
At the height of the display, researchers at the Poker Flats Research Range outside of Fairbanks, Alaska, launched a suborbital rocket to investigate how auroras affect GPS systems. Several photographers in the area caught
the rocket
flying
into the Northern Lights.
This episode might have been amplified by the action of a co-rotating interaction region or "CIR." CIRs are transition zones between fast and slow solar wind streams. Solar wind plasma piles up in these regions, producing density gradients and shock waves that do a good job of sparking auroras. Local solar wind data suggest that Earth moved through a CIR around 1500 UT on Feb. 18th.
Source:
SpaceWeather