BREAKING UPDATE:
Solar wind
speed: 643.2 km/sec.....THIS IS A LARGE INCREASE FROM EARLIER TODAY
density: 2.4 protons/cm3
explanation | more data
Updated: Today at 2345 UT
X-ray Solar Flares
6-hr max: M1
2150 UT May28

24-hr: M1
2150 UT May28
explanation | more data
Updated: Today at: 2359 UT
EXPLANATION OF SOLAR FLARE CHART AND HOW THEY RATE WITH EACH OTHER...
http://spaceweather.com/glossary/flareclasses.html
Space Weather News for May 28, 2011
http://spaceweather.com
GEOMAGNETIC STORM: A solar wind stream hit Earth's magnetic field on May 27-28, sparking a moderate geomagnetic storm and auroras in both hemispheres. At the time this alert is being composed (1500 UT on May 28), naked-eye Southern Lights are dancing in the skies over Tasmania and New Zealand. If forecasts are correct, geomagnetic activity should remain at elevated levels for the next 24 to 48 hours. Visit
http://spaceweather.com
for updates and images of the ongoing storm.
SOLAR ACTIVITY INTENSIFIES: The recently-quiet sun is waking up. New sunspots are emerging across the solar disk, and at least one of them is crackling with C-class solar flares. Even stronger eruptions appear to be in the offing. If you would like alerts notifying you of solar flares and magnetic storms the instant they happen, please consider signing up for Space Weather Phone:
http://spaceweatherphone.com
.
New subscribers may sign up for free space weather alerts at
http://spaceweather.com/services/
.
SOUTHERN LIGHTS: A solar wind stream is buffeting Earth's magnetic field, sparking Southern Lights around the Antarctic Circle. Ian Stewart sends this picture from a jetty near Hobart, Tasmania: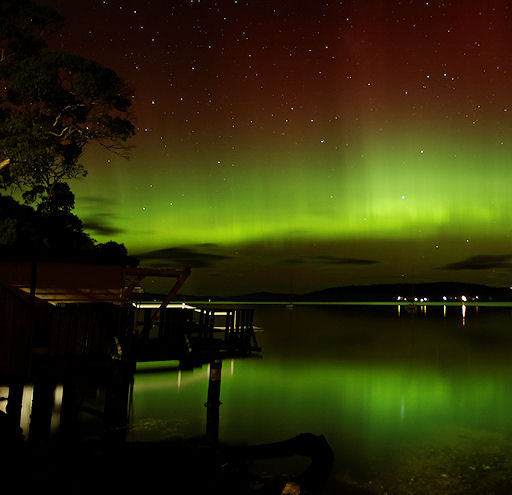 "Not long after sunset a friend rang to ask whether a faint arc of light crossing over the southern sky was an aurora. It was!" says Stewart. "This is the first time in the new solar cycle that I have managed to photograph the Aurora Australis. Previous events either have not been strong enough to view at 43o South, or have occurred during our daytime. Perhaps this is the beginning of a good aurora season for the southern hemisphere."
ALERT: The solar wind is intensifying and a moderate geomagnetic storm is in progress. High latitude sky watchers in both hemispheres should be alert for auroras.
Awesome Source:http://spaceweather.com/