North Korea may be preparing to test missile, South Korea says
SEOUL, South Korea –

A top South Korean national security official said Sunday that North Korea may be setting the stage for a missile test or another provocative act with its warning that it soon will be unable to guarantee diplomats' safety in Pyongyang. But he added that the North's clearest objective is to extract concessions from Washington and Seoul.
North Korea's warning last week followed weeks of war threats and other efforts to punish South Korea and the U.S. for ongoing joint military drills, and for their support of U.N. sanctions over Pyongyang's Feb. 12 nuclear test. Many nations are deciding what to do about the notice, which said their diplomats' safety in Pyongyang cannot be guaranteed beginning this Wednesday.
Tensions between Seoul and Pyongyang led South Korea's Joint Chiefs of Staff to announce Sunday that its chairman had put off a visit to Washington. The U.S. military said its top commander in South Korea had also canceled a trip to Washington. The South Korean defense minister said Thursday that North Korea had moved a missile with "considerable range" to its east coast, possibly to conduct a test launch.
His description suggests that the missile could be the Musudan missile, capable of striking American bases in Guam with its estimated range of up to 4,000 kilometers (2,490 miles).
Citing North Korea's suggestion that diplomats leave the country, South Korean President Park Geun-hye's national security director said Pyongyang may be planning a missile launch or another provocation around Wednesday, according to presidential spokeswoman Kim Haing.
During a meeting with other South Korean officials, the official, Kim Jang-Soo, also said the notice to diplomats and other recent North Korean actions are an attempt to stoke security concerns and to force South Korea and the U.S. to offer a dialogue. Washington and Seoul want North Korea to resume the six-party nuclear talks -- which also include China, Russia and Japan -- that it abandoned in 2009.
The roughly two dozen countries with embassies in North Korea had not yet announced whether they would evacuate their staffs.
British Foreign Secretary William Hague suggested that North Korea's comments about foreign diplomats are "consistent" with a regime that is using the prospect of an external threat to justify its militarization to its people.
"I haven't seen any immediate need to respond to that by moving our diplomats out of there," he told the BBC on Saturday. "We will keep this under close review with our allies, but we shouldn't respond and play to that rhetoric and that presentation of an external threat every time they come out with it."
Germany said its embassy in Pyongyang would stay open for at least the time being.
"The situation there is tense but calm," a German Foreign Office official, who declined to be named in line with department policy, said in an email. "The security and danger of the situation is constantly being evaluated. The different international embassies there are in close touch with each other."
Indonesia's foreign affairs ministry said it was considering a plan to evacuate its diplomats. A statement released by the ministry on Saturday said that its embassy in Pyongyang has been preparing a contingency plan to anticipate the worst-case scenario, and that the Indonesian foreign minister is communicating with the staff there to monitor the situation.
India also said it was monitoring events. "We have been informed about it," said Syed Akbaruddin, spokesman for India's external affairs ministry. "We are in constant touch with our embassy and are monitoring the situation. We will carefully consider all aspects and decide well in time."
Seoul and Washington, which lack diplomatic relations with the North, are taking the threats seriously, though they say they have seen no signs that Pyongyang is preparing for a large-scale attack.
Kim Jang-soo said the North would face "severalfold damages" for any hostilities. Since 2010, when attacks Seoul blames on North Korea killed 50 people, South Korea has vowed to aggressively respond to any future attack.
South Korean Joint Chiefs of Staff Chairman Gen. Jung Seung-jo had planned to meet with his U.S. counterpart, Gen. Martin Dempsey, in Washington on April 16 for regular talks. But tensions on the Korean Peninsula are so high that Jung cannot take a long trip away from South Korea, so the meeting will be rescheduled, a South Korean Joint Chiefs officer said Sunday. The officer spoke on condition of anonymity, citing office policy.
The top U.S. military commander in South Korea, Gen. James Thurman, will not make a planned trip to Washington this week to testify before Congress because of tensions with North Korea. In an email Sunday to The Associated Press, Army Col. Amy Hannah said Thurman would remain in Seoul as "a prudent measure." He was scheduled to testify on Tuesday and Wednesday.
The U.S. Defense Department has delayed an intercontinental ballistic missile test that had been planned for this week because of concerns the launch could be misinterpreted and exacerbate the Korean crisis, a senior defense official told The Associated Press.


Read more: http://www.foxnews.com/world/2013/04/07/south-korea-says-north-may-be-preparing-to-test-missile/#ixzz2PoRjOvIv

Test launch of a Minuteman 3 intercontinental missile next week delayed until next month to avoid exacerbating crisis
North Korea: experts call for dialogue – and say China must play a part
Washington postpones planned missile test as Switzerland offers to act as mediator with Pyongyang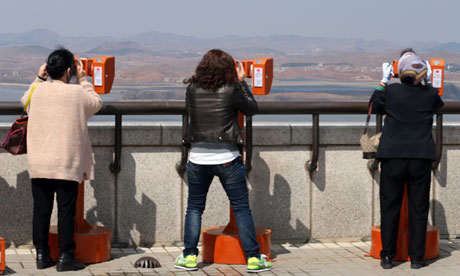 This 2.5-mile-wide strip of land is all that stands between about 1 million heavily armed troops ranged either side of the border between North and South Korea.
The atmosphere inside the demilitarised zone (DMZ), established after the 1950-53 Korean War ended in a ceasefire, mirrors the current state of cross-border relations: prolonged tension, occasional flare-ups, and a return to the status quo.
That precarious arrangement has prevented the two Koreas from going to war again, but it has failed to bring a real and lasting peace, say experts who believe the time has come for the US and its allies to consider a new approach to
North Korea
unthinkable just a week ago: dialogue.
On Sunday, Washington postponed a planned intercontinental missile test, giving encouragement to observers who have urged a more moderate tone in recent days. The initial high-octane response – which included flying B2 bombers over the peninsula– has only made a bad situation worse, so the current thinking goes.
"There has been a ratcheting down of deterrence gestures by the US, and that has helped cool the situation a little," said John Delury, a North Korea analyst at Yonsei University in Seoul.
Delury believes more aggressive diplomatic gestures could help ease the situation further, but only if the political will exists to begin even limited engagement with the regime. "This whole crisis has shown us how little we really know about Kim Jong-un, and we're not going to learn any more unless we talk," he said. "And talking isn't the same as backing down."
At the weekend, the South Korean media reported calls from both sides of the political divide in Seoul for the administration to send an envoy to Pyongyang to lay the foundation for talks.
A key new appointment in Pyongyang may have given the South an ideal negotiating partner: Pak Pong-ju, an economic reformer and pragmatist who became the North's premier last week. "He is someone everyone can work with, including
China
," said Delury.
There are clear signs that China's approach to its unpredictable ally is changing. It quickly signed up to UN sanctions after the North conducted its third nuclear test in February. Last week it voiced serious concern over the sudden escalation in rhetoric and urged calm on all sides.