UPDATE: 7-13-2012
X-Class Solar Flare, Strongest Kind, Erupts From Giant Sunspot 'AR1520'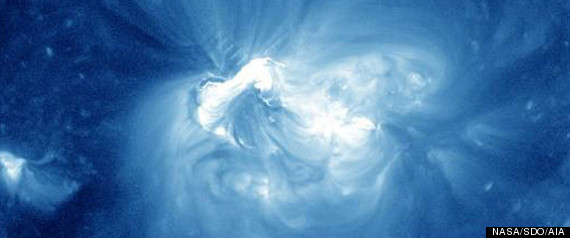 By: Tariq Malik
Published: 07/12/2012 02:36 PM EDT on SPACE.com
This story was updated at 5 p.m. ET.
The sun unleashed a huge flare Thursday (July 12), the second major solar storm to erupt from our star in less than a week.
The solar flare peaked at 12:52 p.m. EDT (1652 GMT) as an X-class sun storm, the most powerful type of flare the suncan have.
"It erupted from Active Region 1520, which rotated into view on July 6," NASA officials said in an alert. Active Region 1520, or AR1520, is a giant sunspot currently facing Earth.
According to NASA and the Space Weather Prediction Center (SPWC), which is operated by the U.S. National Oceanic and Atmospheric Administration, today's sun storm registered as an X1.4-class solar flare. It is more powerful than the X1.1 flare that erupted on July 6 from another giant sunspot known as AR1515, making this latest tempest the strongest solar storm of the summer so far.
The sunspot region AR1520 could be up to 186,411 miles (300,000 kilometers) long at its peak, solar astrophysicist C. Alex Young of NASA's Goddard Space Flight Center told SPACE.com. It is about 50 percent larger than last week's sunspot AR1515.
"It's quite extensive," Young said, adding that sunspots the size of AR1520 are normal as the sun nears its peak of its weather cycle in 2013.
But while sunspot AR1520 may sound like a solar behemoth, it is actually a relatively modest sunspot example, and promises more sun storms to come, Dean Pesnell, project scientist for NASA's Solar Dynamics Observatory, told SPACE.com.
"It's certainly not done. It's only halfway across the face of the sun right now," Pesnell said from the Goddard center in Greenbelt, Md., which oversees the sun-watching SDO mission. "We'll be able to watch it from the Earth for at least another week."
The SDO spacecraft captured a video of the huge X1.4 solar flare and is one of several spacecraft keeping a constant watch on the sun's weather cycle.
Because the solar flare erupted toward Earth, it sent a wave of charged particles toward our planet that could slightly amp up northern lights displays. It caused a strong radio blackout for some high-frequency communications systems, according to SWPC officials.
NASA and SWPC officials said the flare did trigger a huge eruption of solar plasma, known as a coronal mass ejection or CME, which is expected to reach Earth at 1 a.m. EDT (0500 GMT) on Saturday (July 14).Young said that an early analysis suggests the coronal mass ejection sent a wave of plasma toward Earth at a speed of 3.1 million mph (5 million kph or about 1,400 km per second). While it may spark a minor geomagnetic storm, power planets, satellites and astronauts need not worry, he added.
"At this point, I think the impact is going to be relatively minor," Young said.
X-class solar flares are the strongest type of storms that occur on the sun. When aimed at Earth, the most powerful X-class flares can endanger satellites and astronauts in space, interfere with navigation and communications signals, and damage power system infrastructure on our planet.
Today's solar flare marks the sixth X-class solar flare of the year. While it is the strongest yet of the summer season, which began in late June, it is not the most powerful sun storm of 2012. That title is currently held by a March event that unleashed an intense X5.4-class solar flare.
The sun is currently in the midst of an active phase of its 11-year solar weather cycle. The current cycle is called Solar Cycle 24.
Solar storm barreling toward Earth this
weekend
LOS ANGELES (AP) - A solar storm is racing toward Earth this weekend, but scientists say not to worry.
The blast of charged solar particles was due to arrive Saturday morning and shake Earth's magnetic field. Space weather forecasters say it will be a minor event and they don't expect disruptions to power grids or communications systems.
The storm began Thursday when the sun unleashed a huge flare that sent a stream of particles speeding toward Earth at 3 million mph.


update ended.......................................................end here..........................................................
X-FLARE! Big sunspot AR1520 unleashed an X1.4-class solar flare on July 12th at 1653 UT. Because this sunspot is directly facing Earth, everything about the blast was geoeffective. For one thing, it hurled a coronal mass ejection (CME) directly toward our planet. According to a forecast track prepared by analysts at the Goddard Space Weather Lab, the CME will hit Earth on July 14th around 10:20 UT (+/- 7 hours) and could spark strong geomagnetic storms. Sky watchers should be alert for auroras this weekend.
The explosion also strobed Earth with a pulse of extreme UV radiation, shown here in an image captured by NASA's Solar Dynamics Observatory: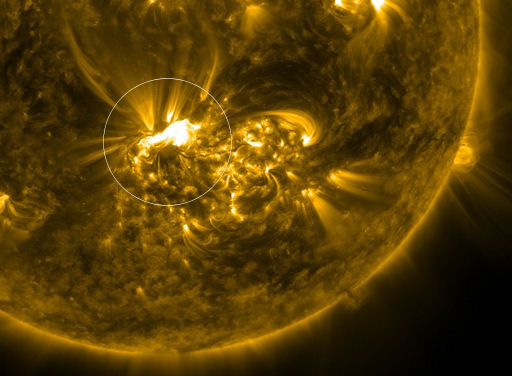 The UV pulse partially ionized Earth's upper atmosphere, disturbing the normal propagation of radio signals around the planet. Monitoring stations in Norway and Ireland recorded the sudden ionospheric disturbance.
Finally, solar protons accelerated by the blast are swarming around Earth. The radiation storm, in progress, ranks "S1" on NOAA space weather scales, which means it poses no serious threat to satellites or astronauts. This could change if the storm continues to intensify.

SPACE WEATHER

NOAA Forecasts
Updated at: 2012 Jul 12 2200 UTC
| | | |
| --- | --- | --- |
| FLARE | 0-24 hr | 24-48 hr |
| CLASS M | 80 % | 80 % |
| CLASS X | 35 % | 35 % |


source: http://spaceweather.com/
The Classification of X-ray Solar Flares
or "Solar Flare Alphabet Soup"
A solar flare is an explosion on the Sun that happens when energy stored in twisted magnetic fields (usually above sunspots) is suddenly released. Flares produce a burst of radiation across the electromagnetic spectrum, from radio waves to x-rays and gamma-rays. [more information]
Scientists classify solar flares according to their x-ray brightness in the wavelength range 1 to 8 Angstroms. There are 3 categories: X-class flares are big; they are major events that can trigger planet-wide radio blackouts and long-lasting radiation storms. M-class flares are medium-sized; they can cause brief radio blackouts that affect Earth's polar regions. Minor radiation storms sometimes follow an M-class flare. Compared to X- and M-class events, C-class flares are small with few noticeable consequences here on Earth.
This figure shows a series of solar flares detected by NOAA satellites in July 2000: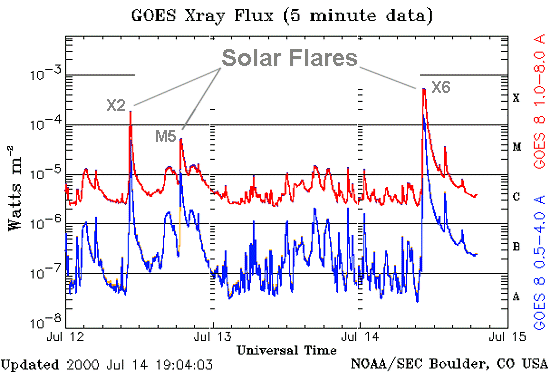 Each category for x-ray flares has nine subdivisions ranging from, e.g., C1 to C9, M1 to M9, and X1 to X9. In this figure, the three indicated flares registered (from left to right) X2, M5, and X6. The X6 flare triggered a radiation storm around Earth nicknamed the Bastille Day event.
Class

Peak (W/m

2

)between

 

1 and 8 Angstroms










B

I < 10-6









C

10-6 < = I < 10-5









M

10-5 < = I < 10-4









X

I > = 10-4
source: http://spaceweather.com/glossary/flareclasses.html


Solar X-ray Flux