UPDATE JUNE 14, 2012
I KNOW THAT WE ARE WORRIED ABOUT THE RADIATION LEVELS AROUND THE COUNTRY AND THAT THIS POST STARTED AS A POST ABOUT THE RADIATION LEVELS IN THE MICHIGAN/INDIANA. HOWEVER, WE HAVE OTHER THINGS TO WORRY ABOUT. LET'S FIRST LOOK AT WHAT IS HAPPENING AROUND THE GLOBE AND THEN LOOK AT THE U.S. MIND YOU, THINGS IN THE U.S. MAY BE IN PLANNING MODE FOR WHAT IS GOING ON AROUND THE GLOBE.
Iran steps up air and military exercise plans as nuclear talks loom
April 13, 2012 – IRAN – The Islamic Republic Army of Iran and the Revolutionary Guards are to conduct joint military exercises in the southwest or southeast of the country, a senior Iranian army commander said on Wednesday. Brig.-Gen. Ahmad-Reza Pourdastan, commander of the Iranian ground forces, said that the army and the Revolutionary Guards will carry out a special joint air exercise that will be the first of its type since the Islamic Revolution, Iran's ISNA news outlet and hardline Mashregh news reported. A further eight joint military exercises would be held in the upcoming year, Pourdastan said. The ground forces commander added that the exercises would be performed using live ammunition and in battle conditions, to prepare soldiers for war. The Revolutionary Guards and the Islamic Republic Army of Iran act as parallel ground forces, but while the regular army is tasked with defending the country and maintaining civil order, the job of the Revolutionary Guards is to protect Iran's Islamic regime. The Revolutionary Guards, which the U.S. designated a terrorist organization in 2007, also controls Iran's Basij militia, and the secret Quds Force, which conducts operations outside Iran. The announcement came days before Iran and six world powers are due to restart negotiations on Iran's nuclear program, and as the Islamic Republic continues to give mixed messages about its position. According to Pourdastan, who made the announcement during a speech for Iran's Army Day, the Islamic Republic has also developed its own vertical wind tunnel for military use. Vertical wind tunnels are used to teach skydiving to elite troops. The military commander said that while there are several such wind tunnels in Arab countries, those were of Western origin, whereas Iran's had been built domestically, in cooperation with the Self-Sufficiency Jihad Organization. Pourdastan also said Iran plans to improve its domestic- built Zulfiqar tank by adding a new firing control system and laser range-finder. –Jerusalem Post
UNITED STATES...
Fact Sheet: National Level Exercise 2012
Release Date: June 5, 2012
Overview
National Level Exercise 2012 (NLE 2012) is being conducted in accordance with the National Exercise Program (NEP), which serves as the nation's overarching exercise program for planning, organizing, conducting and evaluating national level exercises.
NLE 2012 is part of a series of congressionally mandated preparedness exercises designed to educate and prepare participants for potential catastrophic events. The NLE 2012 process will examine the nation's ability to coordinate and implement prevention, preparedness, response and recovery plans and capabilities pertaining to a significant cyber event or a series of events. NLE 2012 will also examine national response plans and procedures, including the National Response Framework (NRF), NRF Cyber Incident Annex, and the Interim National Cyber Incident Response Plan (NCIRP).
DHS has documented a three-fold increase in reported events on federal government networks over the past three years. This will be the first National Level Exercise that tests our existing protocols and addresses the challenges in preparing for and responding to a cyber incident that has virtual and real-world implications.
Participants in NLE 2012 include representatives from the federal, state, local, and territorial agency officials, nongovernmental and private sector organizations, and international partners.
NLE 2012 includes four main component exercises with common scenario and planning elements. These exercises began in March and will continue through June 2012.
Exercise #1: Information Exchange: Held in late March, this exercise brought together representatives from federal, state, and private sector partners, the Cyber Unified Coordination Group, and others to evaluate information sharing capabilities and build a cyber Common Operating Picture.
Exercise #2: National Tabletop Exercise: Held in late April, this exercise focused on evaluating the National Cyber Incident Response Plan.Participants tested the coordination, authorities, responsibilities, and operational capabilities among U.S. governmental entities, partner nations, and the private sector in response to a significant cyber event.
Exercise #3: Capstone Event: This event began on June 4 and lasts several days. It will address cyber and physical response coordination among a variety of sectors.
Exercise #4: Eagle Horizon/ Continuity Exercise: This event will be held in late June and will evaluate the continuity capability of federal departments and agencies through a full-scale continuity exercise
Nuclear power regulators call for fewer immediate evacuations in an accident
Published: Thursday, May 17, 2012, 7:00 AM
The revamp is the first since the program began as a result of the Three Mile Island accident, the worst commercial nuclear accident in U.S. history. The revisions also eliminate a requirement that local responders always practice for a release of radiation....
Eric Epstein, head of the watchdog group Three Mile Island Alert, called the new rules "insane."
"We should be moving in the opposite direction," Epstein said. "We should increase the evacuation zone and have more frequent training sessions."
...Now, in a large, quick release of radioactivity, emergency personnel would concentrate first on evacuating people only within two miles. Others would be told to stay put and wait for a possible evacuation order later. Federal officials say residents could risk worse exposure in an evacuation impeded by overcrowded roadways or bad weather.
Those are the Nuclear Regulatory Commission's guidelines. State's rules unchanged ...Even Pennsylvania's more stringent standards are "inadequate," Epstein said. Epstein and others have been calling for the evacuation zones to be extended from 10 miles to 25.
"If the U.S. government instructed people to evacuate 50 miles from Fukushima, why can't Americans be afforded the same treatment?" Epstein asked. "Human behavior doesn't conform to statistical planning."
The U.S. government recommended that Americans stay at least 50 miles from the Fukushima plant. Soil and crops were contaminated for scores of miles around. At one point, health authorities in Tokyo, 140 miles away, advised families not to give children the local water.
Officials for FEMA and the NRC said they are still studying whether Japan's experience points to the need for further changes in the United States...
The new federal regulations retain the once-every-two-years requirement for coordinated training within 10 miles of a nuclear facility. But the frequency of coordinated training within 50 miles has been relaxed from once every six years to once every eight.
According to The Associated Press, none of the revisions has been questioned more than the new requirement that some planning exercises incorporate a reassuring premise: that no harmful radiation is released...
..."You need to be practicing for a worst case rather than a nonevent," said nuclear policy analyst Jim Riccio of the group Greenpeace...
At PEMA, Angell said, "We do a lot of other trainings," noting the agency had recently finished one with the radiological team at DEP....
The NRC changes also added training — state and community police will now take part in exercises that prepare for a possible terrorist assault on their local plant....
The Associated Press contributed to this report. SOURCE:http://www.pennlive.com/midstate/index.ssf/2012/05/nuclear_power_regulators_call.html
POSTED BY ABOVE VIDEO POSTER...
!!! INFO HERE, VID by Marygreeley1954,Copy COMPLETELY All Articles, Videos (Copy,Re upload), pdfs, To have more sources, Email All, Flood The Internet W/ Truth Only. Post To Truth Web /Blog Sites. " I PUT TOP INFO IN COMMENTS AREA"

*GOOGLE / YOUTUBE SEARCH TITLES, KEYWORDS..links tampered w/ in the past*

2) !! Alert!! Mass Arrests Of Illuminati, Politicians,....(NOTE NWO MEMBERS HAVE NOT BEEN REMOVED OUT OF LAW ENFORCEMENT, ETC. SETUPS, ARRESTS OF GOOD PEOPLE, ETC. STILL HAPPENING NOW -- WARNING MATERIAL ) UPDATED APR,.11, 2012 P.M. (ATT: WHITE HATS, WHITE DRAGON SOCIETY, ANONMYOUS, "AWAKENED "THINK TANK" MEMBERS, ......)

3) Jim Stone on Project Camelot Radio w/ Kerry Cassidy.(Full Ver.) 3/28/2012: http://www.youtube.com watch?v=MzQM6x-t8sw

4) (( "THE NET" Movie ( DO THE SAME TO NWO MEMBERS NOW As Was Done To Sandra Bullock's Movie Character )))

5) JAPAN-MAGNITUDES WORST THAN CHERNOBYL-DEATH-Pt. by Pt.-Dr. Helen Caldicot ! vid

6) "Japan--Exploded Nuclear Plant Uses MOX Fuel--Not Uranium! What is that? Just 2 MILLION Times WORSE than Uranium or Chernobyl's Meltdown (MOX FUEL FACTS AT BEGINNING--PLUTONIUM OXIDE & URANIUM OXIDE--DEATH - NO ANTIDOTE" - (1 lb. of plutonium, universally dispersed, would be adequate to kill every man, woman and child on earth -Dr. Helen Caldicott Top Nuclear Expert, Prof. Dr.)

7) THE "BIRTH CERTIFICATE" MAKES A PERSON PROPERTY OF THE CORPORATION (AMERICA) -- SINCE THE ACT OF 1871 / MARSHAL LAW / HOMELAND SECURITY ORGANIZATIONS ORDERED 425 MILLION .40 HOLLOW POINT / ORDERED 175 MILLION MILITARY .223 BULLETS, FEMA CAMPS IN FULL OPERARTION, GUILLOTINES ON AMERICAN SOIL, MORE..FROM TOP EX JESUITS, EX ILLUMINATI, ETC. ( MOTHER, WOMEN, FATHERS, MEN, GRANDPARENTS, ALL) ( ATT. WHITE HATS, WHITE DRAGON SOCIETY, AWAKENED "THINK TANK" MEMBER, ....)

8) EARTH'S CRAZY WEATHER, SUN'S EXTREME ACTIVITY, CME'S, EARTHQUAKES, WEIRD LOUD EARTH SOUNDS, SUN, MOON , STARS CHANGE OF POSITIONS, ETC. ..THE REAL REASONS WHY -- UPDATED APRIL 05, 2012 PM

9) Ascension Earth, Us, Our Sun & Our Solar System From 3D To 4D (5D)-" TOLEC (Draco, Hydra, Orion) Deep Underwater Massive Base ( D.U.M.B.S. -- Deep Underground Military Bases ) Secured (To Be Destroyed), 30 NUCLEAR GENERATORS SECURED, RADIOACTIVE FALLOUT NEUTRALIZED, CITY & SCOUT CRAFT REPAIR STATION SECURED, 10,000 Personnel / 3,200 High Ranking Personnel, Nibiru Has Been Redirected & Has Passed Far Above & Away From Our Solar System As Of March / 18 /2012- Reported Months Ago -- (No Harm To Be Done To Our Solar System ) ( WHITE HATS, WHITE DRAGON SOCIETY, ANONYMOUS, "AWAKENED THINK TANK MEMBERS", .....) UPDATED APRIL 11, 2012

12) + Critical Info -- AMERICA'S LEGAL SYSTEM, LAW ENFORCEMENT, GOVT., MEDICAL / DENTAL / PHARMACEUTICAL (U.N., W.H.O., A.M.A., A.D.A.,ETC.), MAIN STREAM MEDIA / NEWS, ..... EXPOSED -- THE REAL REASON WHY IT DOES NOT WORK FOR AMERICANS! (MESSAGE TO ALL WOMEN, MEN, TRUTHERS, FREEDOM FIGHTERS, OCCUPY AMERICA, ....)!!! A MUST READ AS USA IS NOW A NWO POLICE STATE UPDATED MARCH 28, 2012 PM / ( ATT: WHITE HATS, WHITE DRAGON SOCIETY, ANONYMOUS, ....)

13) ASCENSION (UPLIFTMENT) OF EARTH, Us, SUN, & OUR WHOLE SOLAR SYSTEM FROM 3D TO 4D (5D) — "AWAKENING TURBO CHARGER" — THE INFORMATION (SPARK) YOU NEED TO KNOW -- (PLEAIDEAN MESSAGE TO Us -- 2012)+ WHAT IS HAPPENING WITH THE SUN, CMEs, TECTONIC MOVEMENT (EARTH'S FAULTS MOVING), EARTH EXPANSION, WEATHER, CRITICAL INFORMATION YOU NEED TO KNOW NOW !!!( ATT: WHITE HATS, WHITE DRAGON SOCIETY, ANONYMOUS, ....) !!! INFO YOU HAVE BEEN SEARCHING FOR Updated 3 / 18 / 2012 A.M. 2ND

14) HOLY SEE (SS) MOST EVIL ORGANIZATION 15) JESUITS MOST EVIL ORGANIZATION 16) NAZI (SS) MOST EVIL ORGANIZATION 17) NWO MOST EVIL ORGANIZATION 18) ROMAN CULT MOST EVIL ORGANIZATION

15) DHS, ICE PURCHASES 450 MILLION .40 CAL HOLLOW POINT BULLETS & 175 MILLION MILITARY .223 AMMO

16) FEMA -- Secret Fascist Government - Wesdancin - ( Secret Budget, More Power Than the President, FEMA has the power to suspend laws, move entire populations, and arrest and imprison Americans, without any warrant, and detain them without any trial.

17) "Organizational chart of the Rothschild Occupational Government" - USA & WORLD Is Under U.C.C., (Cannon Law), Maritime law - We have no Constitutional Rights - Roithchild (NWO Elite) Created.
..............................................................
Emergency Response Exercise At Point Beach Nuclear Plant
By: Ed Walters Updated: April 17, 2012
(Two Rivers) WFRV Point Beach Nuclear Plant in Two Rivers is the site of a full-scale emergency response exercise on Tuesday.
Federal regulations require local and state government agencies to biennially demonstrate they can protect the health and safety of people potentially at risk in a 10 mile radius of a nuclear plant.
Lori Hucek, Kewaunee County Emergency Management Director, said about 100 employees and volunteers will take part in the April 17 exercise. Similar staff operations will occur simultaneously in Manitowoc County and Madison (where state government response is coordinated).
Local News Prairie Island nuclear plant experiences 'unusual event'
Posted:Mar 06, 2012, 11:16 am Updated:Mar 06, 2012, 1:33 pm By Brett Boese The Post-Bulletin, Rochester MN

RED WING — The Prairie Island Nuclear Generating Facility located six miles from downtown Red Wing experienced its second issue of 2012 on Tuesday morning.

Officials at the nuclear plant reported an "unusual event" at 6:24 a.m. after there was a decrease in water levels inside the Reactor Coolant System in Unit 2 during a scheduled refueling outage. According to a press release from Xcel Energy, there was no release of radioactive materials and there is no danger to the public or plant employees. Unit 1 remained online and fully operational.

Doug Neville, communications manager at the Minnesota Department of Public Safety, says that homeland security and emergency management personnel monitored the situation — which is the lowest of four emergency classification levels established by the U.S. Nuclear Regulatory Commission — but otherwise remained uninvolved.

A spokesman for Xcel said that it was "in the process of declaring (the alert) over" just before noon, though a second press release was not available as of 1 p.m.

Tuesday's situation comes almost exactly two months after the highest nuclear alert in Minnesota history was reported at Prairie Island after more than 500 gallons of chlorine bleach was spilled after a PVC pipe burst. The January 5 incident was classified one level higher than Tuesday's "unusual event."

Though no one was injured during either emergency, it has raised concern among some local public officials. After the bleach spill, Red Wing city council member Mike Schultz urged the community to begin conducting live drills, including evacuation, to be better prepared in the event of a more serious emergency from Prairie Island.

A joint drill and nuclear response exercise between Red Wing and Goodhue County is currently scheduled every other year; the next drill will take place in May, while the exercise is planned for June. Discussions for an expanded procedure remain in their infancy, according to Red Wing city council member Lisa Bayley.

But Goodhue County emergency management director Diane Richter says it might be headed in that direction.

"We take everything that happens at the plant very seriously, but I think this could spur it into action a little quicker," she said.
SOURCE:
http://postbulletin.com/news/stories/display.php?id=1489149
THERE IS MORE IN THE UNITED STATES...MUCH MORE. HOWEVER, I COULD NOT FIND ANYTHING REGARDING MICHIGAN OR INDIANA. I AM SURE THAT THEY HAVE ZIPPED THE LIPS OF EVERYONE INVOLVED.
-------------------------end update-----------------------------------------
more information you NEED to know...
more and more interesting as I dig further...
Updated: 1:05 PM Jul 19, 2011
Michigan Officials Say State is Prepared for Radiation Disaster
Michigan officials say the state is prepared to handle radiation emergencies. Nuclear experts say what happened in Japan simply isn't going to happen here.
Posted:
10:05 PM Mar 15, 2011
Reporter:
Alex Goldsmith
Email Address:
alex.goldsmith@wilx.com
Michigan relies heavily on nuclear power. Department of Energy figures show that more than a quarter of electricity generated in Michigan comes from the state's 3 nuclear power plants and 4 reactors.
The ongoing crisis at Japan's Fukushima plant is bringing that source of power into question.
Here at home, a recent study published by the American Medical Association shows that the majority of US states are simply not prepared to handle radiation emergencies. In a nationwide survey, many state officials say they would defer to federal expertise and personnel if such a situation were to arise.
That's not the case in Michigan according to representatives with the Department of Community Health (MDCH) and Michigan State Police. Those two organizations as well as several other state agencies, including the Departments of Agriculture and Environmental Quality, all have plans in place in case there was ever a radiation problem either at a nuclear reactor or otherwise.
In fact, state officials conducted nuclear preparedness drills just two weeks ago at the Cook plant in southwest Michigan.
The MDCH has had a program since 2009 that pays for potassium iodide pills, which are designed to minimize thyroid cancer risks during radiation emergencies, for anyone who lives within ten miles of a nuclear reactor.
Even so, nuclear engineering professors at the University of Michigan say the safety systems at Michigan's nuclear plants are top notch.
"Our systems, the operators are trained, there are systems in place where we can operate the critical systems of the plant and cool the plant, even if there's a total blackout," said William Martin, a nuclear engineering professor at the University of Michigan.
And even in the worst case scenario, the type of uranium being used in these plants cannot cause an explosion similar to the one seen in the infamous Chernobyl incident.
"It's just not possible for these reactors, water-cooled reactors, to gain criticality again," said John Lee, a nuclear engineering professor at the University of Michigan. "It's just not physically possible."
Conditions similar to those in Japan aren't likely to exist either. The tsunami equivalent for Michigan's lakes is known as a seiche and the highest recorded waves for Lake Michigan are 10 feet, well short of the 30 foot tsunami surges that battered the coast of Japan.
The strongest earthquake ever recorded in Michigan was a 4.6 back in 1947. For reference, that's 20,000 times less powerful than the 8.9 magnitude earthquake that shook Japan last week.
Published on Jun 9, 2012 by ZZZHIYA June 5, 2012....I listened to the helicopters which were very loud. I then realized I should film the noise even if there was no video. It was a pitch black night. At first you will hear the sound of chimes...I hit against the wind chimes on the way out of the door. By the time I started to film this, the sounds were not as loud. It had sounded like a war zone. ..a facebook post said there is a military cover up concerning a radiation release and homeland security covering it over with some helicopter manuevers etc. I really wondered at the time why so many helicopters would be out in a pitch black night...I assumed they are not medical, but military. People heard loud explosions before Memorial Day...some think in Battle Creek, others think it centered around Union City. There are rural paramilitary groups and there is the military center in Battle Creek. So...who knows? If Fukushima fall out won't kill us, we can always rely on the people that play at war and war games, eh? There was also a faint metal smell in the air. Thoughts went through my mind of chemical releases to control populations. I closed the door, and went back to sleep. I could probably sleep through a Blitz when I am really tired. If anyone has a clue about what is going on in southern Michigan, please leave comments. Thank you.
---------------------end update-------------------
Nuclear Cover-Up: Explosions, Military Helicopters Filmed Near Blacked Out Radiation Zone
Fri Jun 08 2012 02:01
Eyewitnesses on the ground near the media-blacked-out elevated radiation zone near the border of Indiana and Michigan, where radiation levels hundreds of times higher than normal were quickly

removed from public viewing

by the EPA, are now sending in a large number of photos and videos documenting massive explosions accompanied by

unmarked helicopters, A-10 Thunderbolts, and military personnel

. These reports come after a Department of

Homeland Security

hazmat fleet was sent out to the location after 'years' of inactivity.
Those on the ground report that the explosions are 'loud and deep', sounding like fireworks with a kick. The explosions are oftentimes followed up with a squadron of helicopters or other aircraft, oftentimes black and unmarked. One Michigan resident reportsthe following, and is then backed by dozens of organic comments which confirm the findings:
"EXPLOSIONS EVERYWHERE! Also, Large helicopter heading away from Local Air Force base flying toward scene of explosions! These explosions are seriously consistant, loud booms for the last hour or more."
After generating much interest, the poster was able to capture some of the explosions on tape. While he would be the first to do so, many more videos began to pop up recording both the explosions and the onset of military aircraft flying through the area into the radiation zone. You can view the video below and hear the explosions for yourself:
Further comments went on to document the increased presence of unmarked choppers and strategic military aircraft. A number of photos have begun to surface from eyewitnesses in the tri-state area of the event, reporting that the helicopters and other crafts were traveling towards the center of the incident. Some pictures are shown below: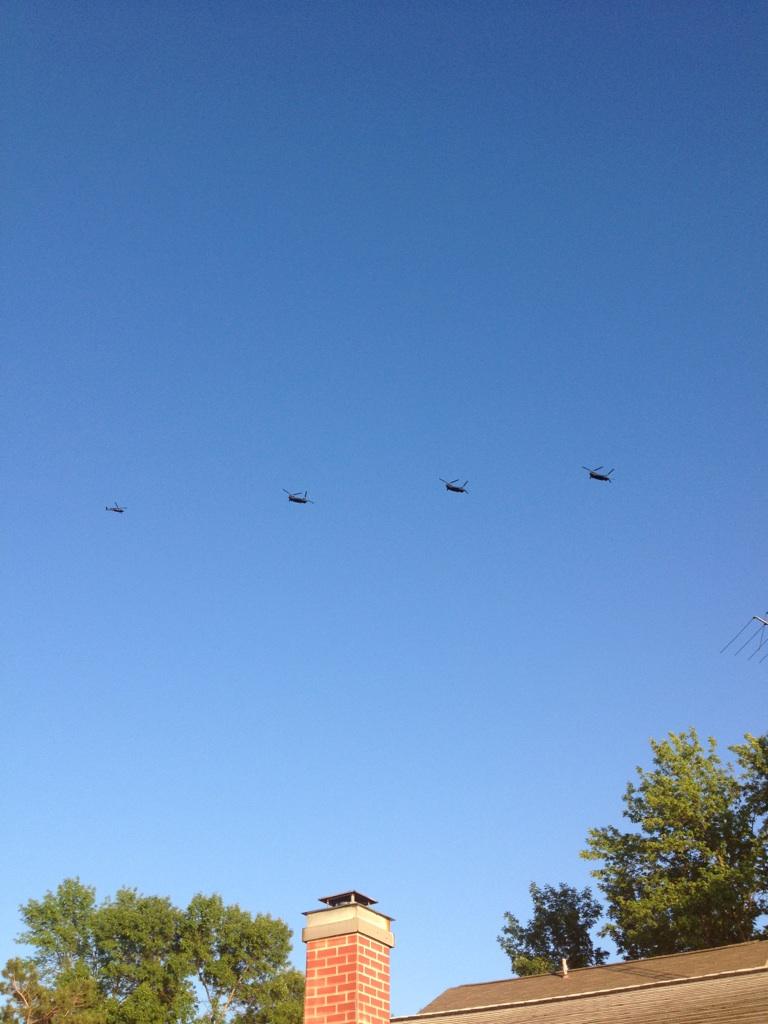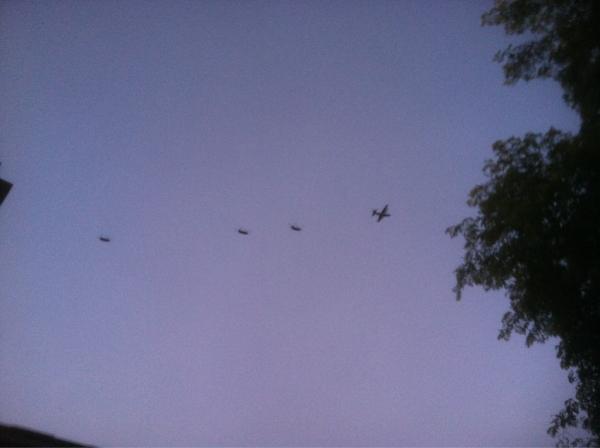 Thousands of comments on articles, discussion boards, and twitter posts are surfacing regarding this event. Explosions are still reportedly being heard in rapid secession, often a large number over the course of only a few seconds.
source: http://beforeitsnews.com/story/2236/320/Nuclear_Cover-Up:_Explosions,_Military_Helicopters_Filmed_Near_Blacked_Out_Radiation_Zone.html
Breaking: Major Nuclear Base Running 'Containment Exercise' Amid Censored Radiation Spikes
Anthony Gucciardi
NaturalSociety
June 8, 2012
Amid a number of reports of massive and bizarre radiation readouts coming from experts, eyewitnesses, radiation facilities, and a key choice news outlet, it has now come out that one of the largest nuclear bases is currently running a 'nuclear containment exercise'. The Minot Airforce Base exercise, running in North Dakota, reportedly involves the use of B-52 aircrafts. The news comes after a developing story arose over the potential cover-up of a nuclear situation stemming from near the border of Indiana and Michigan.
Sources from near where the elevated levels of radiation were observed say that a Department of Homeland Security 'hazmat' fleet has been dispatched after 'years' of inactivity. The story first erupted after online geiger readings showed an unprecedented radiation spike in the area, with levels reaching as high as 7.139 counts per minute (CPM) over the average of between 5 and 6. While there has been no official reported cause of the spike, there has been quite a bit of foul play regarding the information being put forth by many media outlets, the EPA, and even radiation measurement centers. After the readings shocked viewers, the EPA quickly censored the ability to view the levels online.
Thankfully, the readings were captured in a screenshot, which show the elevated levels far exceeding normal limits.
Measurements were recorded by a number of sources, though the growing publicity over the event has caused denial and censorship from not only the EPA but private organizations as well. The Radiation Network originally released an image showing an outburst in radiation levels stemming from the location, but later issued a special message on their home page stating that the readings were the result of an 'error'. This, of course, is virtually impossible as the readings were confirmed by two entirely different locations. BlackCat and the Radiation Network both recorded the levels, meaning that the likelihood both of their systems failed at the exact same time and produced the exact same result would be dismal.
As the story develops, more information will undoubtedly come out on the subject. It appears that the EPA's incognito takedown of the measurement results indicates that the agency, perhaps along with other government organizations, will vehemently deny that there was any real spike in radiation levels. The 'failure' message issued by the Radiation Network also shows that it is very possible that an organized level of non-disclosure may ultimately be the result until alternative media organizations continue to pry into the situation.
Read more: http://naturalsociety.com/nuclear-base-running-containment-exercise-radiation-spikes/#ixzz1xFbPQFcy
In a developing story that is raising concerns over a potential nuclear cover-up by the EPA, alarming amounts of radiation were reported near the border of Indiana and Michigan and later censored by the EPA online geiger tool.

The readings, which were captured in a screenshot, measured as high as 7.139 counts per minute (CPM). This is particularly startling, as the normal radiation levels are generally between 5 and 6 CPM. Sources say that a Department of Homeland Security hazmat team has now been dispatched after 'years' of inactivity.

A number of community reports have come in on the subject in fact, with readers of community boards and concerned citizens offering up some interesting and intriguing information regarding the potential radiation cover-up.

Discussion over the information first began to surface on Internet boards like Reddit and user-submitted news source Digital Journal. In the Reddit submission, which ultimately reached thousands of comments - many from those in the area who had contacted radiation monitoring stations and other affiliated individuals brought some further information to light.

One Reddit reader, an eyewitness who reportedly attends a nearby University shared some concerning information which quickly rose to the top and was later confirmed by accompanying comments.

According to the user, a large fleet of hazmat team members and reponse trucks funded by Homeland Security have been dispatched after years of inactivity. The comment, which has been screen captured for preservation, states:
The Digital Journal submission, however, was promptly edited and much of the shocking detail in the original post was wiped away. They quickly added an edit stating that the measurements must be false due to the fact that they were so high. Comments quickly cited the changes to be inaccurate and bizarre. One comment, currently at the top of the page, states:
As the comment mentions, a number of private organizations have recorded the radiation spike using their own methods to monitor the spike. One such measurement coming from the Radiation Network in Fort Wayne, recorded a massive increase in radiation as seen in the released image below:
Amid the publicity, most likely amounting to hundreds of thousands of visitors to Radiation Network's website regarding this image - which supports the fact that there is a massive and ongoing radiation cover-up - Radiation Network then issued a quick message on their homepage stating that they must have experienced an error in their system.

Additional findings however, which are now censored to the public, confirm the findings once displayed by the Radiation Network. Again, you can view the original numbers in the screen capture showing the results before they were terminated from viewing by the EPA.

Therefore, to add even more credibility to the spike being much more than an unforeseen error, the increase was actually measured from two entirely different and privately owned locations (BlackCat and the Radiation Network). What this means is that the statements regarding the reading being nothing more than small fluke in the system appear to be quite impossible.
DTE Energy Fermi 2 nuclear reactor shutdown for a month
DTE Energy has shutdown its Fermi 2 nuclear power plant for refueling and maintenance work.
The Monroe News reports the shutdown is expected to last more than a month.
The company began reducing reactor power Sunday night and the plant stopped producing electricity early Monday morning, officials said.

Besides replacing about a third of the fuel in the reactor, the work will include upgrading the cables that connect the emergency diesel generators to the plant and upgrading the piping that supplies cooling water to the generators. The four big generators are designed to kick on to supply electricity to operator controls when there's a power outage at the plant.

New equipment also will be installed at the transmission switchyard to improve grid reliability.
DTE spokesman Guy Cerullo told the Associated Press more than 1,500 supplemental workers are in town for the work.It's the 15th refueling and maintenance shutdown at the plant since it began commercial operation in 1988.
Fighting the Legacy of Enrico Fermi
WEEKEND EDITION APRIL 6-8, 2012
The Enrico Fermi Nuclear Generating Station is also home to Fermi 2, our Fukushima on the Great Lakes. As Kevin Kamps of beyond Nuclear recently stated, "Fermi 2 in Monroe, Michigan is the largest Fukushima Daiichi identical twin reactor in the world, and without electricity the storage pool will begin boiling away within four hours and twelve minutes, according to Detroit Edison documents," said Kamps. "The potentially catastrophic reactor and radioactive waste risks at Fermi 2 could harm the entire Great Lakes and beyond," he added. This GE Mark 1 reactor was built with design flaws documented by whistleblowers back in the early 1970s and the construction of the Fermi 2 reactor itself leaves grave questions as to how its spent radioactive fuel rods are being and will be monitored and contained safely. In 1976 Gregory C. Minor, Richard B. Hubbard, and Dale G. Bridenbaugh blew the whistle on safety problems with nuclear reactors designed by General Electric. The three resigned from their jobs after becoming increasingly convinced that the nuclear reactor design they were reviewing — the Mark 1 — was so flawed it could lead to a devastating accident.
The concerns that these whistle blowers brought up have been brought to catastrophic light over the past year with the ongoing crisis at the Fukushima reactors in Japan. "The problems we identified in 1975 were that, in doing the design of the containment, they did not take into account the dynamic loads that could be experienced with a loss of coolant," Bridenbaugh told ABC News in an interview. "The impact loads the containment would receive by this very rapid release of energy could tear the containment apart and create an uncontrolled release."
Long time antinuclear watchdog and observer of the Fermi 2 reactor Michael Keegan points out several current areas of concern with this Fukushima clone. Foremost of his concerns is the situation with the spent fuel pool. "Because Fermi 2 has done several re-racks and by 2015 the spent fuel pool will contain twice the rods it was designed for (4600 vs 2300 design), at that time a loss of Spent Fuel Pool circulation would lead to a boil off beginning in 4.2 hours. Detroit Edison contends that they have water that could be pumped at a faster rate than the boil off. How long that could last if the station was in a black out, with loss of emergency diesel generators? Spent Fuel Pool boil off can lead to the spontaneous combustion of the zirconium casing of fuel rods and a catastrophic release of radioactivity."
Keegan's thorough evaluation of NRC documents pertaining to the Fermi 2 reactor details numerous mishaps and safety issues that have occurred with the plants operation since it went on line in 1988. In the summer of 2010 a tornado damaged the facility and forced the plant to shut down. The building housing the plant's safety equipment was damaged and there was a loss of power at the plant. The plant had to depend on its Emergency Diesel Generators at this time.
With 500 tons of spent fuel in a spent fuel pool located 5 floors above the ground at Fermi 2, there is another inconceivable and highly concerning problem facing the safe operation of the facility. Welds in the original blueprints from 1970 that were supposed to be built in to bolster vertical beams connecting the walls to the floors were never built in. According to Keegan, "So in 2010 discovery of missing welds that appeared on 1970 blue prints prevented the procedure of lifting the 125 tons of spent fuel bundles from the 5th floor down to ground with the crane. The floors and ceilings could not bare the load of the crane because welds were missing on the vertical beams. The crane is rated at 125 tons."
Fermi 2 Power Plant Back in Service Following Successful Refueling Outage
NEWPORT, Mich.

,

May 5, 2012

/PRNewswire/ -- The Fermi 2 Nuclear Power Plant returned to service today when operators synchronized the plant to DTE Energy's electrical system, following a safe, successful refueling and maintenance outage that began

March 26

. Currently operating at about 25 percent power, the plant will gradually increase to full power over the next several days.
"The Fermi 2 team completed an enormous amount of work during the outage, while always keeping safety as the top priority," said

Jack Davis

, senior vice president and Chief Nuclear Officer. "This maintenance work will help us to continue sending clean, safe energy to our customers in southeast

Michigan

."
More than 1,400 supplemental workers were at Fermi 2 to support the large amount of work. Many of those workers were from the local southeast

Michigan

area. The work generated significant economic support for the local economy, through the purchase of goods and services in the area by the supplemental workers, as well as Fermi 2's purchase of local and

Michigan

-based goods and services.
Besides replacing about a third of the fuel in the reactor, Fermi 2 workers performed more than 15,000 separate activities – including inspections and equipment maintenance activities. Some significant jobs included upgrading the cables that connect the emergency diesel generators (EDGs) to the plant and upgrading the piping that supplies cooling water to the EDGs. In addition, new equipment on the transmission switchyard was replaced, to improve grid reliability.
"These are long-term reliability improvements for our facility that will help us continue to operate the plant safely and efficiently for years to come," said

Joseph Plona

, Fermi 2 site vice president.
Fermi 2, a 1,140-megawatt nuclear power plant, is owned and operated by Detroit Edison, a subsidiary of DTE Energy. DTE Energy (NYSE: DTE) is a
Detroit
-based diversified energy company involved in the development and management of energy-related businesses and services nationwide. Its operating units include Detroit Edison, an electric utility serving 2.1 million customers in
Southeastern Michigan
, MichCon, a natural gas utility serving 1.2 million customers in
Michigan
and other non-utility, energy businesses focused on gas storage and pipelines, unconventional gas production, power and industrial projects, and energy trading. Information about DTE Energy is available at dteenergy.com and at twitter.com/dte_energy.
FEMA Camps: 3 Million Americans Live in Nuclear Plant Danger Zones
Over at the Nuclear Energy Institute website, information on who is initially responsible for emergency plans including 'shelter' if there's a nuclear plant accident.

Nuclear Energy Institute:
Federal law requires that energy companies develop and exercise sophisticated emergency response plans to protect public health and safety in the event of an accident at a nuclear power plant

. The U.S. Nuclear Regulatory Commission approves these plans. In addition, the NRC coordinates approval of these plans with the U.S. Department of Homeland Security/Federal Emergency Management Agency's RadiologicalEmergency Preparedness Program (REPP), which has the lead role in emergency planning beyond the nuclear plant site. An approved emergency plan is required for the plant to maintain its federal operating license.
* Every nuclear power plant is designed, constructed and managed to prevent radioactive releases, even in the event of natural disasters, operational accidents or terrorist acts. A variety of measures work together to protect public safety: the design and safety features built into the plant; the multiple layers of physical barriers that protect the reactor; and highly trained, federally certified professionals who operate the plant safely and know how to respond in the event of emergencies.
* The U.S. Environmental Protection Agency and the NRC, with input from several other federal agencies, determined that a 10-mile emergency planning zone (EPZ) is appropriate to protect public health and safety in the event of an accident at a nuclear power plant. The federal task force also established a 50-mile zone to protect the public from exposure to radioactive materials through consumption of food, milk and water should such an event occur.
* A nuclear plant's emergency planning zone must provide protective measures, such as sheltering, evacuation and consideration of distributing potassium iodide to communities within the 10-mile EPZ.
* Each nuclear plant site must test its emergency plan every two years in a coordinated exercise with local and state government agencies. The NRC evaluates the performance of the company's plan. REPP evaluates the emergency plans of towns and cities near nuclear power plants. If the NRC or REPP has concerns about the adequacy of emergency preparedness, the NRC could suspend plant operation until these concerns are resolved.
Currently at the FEMA website, information on what the estimated three million Americans need to know if there is a nuclear power plant accident in their area. Three million Americans who live within ten miles of a nuclear power plant. The potential of a nuclear power plant accident, and not a 'mishap', which could contaminate up to a 50 mile radius. Those within a ten mile radius, 'direct radiation exposure'.
Here's what FEMA admits on their website about the possibility of a nuclear power plant accident and the number of Americans who live in a nuclear power plant accident danger zone:
Nuclear power plants use the heat generated from nuclear fission in a contained environment to convert water to steam, which powers generators to produce electricity. Nuclear power plants operate in most states in the country and produce about 20 percent of the nation's power. Nearly 3 million Americans live within 10 miles of an operating nuclear power plant.
Although the construction and operation of these facilities are closely monitored and regulated by the Nuclear Regulatory Commission (NRC), accidents are possible. An accident could result in dangerous levels of radiation that could affect the health and safety of the public living near the nuclear power plant.
And,
Local and state governments, federal agencies, and the electric utilities have emergency response plans in the event of a nuclear power plant incident. The plans define two "emergency planning zones." One zone covers an area within a 10-mile radius of the plant, where it is possible that people could be harmed by direct radiation exposure. The second zone covers a broader area, usually up to a 50-mile radius from the plant, where radioactive materials could contaminate water supplies, food crops, and livestock.




The potential danger from an accident at a nuclear power plant is exposure to radiation. This exposure could come from the release of radioactive material from the plant into the environment, usually characterized by a plume (cloud-like formation) of radioactive gases and particles. The major hazards to people in the vicinity of the plume are radiation exposure to the body from the cloud and particles deposited on the ground, inhalation of radioactive materials, and ingestion of radioactive materials.




Radioactive materials are composed of atoms that are unstable. An unstable atom gives off its excess energy until it becomes stable. The energy emitted is radiation. Each of us is exposed to radiation daily from natural sources, including the Sun and the Earth. Small traces of radiation are present in food and water. Radiation also is released from man-made sources such as X-ray machines, television sets, and microwave ovens. Radiation has a cumulative effect. The longer a person is exposed to radiation, the greater the effect. A high exposure to radiation can cause serious illness or death.
source: http://deathby1000papercuts.com/2010/12/fema-camps-3-million-americans-live-in-nuclear-plant-danger-zones/
--------------------------end update-----------------------------------------------
It has been reported that there was a shocking spike in radiation last night/this morning around the Indiana and Michigan area. Here is the updated information on that spike of radiation.
Here is a screenshot of the radiation action.
This is the disclaimer for the above chart...
"Note: Spikes or high readings do not necessarily indicate high radiation level readings. Stations are privately run and data accuracy is not guaranteed. If one station reads high but nearby stations show normal readings, then it was probably a glitch.

Remember that due to the random nature of radioactive decay, there is a lot of variation in the readings, the wide noise band you nee. This is completely normal. The variation is typically plus or minus 3 times the square root of the average value. So for a 16 uRem/hr reading, this is plus or minus three times the square root of 16 (which is 4), so plus or minus 12. That is, readings from 4 to 28 are "normal". Even occasional small excursions past this are possible."
source:
BLACK CAT SYSTEMS.COM
Here is a screenshot of the radar in the area.
There is nothing currently showing that is alarming on
RADIATION NETWORK.COM.
Here is the resulting messaging from
RADIATION NETWORK.COM
regarding the shocking increase in radiation....
Update: 6/6/12, 11:55 P.M.

- Very high reading in South Bend, IN station this evening. Reason unknown. Station unresponsive to contact at this late hour. Since this same station has triggered the Alert system before, which Alerts may have been false, and because his current readings do not appear to be corroborated by nearby stations, we have disabled his station for the time being. Will report back when we know more.
Update: 6/7/12, 7:45 A.M: - False Alert: The alert level reading last evening appears to be a false alert from an equipment malfunction. Here is the station's report:


"out of control readings on the GeigerGraph screen from about 11:30pm local time that occurred while sleeping. My apologies to all. I have no idea what caused this. Shut down GeigerGraph and restarted. Readings from the Geiger were in the normal range (the Geiger operates on A/C). All cable connections are tight and not loose. Am speculating between the GFI and USB Adapter and some sort of voltage spikes. The uninterruptable power supply UPS had lost power and had died - a tripped GFI. I am not going to leave the system running while not at home until I can determine and fix the problem."

By the way, a handful of stations on the Radiation Network feed simultaneously to the Black Cat Systems network, which explains why a high reading was showing on their network at the same time. But Black Cat works in uR/hr instead of CPM, so their radiation level was lower because of the conversion factor between units of measurement.
Do we believe the radar and two different radiation monitoring networks and what they show or do we go along with the message that there was a malfunction, which means that all three sources were wrong? It's a bit suspicious, however, I don't want to be an alarmist. I'll monitor the radiation rates for a while and see if it happens again. If it does, I may be more of an alarmist about it.
The following video shows information regarding the spike in radiation near Indiana and South Michigan.