TEXAS FIREBALL
:
After nightfall on Feb. 1st, a spectacular fireball appeared in the skies of eastern Texas and Oklahoma. As is often the case for unexpected night-sky phenomena, few pictures are available. The best so far comes from a police dash-board camera in the small town of Little River-Academy, TX: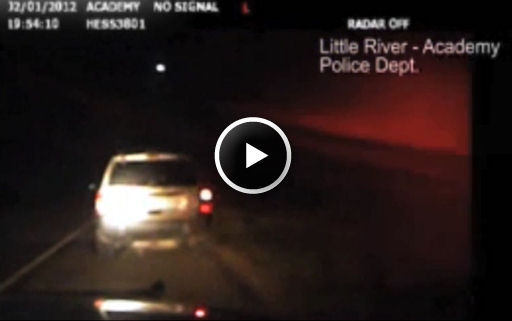 Eye-witness Daryn Morran reports: "At approximately 756pm CST, over Abilene, Texas, I saw an object falling from the sky much brighter and long-lasting than anything I've seen. [The fireball] lasted close to 8 secs before completely burning out. At first, it was bright white, and then started slowing down and getting brighter. Then it exploded like a firecracker artillery shell into several pieces, flickered a few more times and then slowly burned out... awesome!!!"
Another observer in Coppell, Texas, reported a "double boom heard at 8:00:30 CST. [The object appeared to be] 1/2 the size of the waxing moon, and broke into two major chucks with many smaller pieces. It had a 'white plasma' (sun-colored) look with a long golden tail." (This report was relayed by NWS meteorologist Joe Harrris in Frt Worth.)
According to Bill Cooke of NASA's Meteoroid Environment Office, this was probably a natural object--a small asteroid about the size of a car or bus--not a decaying satellite or other manmade space debris. The fireball, which disintegrated in the general vicinity of Dallas-Fort Worth, was bright enough to be seen on NASA cameras located in New Mexico more than 500 miles away. "It was about as bright as the full Moon (astronomical magnitude -13)," estimates Cooke, who is still analyzing data and sighting reports in hopes of calculating the object's orbit. He might yet figure out where the Texas fireball came from.
Source:
SpaceWeather
03 February 2012
Texas Meteorite Fall 1FEB2012 Target Area Narrows 2JAN2012
Texas Meteorite Fall 1FEB2012 Target Area Narrows
Above Area is the Narrowed Target Area
v.1 (c) 2012 LunarMeteorite*Hunter, Dirk Ross, Tokyo, Japan / Google Earth
All Rights Reserved - NO copy without prior written permission
drtanuki@gmail.com
I will be soon posting an ellipse map of the potential strewnfield. Check back.
Source: LunarMeteoriteHunters
February 2, 2012
Meteor seen over Texas, Oklahoma
HUNTSVILLE — Shortly after 7:20 p.m. Wednesday, people in two states looked to the sky to see a greenish streak of light that the Federal Aviation Administration has now said was a meteor.
FAA spokesman Lynn Lunsford said late Wednesday the agency received reports from people who saw the object as far north as Oklahoma City and as far south as Houston, and many sightings were from the Walker County area.
Lunsford told the Associated Press that FAA officials knew it wasn't an airplane people were seeing, and a meteor was the likely candidate.
More than 20 people took to the Item's Facebook page to report sightings on Wednesday. Julie Ashworth and daughter, Stormie, were driving to their home on Highway 30. When she pulled into her driveway, Ashworth said she saw a bright light over her home.
"I looked over and it looked really low. It was really bright," she said. "I thought it was a helicopter."
Ashworth said she woke her daughter, who thought the object was ready to land. The pair then decided it might have been a shooting star.
"It was rather slow to me," Ashworth said. "It wasn't going fast like a shooting star. It was really big. It started green then changed to red and sparks were flying off the back of it. I thought it must be an airplane or something. I didn't hear a boom or see anything. I didn't know what it was until I watched the news that night. It was pretty neat."
Richard and Nanette Nira were walking Wednesday night around 8 p.m. when they saw the object streaking across the sky.
"It was a decent-sized, fairly bright oval," Richard said, "low in the sky moving quickly from the northwest to the north. I've never seen anything like it."
Nanette said she thought the bright light above was a shooting star, but noticed something different about the light.
"I was going to tell him we have to make a wish, but it just kept on streaking across the sky," she said. "It wasn't exactly slow because we saw it go into the trees. It looked greenish/bluish to me."
Near FM 247 and FM 2821, James Gilhousen saw the object just before 8 p.m. while he was driving.
"Initially thought it was a plane going down as it looked to be on fire, with sparks coming off of it, but it was moving too fast to be a plane," Gilhousen wrote on the Item's Facebook page. "Not like any shooting star I've ever seen."
Source:
ItemOnline