Volatility shakes the Street
As investors get their first clear shot at repricing securities following the S&P downgrade of U.S. debt, stocks are steeply in the red. Oil also is washout, while gold hits highs. Treasurys paradoxically rise.
http://www.marketwatch.com/
Are we looking at a double-dip recession? What do you think?
Obama seeks to calm stock market in wake of debt-rating downgrade
U.S. President Barack Obama took to the airwaves today to try to calm a stock market set in turmoil by after market analysis firm Standard & Poor's downgraded the U.S.'s debt rating to AA+ from AAA.
Obama said that he was aware of the challenges facing the economy and the skepticism in the market about whether the country's debt problems will be solved.
"We have always been a triple-A country and always will be," Obama said.
He said the gridlock between Democrats and Republicans has not been constructive but that he is confident that "our problems are imminently solvable." He proposed that Congress now start working on tax reform and modifications to programs such as Medicare to bring down the debt further. He also proposed an extension in the payroll tax cut for another year. It will take "common sense and compromise," he said.
"My hope is that Friday's news will give us a renewed sense of urgency," he said.
The immediate reaction produced no uptick in the Nasdaq or the Dow.
Stocks: 'Sell first, ask questions later'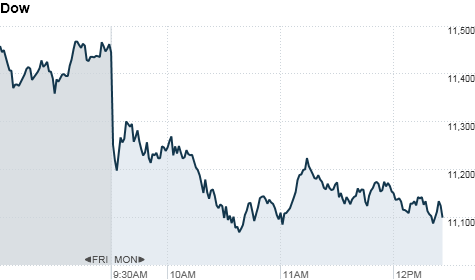 Click the chart for more market data.
NEW YORK (CNNMoney) -- U.S. stocks plunged sharply Monday, the first Wall Street reaction to the United States losing its coveted "AAA" credit rating.
All three major U.S. stock indexes were down between 3% and 4% in the first few hours of
trading, adding to brutal losses last week...
The Dow Jones industrial average (INDU) sank 338 points, or 3%; the S&P 500 (SPX) lost 46 points, or 4%; and the Nasdaq Composite (COMP) had dropped 100 points, or 4%.
http://money.cnn.com/2011/08/08/markets/markets_newyork/index.htm?iref=BN1&hpt=hp_t1
CNN Poll: Economic pessimism skyrockets
Washington (CNN) - Americans have a bad case of the economic jitters, as recent drops in the stock market have been accompanied by a sharp rise in the public's economic pessimism, according to a new national poll.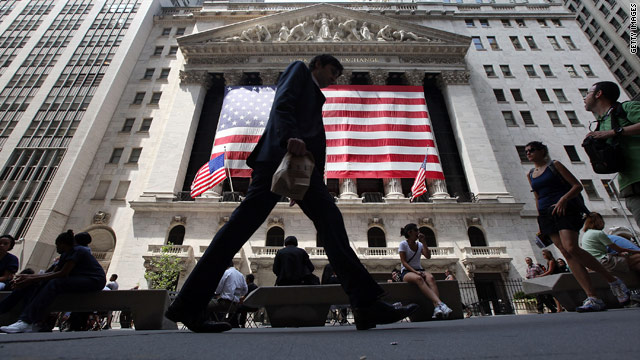 And a CNN/ORC International survey released Monday also indicates that the public is split on last week's agreement to raise the nation's debt ceiling, with more than six in ten saying the deal benefits the rich at the expense of the poor and middle class.

According to the poll, 60 percent now say that the economy is still in a downturn and getting worse. That's up 24 points from April, when a plurality believed that things had stabilized.
"Since the question was first asked in the spring of 2009, the number of Americans who said the economy was in a downturn had never been higher than 40 percent," CNN Polling Director Keating Holland said. "The jump in economic pessimism is across the board - a majority of every major demographic and political subgroup thinks the economy is in a downturn and getting worse."...
NYSE invokes rule for market open due to volatility
 NEW YORK, Aug 8 (Reuters) - The New York Stock Exchange and
NYSE Amex Cash Markets on Monday invoked a rule to smooth
trading at the market open, as futures pointed to a drop of
more than 2 percent.
 Rule 48 allows the exchange to suspend price indications
that help determine the floor price at the open during regular
sessions. Bypassing the requirement helps speed the beginning
of trading.
 Among the triggers for invoking the rule are "substantial
activity in the futures market before the open," according to
the exchange's website.
 S&P 500 futures SPc1 fell 28.2 points and were below fair
value, a formula that evaluates pricing by taking into account
interest rates, dividends and time to expiration of the
contract. Dow Jones industrial average futures DJc1 lost 248
points and Nasdaq 100 futures NDc1 dropped 48.75 points.
  (Editing by Jeffrey Benkoe)
http://www.reuters.com/article/2011/08/08/markets-stocks-rule-idUSWEN701720110808
Canada hits 12-month low
Toronto's main stock index fall to its lowest level in a year in response to downgrade of U.S. credit

.
http://www.marketwatch.com/
Greek regulator bans short-selling for two months
(Reuters) - Short-selling will be banned on the Athens bourse for two months starting August 9, Greece's stock market regulator said on Monday.
The Athens bourse index closed down 6 percent on Monday, a fall nearly twice as steep as that of European peers, dropping to a new 14-year low after the U.S. credit rating downgrade late on Friday and on concerns over the impact of an upcoming bond swap on Greek banks.
"The board of the capital market commission, after considering the urgent circumstances on the Greek market, has decided to ban short selling in listed
stocks
on the Athens bourse," the capital market commission said.
"The ban will be implemented tomorrow August 9 and for two months."
Analysts said the move could help reduce volatility in a market hit hard by the debt crisis.
"It was a necessary decision in a very difficult environment on the Greek stock market," said Costas Boukas, head of asset management at Beta Securities. "This decision will help the market by separating
'real investors' from speculators that invest short-term," he said.


South Korea Captures Asian Market Panic
SEOUL—For a case study on the fear and confusion that coursed through Asian markets on Monday, take South Korea. In line with many other markets in the region, the main Kospi stock index was down around 3% for much of the day. Then it fell off a cliff.
In less than an hour, beginning around 12:30 p.m., prices collapsed. The index plunged as much as 7.4%, prompting Korea Exchange to halt automated trading for five minutes. The exchange lets steam out of the market on volatile days by suspending automated trading by computers and suspends all trading if the market falls 10%.
Stocks Plunge Sends VIX Soaring
The Standard & Poor's stock market crash officially began Monday, sending risk premiums sharply higher as panicked investors sought shelter in the options market.
The price of defensive put options that offset falling stock prices rose sharply as the Standard & Poor's 500 Index lost almost 4% of its value in early trading.
Foreigners expected to dump stocks worth W2.4 tril.
Dealers from the Korea Exchange Bank monitor price movements at the bank's main office in downtown Seoul, Monday. Between Aug. 2 and 8 shares lost 302.86 points or 13.94 percent, prompting the main Seoul bourse to take an emergency break on Monday and the KOSDAQ market to halt trading for 20 minutes due to the steep plunge. / Yonhap

By Kim Da-ye

Korean shares have been falling at such a dramatic rate that the market doesn't know when it will stop. Between Aug. 2 and 8 shares lost 302.86 points or 13.94 percent, prompting the main Seoul bourse to take an emergency break on Monday and the KOSD
AQ market to halt trading for twenty minutes due to the steep dramatic plunge.
http://www.koreatimes.co.kr/www/news/biz/2011/08/123_92397.html
Europe stocks sink; Germany's DAX

drops 5%
Mining stocks, car makers, tech companies all drop heavily
LONDON (MarketWatch) — European stock markets ended sharply lower Monday as the first-ever downgrade of the U.S. credit rating sapped confidence in most sectors and sent Germany's blue-chip index down 5%.
S&P Downgrades Fannie and Freddie Credit Ratings, Other Agencies Tied to U.S. Debt
Published August 08, 2011
Standard & Poor's downgraded the

credit ratings of mortgage giants Fannie Mae and Freddie Mac Monday, expanding on its decision to downgrade U.S. debt in a market-roiling set of announcements.
President Obama is expected to discuss the first-ever downgrade at 1 p.m. ET. The White House has kept mostly silent since S&P made its decision public Friday night.
As lawmakers on both sides of the aisle look to assign blame for the downgrade, S&P announced a slew of other changes Monday. Among the lowered ratings are: farm lenders; long-term U.S. government-backed debt issued by 32 banks and credit unions; and three major clearinghouses, which are used to execute trades of stocks, bonds and options.
The downgrades mirrored the AAA to AA+ ratings drop given to the U.S. government.
S&P said the agencies and banks all have debt that is exposed to economic volatility and a further downgrade of long-term U.S. debt. Their creditworthiness hinges on the U.S. government's ability to pay its own creditors.
On a volatile day for Wall Street, stocks plunged further after the announcement. The Dow Jones Industrial Average fell nearly 300 points, or 3.2 percent. The S&P 500 stock index tumbled nearly 5 percent. Investors seeking safety drove gold prices up and Treasury yields down.
...
http://www.foxnews.com/politics/2011/08/08/sp-downgrades-fannie-freddie-credit-ratings/
Perhaps it's time for us to use our resources for preparedness such as food storage (the kind that you would rotate and regularly use), 72 hour kits, water storage, and other types of preparedness. With news like this today, the prices on the items we normally use are just going to increase. Let's prepare for the worst and hope for the best!