MYSTERY FOR SUDDEN HALT OF ANTHONY TRIAL SOLVED...
Defense Says Casey Anthony Not Competent to Continue Trial
Today's hearing started with the surprise revelation that Anthony's defense team had tried to halt her murder trial on Saturday by claiming in court documents that she is not competent to aid her own defense. They filed a motion for a competency evaluation Saturday morning which prompted an abrupt recess that until today had not been explained. Judge Belvin Perry said that over the weekend three court appointed psychologists evaluated Anthony. The reports concluded she was competent to continue.
The mystery behind an abrupt recess in the trial over the weekend was revealed this morning when court documents were released showing that defense attorney Cheney Mason filed for a motion Saturday to determine Anthony's competency. http://abcnews.go.com/US/casey-anthony-trial-jurors-smell-trash-trunk-reeked/story?id=13938488
JURORS SMELLED PIECES OF TRASH FROM CASEY'S TRUNK...
Jurors in the Casey Anthony murder trial were handed pieces of trash today to sniff.
The trash came from Casey Anthony's car, the car that prosecutors claim reeked of death from the decaying remains of her 2-year-old daughter Caylee. Defense lawyers argued the foul smell came from garbage left in the trunk.
Prosecutor Jeff Ashton asked the judge for permission to let the jurors smell for themselves, handing them a Velveeta box and other bits of garbage that had been found in Anthony's car in the summer of 2008.
...
Forensic and analytic chemist Kenneth Furton told jurors that there is "no instrumental method" that is scientifically valued for a chemical signature of human decomposition, a direct blow to
Vass
. Vass said that five chemical compounds including chloroform showed that there was human decomposition in the trunk.
...
Upon cross examination, an exasperated Ashton began taking out pieces of trash asking Furton if each piece of trash could have produced all five chemicals found by Vass. Furton said that not one of the products could have created the odor alone but could have contributed to it.
Casey Defense Files New Motion For Mistrial
Motion Cites South Florida Judge's Ruling
POSTED: 9:07 am EDT June 27, 2011

UPDATED: 4:15 pm EDT June 27, 2011
ORLANDO, Fla. --
Casey Anthony defense attorney Ann Finnell filed a motion for mistrial Monday morning based on a recent opinion from a Florida judge.
The motion asked that a new jury be seated in the case that is not death penalty qualified.
READ: Defense Motion For Mistrial


Read more: http://www.wesh.com/casey-anthony-extended-coverage/28367402/detail.html#ixzz1QW0XS6En
Will Casey Anthony Testify?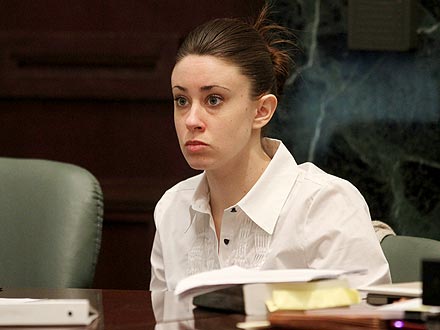 Red Huber/Orlando Sentinel/MCT/Landov
Since the beginning of the Casey Anthony trial – which on Monday entered its 40th day – nearly 50 people have testified, hoping to explain what happened on June 16, 2008 – the day that 2-year-old Caylee Anthony was last seen alive. Family, friends, law enforcement and expertshave each told their own version of events.
The result: The truth is still elusive, and it seems Casey Anthony may be the only person with answers.
But will she take the stand? Now that her family has begun defending her in open court, it seems more unlikely that Anthony – a known liar – will speak on her own behalf (even though, this weekend, it was determined she is competent to stand trial).
"The defense would be crazy to have her take the stand," says Orlando defense attorney Richard Hornsby, who is not associated with the Anthony case. "She would be torn apart during cross-examination."
The defense still needs to prove some claims: Namely, that Casey's father, George, repeatedly molested her as a child, and that he disposed of Caylee's body after she accidentally drowned. (George Anthony has already denied any wrongdoing.)
"They were very explicit in their claims. They were X-rated. And Casey is the only one who can establish some of those claims," says John Morgan, a prominent Orlando attorney. "She may be a convincing liar, but she is not credible."
"It looks like her family is taking the stand for her," says Hornsby. "But will it work? Cindy's testimony reminds me just of [defense attorney Jose] Baez's opening statement. It was great television, but once you sit back and process it, it doesn't make a lot of sense. I've seen it happen many times, when a loved one gets up to testify for a family member. Juries recognize the testimony for what it's worth. They'll want to hear from Casey."
If Casey Anthony does take the stand, the jury – and the world – will be listening. http://www.people.com/people/article/0,,20505756,00.html
Week 5: Anthony's defense works to weaken alleged ties to crime
Don't Forget The Innocent
by
YouNique1
Be a
t-shirt affiliate
with Zazzle.
Mark Lippman, attorney representing Casey Anthony's parents, told reporters at a press conference this week that his clients just want to know the truth.
"They have no idea what happened," Lippman said Thursday. "They just want both the state (prosecutors) and the defense to do their jobs."
The press conference was held after CNN's Gary Tuchman reported that Lippman told him that Anthony's parents don't think their daughter is innocent, but they also don't want her to receive the death penalty.
The defense team has argued that Anthony and her father, George Anthony, panicked on discovering the body and covered up her death, though George Anthony has denied that scenario. Caylee was not reported missing to police until July 15, 2008, when Cindy Anthony tracked down her daughter and demanded answers regarding Caylee's whereabouts.
Mother describes searches and swimming
Cindy Anthony testified on Thursday that she, not Casey, searched for "chloroform" on the Anthony family computer in March of 2008. She said she began by searching "chlorophyll," because she feared her dogs were getting sick from eating plants in the yard.
"Both the dogs would eat the bamboo leaves in the back so I started looking up sources from the back yard that could potentially cause her to be more sleepy," Cindy Anthony said. "I started looking up chloroform -- I mean chlorophyll and then that prompted me to look up chloroform."
http://articles.cnn.com/2011-06-25/justice/caylee.anthony.weekly.wrap_1_cindy-anthony-anthony-family-computer-george-anthony?_s=PM:CRIME
Casey Defense Preps For Possible Penalty Phase
Jail Records Show Anthony's Latest Jailhouse Visits
ORLANDO, Fla. -- While Monday marked Casey Anthony defense attorney Ann Finnell's first appearance in the courtroom since the trial began, jail records show she hasn't been a stranger to Anthony.
Don't Forget The Innocent
by
YouNique1
Browse other
Missing Bags
Finnell a death penalty-qualified attorney from Jacksonville, was not expected to appear at the trial unless Anthony is found guilty and a penalty phase becomes necessary.

Read more: http://www.wesh.com/casey-anthony-extended-coverage/28370853/detail.html#ixzz1QW6vZYCl
New Casey Anthony defense tactics midstream?
...On "The Early Show on Saturday Morning," criminologist Casey Jordan admitted she doesn't know what Casey's defense team is up to, adding, "I don't know whether anybody knows. We've been waiting and waiting and for Lee to take the stand. Four weeks ago, we heard in opening statements allegations by (Casey lawyer) Jose Baez that Lee was sexually inappropriate, molested his sister. Of course, (Casey's father) George was accused of the same, and already had the opportunity to deny it.
"When Lee was on the stand, we kept waiting for that question. And it never came. Instead, we get all of this emotional, this teary, 'My family didn't accept me, I was always excluded.' We got a lot of emotions we weren't expecting, and we didn't get the confrontational direct examination we were thinking we would see.
Any idea why?
"I think (Baez is) really striving to just hammer (away at) what a dysfunctional family this is. Why give Lee an opportunity to deny the sexual abuse allegations, because he would just say 'no.' Why not just use him to humanize the fact that this family is incredibly screwed up, so maybe the allegations are true? What else -- what huge secrets are going on in this family, especially between Lee and Casey, because they were both crying simultaneously. What's going on? Maybe it's something that could explain Casey's behavior."
Jordan says Cindy's testimony about searching for information on chloroform was surprising, as well, "because Cindy who, when under direct examination by the state, had come across as very credible, now comes across as a mother trying to save her daughter's life. Most people do not believe she was truthful. In her deposition from 2009, she had said she doesn't think she had done that. She isn't sure. Now she's claiming that she's taking medication that's helped her recover her memory. I don't think this is lost on the jury. Once Cindy's credibility is in question, that could actually backfire for the defense."
But, Jordan observed, the pool pictures "score one for the defense. It is now something graphic: little Caylee, getting into the pool, smiling, happy to be swimming. That is an actual visual that the jurors will take back with them in deliberations and really be thinking, 'Maybe she did climb the ladder. Maybe the ladder was left up. Maybe she did drown.' But that still does not explain why the so-called accident was never reported. That's the huge hurdle they really haven't overcome yet."
And Jordan said the odds of Casey testifying are getting worse by the day. "Dour weeks ago," Jordan recalled, "I said 100 percent. ... I've lost 20 percent each week as the trial's gone down.
"I think the defense has changed its strategy midstream. I think it's very unlikely she'll take the stand now. His credibility is so destroyed, better to just pretend that opening statement didn't happen; don't let her take the stand, because we've seen (Jeff) Ashton on the prosecution team, he will eat her alive if she ever gets up there."


Read more: http://www.cbsnews.com/stories/2011/06/25/earlyshow/saturday/main20074337.shtml#ixzz1QWAS7UEt