AURORAS INVADE THE USA: Earth's magnetic field is still reverberating from a CME strike on March 10th. During the past 24 hours, Northern Lights have descended as far south as Wisconsin, Minnesota, and Michigan in the United States. "It was nice to see the aurora borealis again after so many years of low activity," says Jerry Zhu, who sends this picture from Madison, WI: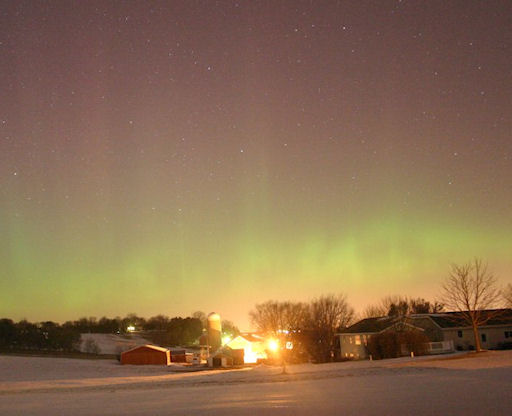 Solar wind conditions favor more geomagnetic storming in the hours ahead. Sky watchers--even those in the continental United States--should
remain alert
for
auroras
.
Satellite Environment Plot
Proton Flux from GOES-13, Electron Flux and GOES Hp from GOES-13 & GOES-15
IB.  Solar Activity Forecast:  Solar activity is expected to be
moderate with a slight chance for an X-class x-ray event from Region
1166 or 1169 for the next three days (11-13 March).
http://sdowww.lmsal.com/suntoday
Stay tuned for more information...