CHANCE OF STORMS:
NOAA forecasters estimate a 50% chance of polar geomagnetic storms on June 2nd as a high-speed (700 km/s) solar wind stream buffets Earth's magnetic field. The warning comes on the heels of a lengthy
G2-class
geomagnetic storm on May 31-June 1 sparked by the arrival of an interplanetary shock wave. The source of the shock is unknown. Current speculation focuses on a corotating interaction region (CIR)--that is, a shock-like transition zone between high- and low-speed solar wind streams. Whatever it was, the impact ignited some
beautiful auroras
, described below.
AURORAS IN THE USA:
On June 1st, Northern Lights spilled across the Canadian border into more than a dozen US states, turning the sky purple and green as far south as
Colorado
and
Nebraska
. Subscribers to the
Space Weather Alert System
knew the storm was coming, but others were surprised:
"Last night, I drove to Crater Lake National Park to photograph the Milky Way rising above the rim," reports Oregon photographer Brad Goldpaint. "I was staring upward towards a clear night sky when suddenly, without much warning, the aurora borealis began erupting in front of me."
(continued below)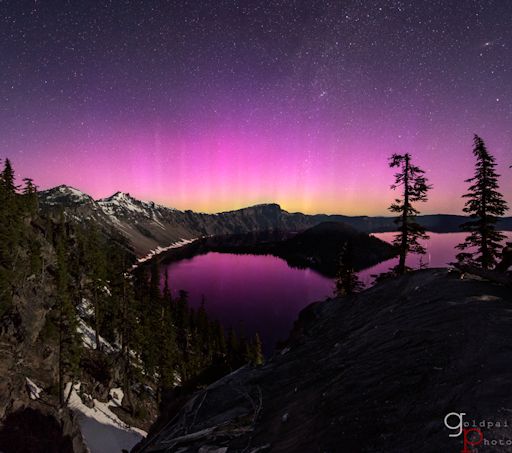 "With adrenaline pumping, I raced to the edge of the caldera, set up a time-lapse sequence, and watched northern lights dance until sunrise," he continues. "The moon rose around 2am and blanketed the surrounding landscape with a faint glow, adding depth and texture to the shot."
High-latitude sky watchers should remain alert for auroras tonight as Earth's magnetic field continues to reverberate from the impact. NOAA forecasters estimate a 40% chance of polar geomagnetic storms on June 1st.

Solar wind
speed: 774.7 km/sec
density: 1.4 protons/cm3
explanation | more data
Updated: Today at 1746 UT