Navy moves ship off coast of Korean Peninsula, White House looks to 'reassure' allies
The U.S. military has moved a Navy ship capable of intercepting missiles to waters off the coast of the Korean Peninsula, as threats from North Korea's Kim Jong Un escalate and the White House signals it wants to head off any potential conflict by flexing America's military might.
A U.S. defense official confirmed to Fox News that the Navy had moved the U.S. destroyer to a location near South Korea. The ship, the USS McCain, is equipped with the Aegis defense system and is capable of shooting down missiles. Officials initially misidentified the ship but later clarified the USS McCain had been dispatched.
The defense official said the decision is not part of the ongoing joint military exercise with South Korea but part of the Navy's general movements. The Navy had the same type of ship in this location as recently as December.
But, the positioning comes after the Pentagon dispatched two F-22 stealth fighter jets to South Korea to join Seoul forces in a training exercise, and after other demonstrations of U.S. capability last week.
White House Press Secretary Jay Carney said Monday that Kim Jong Un's steadily escalating threats follow a "pattern," but one that must be taken seriously. He said the U.S. is now taking "prudent" measures to "reassure our allies, demonstrate our resolve to the North and reduce pressure on Seoul to take unilateral action."
This would include efforts to boost missile defense, last week's rare flight of B-2 bombers to South Korea and likely the decision Sunday to deploy F-22 Raptors to Osan Air Base in South Korea.
With analysts warning that the biggest threat from North Korea is that it could start a war by going too far and provoking South Korea, Carney suggested the shows of strength are aimed at deterring the North from crossing that line.
"We believe this has reduced the chance of miscalculation and provocation," Carney said of the B-2 flights and other actions.
Carney, though, said that despite the "harsh rhetoric" out of Pyongyang, the U.S. is not seeing changes to the country's "military posture," such as any "large-scale" mobilizations or positioning of forces.
"This pattern of bellicose rhetoric is not new, it is familiar," Carney said. "We take it very seriously, we take prudent measures in response to it."
The F-22 flight came after North Korea warned that the Korean Peninsula had entered "a state of war."
A Pentagon spokesman confirmed to Fox News that the F-22 Raptors were deployed to Osan Air Base in South Korea from Japan on Sunday to support ongoing U.S.-South Korean military drills.
"This exercise has been planned for some time and is part of the air component of the Foal Eagle exercise," spokesman George Little told reporters Monday.


Read more: FOX
DESRON 15, ROK Navy Conclude Foal Eagle 2013
By Mass Communication Specialist 3rd Class Ricardo R. Guzman and Mass Communication Specialist 3rd Class (SW) Declan Barnes, Commander Task Force 70 Public Affairs
PACIFIC OCEAN - U.S. forward-deployed naval ships from Destroyer Squadron (DESRON) 15 and Republic of Korea (ROK) navy forces concluded their participation in exercise Foal Eagle 2013 (FE 13), March 21.

Foal Eagle 2013 was an integrated exercise involving U.S. military and ROK forces to include USS John S. McCain (DDG 56), USS Fitzgerald (DDG 62), USS McCampbell (DDG 85) and USS Lassen (DDG 82) of DESRON 15.

Both nations worked closely to increase readiness to defend ROK, protect the Asia-Pacific region and maintain stability in the Korean Peninsula. The exercise focused on strengthening military-to-military relationships and improving command and control in areas such as air, undersea and surface warfare.

"This exercise is a bellwether of our interoperability and ability to achieve desired effects in the joint and combined battle space around the Korean peninsula," said Capt. Paul Lyons, DESRON 15 commodore. "ROK [Navy] sailors and U.S. 7th Fleet Sailors were able to interact and work closely with one another, furthering our level of understanding and cohesion as we work shoulder-to-shoulder to achieve unity of effort against a common purpose."

The U.S. Navy continues to conduct key military exercises with ROK to improve the capabilities of both Armed Forces since the ROK/U.S. treaty was signed Oct. 1, 1953, which ensures peace and security in the region.

"Power projection of the U.S.-ROK alliance and continued support of our agreements is extremely important," said Cmdr. Scott McClelland, Lassen's commanding officer. "Because we do not have any forward-deployed naval forces in ROK, the U.S. Navy must support these types of exercises to ensure the interoperability of naval forces is maintained at the highest levels."

While in port, DESRON 15 ships and ROK Navy sailors participated in sports tournaments, local community service projects, ship tours and conducted military-to-military engagements, including the liaison exchange of ROK and U.S. Navy sailors who embarked on board their counterpart's ship to participate in the exercise.

Prior to FE13, the ship's crews worked extensively by conducting internal drills to refresh and gain tactical skills that helped in executing the exercise.

"This kind of training is truly invaluable for our Sailors," said Cmdr. Thomas Dixon, USS McCampbell commanding officer. "This exercise is the perfect opportunity to strengthen our Sailors' bilateral operability, capabilities and understanding, as well as interact with our ROK counterparts on both a personal and professional level."

McCain, Fitzgerald, McCampbell and Lassen are part of the seven Arleigh Burke-class guided-missile destroyers and more than 2,000 Sailors who comprise DESRON 15, which is forward-deployed to Yokosuka, Japan, to support regional security and stability of the Indo-Asia-Pacific region.
Border Patrol
China mobilizing troops, jets near Korea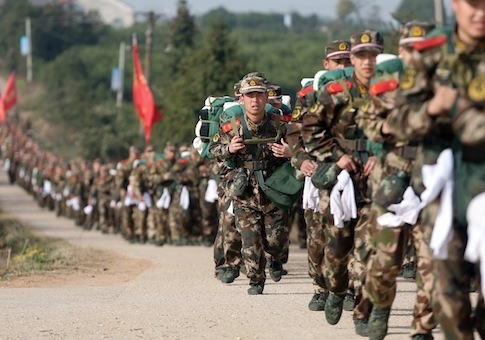 China has placed military forces on heightened alert in the northeastern part of the country as tensions mount on the Korean peninsula following recent threats by Pyongyang to attack, U.S. officials said.
Reports from the region reveal the Chinese People's Liberation Army (PLA) recently increased its military posture in response to the heightened tensions, specifically North Korea's declaration of a "state of war" and threats to conduct missile attacks against the United States and South Korea.
According to the officials, the PLA has stepped up military mobilization in the border region with North Korea since mid-March, including troop movements and warplane activity.
China's navy also conducted live-firing naval drills by warships in the Yellow Sea that were set to end Monday near the Korean peninsula, in apparent support of North Korea, which was angered by ongoing U.S.-South Korean military drills that are set to continue throughout April.
North Korea, meanwhile, is mobilizing missile forces, including road-mobile short- and medium-range missiles, according to officials familiar with satellite imagery of missile bases.
The missile activity is believed to be North Korea's response to the ongoing U.S.-South Korean military exercises that last week included highly publicized flights by two B-2 strategic nuclear bombers near North Korean territory as part of annual military exercises.
North Korea's government announced last week that since March 26 its missile and artillery forces have been placed on the highest alert status.
Specifically, Nodong medium-range missiles and their mobile launchers were spotted in satellite imagery, the officials said.
There are also indications North Korea will soon conduct a flight test of its new KN-08 road-mobile ICBM or its intermediate-range Musudan mobile missile. Test preparations had been detected in the past, the officials said.
A military provocation by North Korean forces against the South is not expected while the current war games are underway in South Korea, officials said.
However, the situation remains dangerous as hostilities could break out as a result of a miscalculation. South Korea's government has said it would respond to any North Korean military provocation with force.
The Chinese military activities near North Korea were detected in Jilin Province, and intelligence reports from the area on March 19 indicated that PLA forces were ordered to go to "Level One" alert status, the highest level of readiness.
Large groups of soldiers were seen on the streets in Ji'an, a city in Jilin, amid reports that the PLA had been ordered to combat readiness status.
PLA heavy armored vehicles, including tanks and armored personnel carriers, were reported moving near the Yalu River that separates China from North Korea.
The troops were part of the 190th Mechanized Infantry Brigade, stationed in Benxi, in Liaoning Province. The movements are believed to be related to increased tensions in Korea.
Additionally, PLA troops and military vehicles were seen near Baishan, in Jilin province, around March 21.
Low-flying PLA air force jets, believed to be fighters, also were heard and seen at several border locations in China, including Yanji and Yanbian in Jilin, Kuancheng, in Hebei province, and Dandong, in Liaoning province.
Chinese forces along the border responded to some unknown event in North Korea near Siniju on March 21 that involved Chinese fighter jets flying over the area.
The officials said the Chinese military activities appear to be based on concerns about a new outbreak of conflict between North Korea and South Korea and the United States.
China's military maintains a long-standing defense treaty with the North that obligates China to defend North Korea in the event it is attacked. The last time Chinese forces backed Pyongyang was during the Korean War when tens of thousands of Chinese "volunteers" drove south into the peninsula.
Chinese military spokesmen frequently refer to their relations with the Korean People's Army, as the North Korean military is called, as ties "as close as lips and teeth."
Other reports from China indicate that the heightened tensions have led to a disruption of trade between China and North Korea along the border between the two countries.
One sign of slowed commerce between China and North Korea was a Chinese Internet report from a restaurant owner in Dandong, China, a border city, who said commerce between the two countries was disrupted following North Korea's Feb. 12 underground nuclear test.
Since that time, it has been more difficult for the goods from North Korea to reach China because the North Korean Customs Office closed frequently as a result of increased Chinese inspections of North Korean goods.
U.S. officials and private analysts said the slowdown may be a sign of Beijing's displeasure at the North Korean nuclear test.
However, in a sign of continuing close relations, the government of Jilin province announced March 27 that it plans to modernize railway links to North Korea to bolster cross-border economic and trade ties.
Additionally, the Chinese plan to set up a special highway passenger line to connect Tumen to North Korea over the next several years.
Other reports from the region stated that North Korean cities in the northern part of the country were placed on "combat" alert and have conducted evacuation drills, officials said.
The drills have been carried out in three-day to five-day intervals when power and water supplies were suspended as part of the exercises.
Chinese citizens living in border cities in China also reported hearing air-raid sirens as part of the exercises, officials said.
U.S. officials say China's main fear for its fraternal communist client regime in North Korea is a collapse of order that leads to large-scale refugee flows into China.
Reports from inside North Korea also revealed that North Korean soldiers have been issued bread, instant noodles, sausages, milk, and dried fish that appeared to be supplied by the United Nations as aid meant for the civilian population.