President Obama Meets With the Dalai Lama at the White House as China Objects
WASHINGTON –

President Barack Obama held a White House meeting Saturday with the Dalai Lama, a fellow Nobel Peace laureate, hours after China called on the U.S. to rescind an invitation that could sour relations with Beijing.
The Tibetan spiritual leader has been in Washington for an 11-day Buddhist ritual. Thousands of expatriate Tibetans joined a 76th birthday celebration Wednesday for the Dalai Lama, who's just relinquished leadership of Tibet's government-in-exile.
The White House said that during the 45-minute private session in the Map Room, Obama "underscored the importance of the protection of human rights of Tibetans in China." In a statement issued after the meeting, the White House also said Obama reiterated his support for the preservation of Tibet's religious, cultural and linguistic traditions.
Obama restated U.S. policy that it does not support Tibetan independence, a goal that the Dalai Lama said he also does not seek.
In a nod to the criticism from Beijing, Obama also stressed to the Dalai Lama that he considers a cooperative relationship between the United States and China to be important, according to the White House statement.
In remarks after the meeting forwarded by Kate Saunders from the International Campaign for Tibet, the Dalai Lama said of his visit with Obama: "Firstly we developed a very close sort of feeling for each other." He said Obama expressed his concern over basic human values, such as human rights and religious freedoms. "So naturally he shows genuine concern about suffering in Tibet and other places."
A Chinese crackdown led the Dalai Lama to flee into exile in India in 1959. China says he's welcome to return if he drops his separatist activities, accepts Tibet as an inalienable part of China and recognizes Taiwan as a province of China.
Hours before the Dalai Lama's arrival, the Chinese Foreign Ministry urged the White House to cancel the visit.
"We firmly oppose any foreign official to meet with the Dalai Lama in any form," Foreign Ministry spokesman Hong Lei said in a statement posted on the ministry's website.
"We request the U.S. side to honor its serious commitment that recognizes Tibet as part of China and opposes Tibet independence," Hong said.
The White House kept the meeting low-key, closing it from news reporters and photographers. It chose the Map Room for the visit instead of the Oval Office, which is reserved for visiting heads of state.

Read more: http://www.foxnews.com/politics/2011/07/16/president-obama-meets-with-dalai-lama-at-white-house-as-china-complains/#ixzz1SK6cHGvW
Chavez Delegates Some Duties While Returning to Cuba for Chemotherapy
CARACAS, Venezuela –

Venezuelan President Hugo Chavez left home Saturday for Cuba to begin chemotherapy, vowing to win his fight against cancer and calling for his political allies to stay united in his absence.
Before boarding his plane at Caracas' international airport, Chavez said: "It's not time to die. It's time to live."
He stood alongside one of his daughters, Rosa, on the runway while the national anthem played and soldiers stood at attention.
"I'm saying good-bye for some days," Chavez said. He has not said how long he expects to stay in Havana.
"Tomorrow I begin chemotherapy treatment, and we're going to give it everything we've got," Chavez said in a televised speech earlier at the presidential palace. He said the treatment would ensure cancer cells have not reappeared since he underwent surgery last month to remove a tumor.
After thorough medical checks, "no malignant cell has been detected in any other part of my body," Chavez said to the applause of aides and allies at the presidential palace. He added, "There is always the risk of some cells escaping or tending to reproduce, and therefore there's a need to attack hard through chemotherapy."
Earlier in the day, Chavez announced he was delegating some of his duties to his vice president and finance minister as he prepared to fly to Cuba.
Chavez previously had refused opposition demands that he temporarily cede power to Vice President Elias Jaua while undergoing chemotherapy in Havana. But shortly after a legislative vote approving his trip, Chavez said at a televised Cabinet meeting that he would hand off some responsibilities.

Read more: http://www.foxnews.com/world/2011/07/16/lawmakers-ok-chavezs-plan-to-get-chemotherapy-in-cuba/#ixzz1SK7SNSDd
Casey Anthony to be released from jail Sunday
July 16, 2011 8:47 p.m. EDT
(CNN) -- Casey Anthony is set to walk free from a Florida jail on Sunday, three years and one day after she was first arrested for her role in the disappearance and, eventually, death of her 2-year-old daughter.


The Orlando woman's release comes 12 days after a jury acquitted her on murder and child neglect charges. That verdict brought an abrupt end to a six-week trial that drew intense media hype for its elements of family drama and the continued mystery over what happened to young Caylee Anthony.
A print reporter, videographer and photographer were expected to arrive around 10 p.m. Saturday at the Orange County jail facility to document Anthony's release, according to the county corrections department. They will then share details with the legions of other journalists camped out in a staging area outside the jail's booking center.
By Saturday afternoon, about 20 satellite TV trucks and many other vehicles from news outlets nationwide were positioned to broadcast the news onsite. They were joined by a handful of demonstrators, mostly voicing their opposition to Anthony's release, though one man standing by himself under a tree did tote a sign reading, "She's not guilty. Get over it."
While she was cleared on the more serious charges, the jury of seven women and five men did convict Casey Anthony on four counts of misleading law enforcement agents who were investigating Caylee's whereabouts.
Orange County Superior Court Chief Judge Belvin Perry Jr. gave Anthony credit for time served in determining the release date. She was initially taken into custody July 16, 2008, and had been jailed -- with some brief exceptions, having been freed on bail on multiple occasions -- for most of the past three years.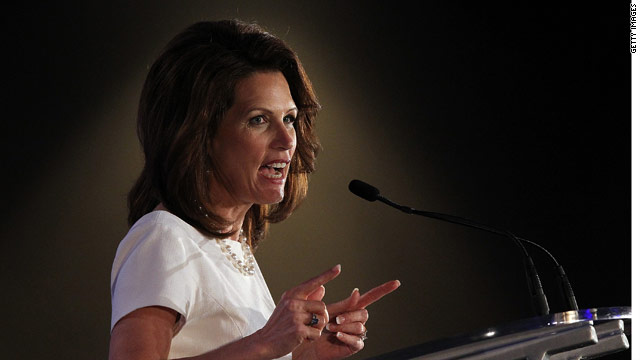 Michele Bachmann officially leaves her church
By Eric Marrapodi, CNN Belief Blog Co-Editor
Washington (CNN) - Republican presidential candidate Michele Bachmann has long been a darling of conservative evangelicals, but shortly before announcing her White House bid, she officially quit a church she'd belonged to for years.
Bachmann, a Minnesota congresswoman, and her husband, Marcus, withdrew their membership from Salem Lutheran Church in Stillwater, Minnesota, last month, according to church officials.
The Bachmanns had been members of the church for more than 10 years, according to Joel Hochmuth, director of communications for the Wisconsin Evangelical Lutheran Synod, the broader denominational body of which Bachmann's former church is a member.
The church council granted the Bachmanns' request to be released from their membership on June 21, Hochmuth said.
After declaring at the CNN/WMUR/New Hampshire Union Leader presidential debate that she would seek the nomination, Bachmann formally announced her presidential bid June 27 in Waterloo, Iowa.
The Bachmanns approached their pastor and verbally made the request "a few weeks before the church council granted the request," Hochmuth said. He added, "they had not been attending that congregation in over two years. They were still on the books as members, but then the church council acted on their request and released them from membership."
Bachmann had listed her membership in the church on her campaign site for congress in 2006. She lists no church affiliation on her campaign website or her official congressional website.
Hochmuth said that a change in membership is not out of the ordinary. "You have people who are on the books as members, but they may have gone on to another church; they may not be attending a church anywhere. There's all sorts of circumstances."
A similar request for membership is to transfer membership from one church to another within the denomination. But that does not appear to be the case with the Bachmanns, according to Hochmuth, who said that to his knowledge, the couple was no longer attending a church within the Wisconsin Evangelical Lutheran Synod.
Murdoch's ad apologizes for 'serious wrongdoing' in hacking scandal
July 16, 2011 9:55 p.m. EDT
"We are sorry," Murdoch says in Saturday's ad, which will also run in newspapers Sunday and Monday.London (CNN) -- Rupert Murdoch apologized to the British public with full-page advertisements in seven national newspapers Saturday, a day after two senior executives resigned over a phone hacking scandal that has engulfed his media empire.
"The News of the World was in the business of holding others to account. It failed when it came to itself. We are sorry for the serious wrongdoing that occurred. We are deeply sorry for the hurt suffered by the individuals affected."
Murdoch's apology comes after his media empire lost two top executives Friday.
Former News of the World editor Rebekah Brooks resigned from her post as chief executive at News International, the British arm of Murdoch's News Corp., early Friday.
Hours later, her predecessor, Les Hinton resigned.
Murdoch also visited the family of Milly Dowler, a murdered British teenager whose voice mail was allegedly hacked by staff working for the News of the World.
Police in the United Kingdom have identified almost 4,000 potential targets of phone hacking in documents recovered from a private investigator working for the paper.
There were also allegations that News Corp. reporters may have bribed police officers.
Murdoch's campaign of contrition comes 12 days after the scandal first broke and barely a week after the News of the World, Britain's best-selling Sunday tabloid, was shut down by News International in the face of public outrage.
The advertisement expresses regret for not acting more quickly "to sort things out," but Murdoch acknowledges that apologizing is not enough.
"Our business was founded on the idea that a free and open press should be a positive force in society. We need to live up to this," he says.
The media mogul pledged to take "concrete steps" to resolve issues and make amends.
Funny Video of The Day