UPDATE On Last Shuttle Re-Entry...
LAST RE-ENTRY:

On July 21st, the crew of the International Space Station photographed an event that will never be repeated: the re-entry of a space shuttle. Marking the end of NASA's 30-year shuttle program, Atlantis dove Earthward in a fiery arc that only six lucky space travelers could see from above:


The green band of light in the background is called "airglow." Airglow is a luminous bubble that surounds our entire planet, decorating the top of the atmosphere with aurora-like color. Although airglow resembles the aurora borealis, its underlying physics is different. Airglow is caused by an assortment of chemical reactions in the upper atmosphere driven mainly by solar ultraviolet radiation; auroras, on the other hand, are prompted by gusts of solar wind.
More pictures from the last flight of Atlantis may be found here.


********************************end update*************************************************


'Anonymous'
(That's their name)
Hackers Claim to Breach NATO Security
"We are not scared any more. Your threats to arrest us are meaningless to us as you cannot arrest an idea."
LONDON –

Hackers claims to have breached NATO security and accessed scads of material so confidential the group itself deemed it "irresponsible" to publish them all, despite a series of international raids Tuesday designed to corral the hacking activity.
The group, which goes by the name "Anonymous," claimed to be sitting on about 1 gigabyte of data. The hackers broadcast a link to a PDF file Thursday via Twitter, showing what appeared to be a document headed "NATO Restricted."
The group's actions have become intolerable, Steven Chabinsky, deputy assistant FBI director, said in an interview with NPR.
"We want to send a message that chaos on the Internet is unacceptable," Chabinsky said. ...
...statement to the FBI and Chabinsky, with a list of things it deems unacceptable: "Governments lying to their citizens and inducing fear and terror to keep them in control ... corporations aiding and conspiring with said governments ... lobby conglomerates who only follow their agenda to push the profits higher."
The group claimed that a second link it tweeted later linked to a second restricted NATO document on "outsourcing CIS in Kosovo (2008)."
Anonymous is a loosely organized group of hackers sympathetic to WikiLeaks. It has claimed responsibility for attacks against corporate and government websites worldwide.
The group also claims credit for disrupting the websites of Visa and MasterCard in December, when the credit card companies stopped processing donations to WikiLeaks and its founder, Julian Assange.
The group's message was clear: In spite of the string of recent arrests, the "hactivism" will continue.
"We are not scared any more. Your threats to arrest us are meaningless to us as you cannot arrest an idea."




Read more: http://www.foxnews.com/scitech/2011/07/21/anonymous-hackers-claim-to-breach-nato-security/#ixzz1SkqzKmBr
Who knew you could belong to a Hacker Squad? ...
Leading Member of LulzSec Hacker Squad Arrested in London
By Jeremy A. Kaplan
Published July 19, 2011
| FoxNews.com
LulzSec has tagged its now familiar mascot on government and corporate websites alike.
Officers from the Metropolitan Police's E-Crime Unit in London arrested a 16-year-old boy in South London Tuesday afternoon, the latest arrest in an international sting operation targeting the notorious hacker groups Anonymous and LulzSec.
...
U.S. law enforcement officials confirmed to FoxNews.com that the arrest of the juvenile hacker, who goes by the online user name Tflow, was the latest in a sweeping sting of arrests Tuesday, in which 16 suspected hackers were arrested in states across the country, as FoxNews.com first reported.
The arrests began early Tuesday morning with a series of raids in New York, FoxNews.com reported. The arrests and the 30 to 40 search warrants issued by the feds Tuesday are part of an ongoing investigation into hackers believed to have been involved in carrying out nationwide coordinated distributed denial of service (DDoS) attacks on multiple high-profile, billion-dollar companies.
...
Read more: http://www.foxnews.com/scitech/2011/07/19/leading-member-lulzsec-hacker-squad-arrested-in-london/#ixzz1Sku6fOwH
*************************************************
What's in the water in Florida?...
Florida Teen Accused of Killing Parents, Then Partying, Allegedly Confessed to Friend
July 18: Tyler Hadley, 17, of Port St. Lucie, Fla. Hadley is accused of beating his parents to death with a hammer and then throwing a party while their bludgeoned bodies were locked in the master bedroom. He is being held on two counts of first-degree murder in the deaths of his parents, Blake and Mary-Jo Hadley.
Tyler Hadley, 17, gave a chilling account of the crimes to his friend, identified as Michael Mandell by media but referred to in an affidavit only as MM, during the party Saturday night.
Mandell told WPTV that Hadley said he had taken three ecstasy pills before murdering his parents.
Mandell said he had known Hadley since he was eight years old. Following the shocking crimes Mandell said, "I feel sick, I haven't eaten, haven't slept I'm just sick."
Hadley has been charged with two counts of first-degree murder in relation to the deaths of his parents, Blake Hadley, 54, and Mary-Jo Hadley, 47.


Read more:
http://www.foxnews.com/us/2011/07/21/confession-florida-teen-who-allegedly-beat-parents-to-death-then-partied/#ixzz1SkwnX7u6
*****************************************************************
GOP Eyes Mini-Deal on Debt
For Conservatives, Good Things Come in Small Packages
"SEN. JOHN CORNYN: I think we need to take the cuts that are already on the table from the Biden conversations, which I understand are about one-and-a-half trillion dollars in savings
CORNYN: I think it could be six months…"
-- Sen. John Cornyn, R-Texas, on the "Kilmeade and Friends" radio show Wednesday
President Obama and Senate Democrats are looking to box in House Republicans with a debt-ceiling plan that would give the president his long-sought, $2.4 trillion borrowing-power increase in return for cuts to be determined later.

Read more:
http://www.foxnews.com/politics/2011/07/21/gop-eyes-mini-deal-on-debt/#ixzz1Skx5DuiT
*******************************************
Aid agencies deal with terrorists to reach Somalia's starving
July 21, 2011 7:51 a.m. EDT
(CNN) -- For aid donors and humanitarian agencies, it is a
Faustian bargain: reach and save tens of thousands of people on the verge of starving to death.
The price: come to an "understanding" with one of the most active affiliates of al Qaeda, and perhaps help it retain control of large swathes of Somalia.
Such is the equation in the Horn of Africa, where the worst famine in a generation threatens more than ten million people. Many of them live -- or rather cling to life -- in areas of Somalia controlled by the militant Islamist group al Shabaab, which has sworn allegiance to al Qaeda and is designated a terrorist group by the United States.
Previously, al Shabaab has either refused to allow aid agencies to operate in areas it controls, or imposed tight conditions on their work. In 2009 it banned many foreign aid organizations from providing aid in southern Somalia -- describing them as western spies and Christian crusaders. In January 2010, the UN World Food Program pulled its workers out of the region after they were threatened and harassed by the group. That worsened an already parlous humanitarian situation. But now al Shabaab says it is prepared to allow aid groups back into areas it controls.
Last week, the UN Children's Fund, UNICEF, flew emergency supplies into Baidoa, a town under Shabaab's control, for the first time in two years. It said it had unhindered access to those in need.
http://www.cnn.com/2011/WORLD/africa/07/20/somalia.analysis/index.html?hpt=hp_c1
**************************************
Tears, congratulations as Atlantis lands, shuttle program ends
July 21, 2011 10:32 a.m. EDT
Kennedy Space Center, Florida (CNN) -- Soaring across the predawn haze, the space shuttle Atlantis glided back to Earth early Thursday -- capping a 30-year program that saw hundreds of astronauts go into space.
The landing at 5:57 a.m. ET went off without a hitch at Florida's Kennedy Space Center.
But it marked a sentimental finish for the four astronauts, who woke up to "God Bless America" on their final morning in space.
"This one was dedicated to all the men and women who have worked for the space shuttle program in the past three decades," NASA said.
"I saw grown men and grown women crying today," said Mike Leinbach, space shuttle launch director. "Tears of joy, to be sure ... human emotions came out on the runway today. You couldn't suppress them."
http://www.cnn.com/2011/US/07/21/shuttle.landing/index.html?hpt=hp_c2
****************************************************
Phone-hacking probe appears to expand beyond Murdoch papers
July 21, 2011 11:34 a.m. EDT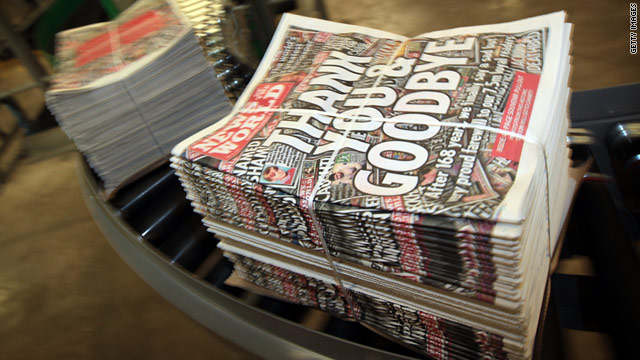 The last edition of the News of The World which closed amid phone hacking and bribery allegations.
London (CNN) -- A British police investigation into illegal activity by journalists appears to have expanded beyond Rupert Murdoch's disgraced News of the World tabloid to many other newspapers.
The Metropolitan Police have asked the British Information Commissioner's Office for its files from a probe into the work of a private investigator who sold illegally obtained information to a wide range of newspapers, the data-protection office told CNN Thursday.
The papers named in the Information Commissioner's 2006 report include the Daily Mail, Daily Mirror and News of the World.
A police spokesman declined to confirm what lines of inquiry the Met was pursing as it probes claims of illegal eavesdropping and police bribery by journalists.
The scandal over phone-hacking by News of the World forced the paper to close, prompted two top police officers to resign, and has put pressure on Prime Minister David Cameron, who hired a former editor of the paper to be his spokesman.
Police added 15 more officers to the investigation, boosting the existing team to 60, the officer in charge of the case said Wednesday.
Tabloid-hacking easy to duplicate Wendi Deng: Murdoch's 'tiger wife' Murdochs won't disclose payout Murdochs apologize to Parliament
The increase comes in response to "a surge of enquiries and requests for assistance from the public and solicitors," Deputy Assistant Commissioner Sue Akers said.
Police were already plowing through 11,000 pages of documents seized from a private investigator before they requested the additional files from the Information Commissioner.
The request for files from the Information Commissioner investigation came three months ago, the commissioner's office said Thursday.
http://www.cnn.com/2011/WORLD/europe/07/21/uk.phone.hacking/index.html?hpt=hp_t2
**********************************************
Record highs broken in slew of cities
July 21, 2011 12:02 p.m. EDT
(CNN) -- The blistering heat wave that has brought stifling conditions to much of the United States broke 55 record highs on Wednesday, the National Weather Service said Thursday. That's more than 1% of all temperature records in the country.
Another 60 records were tied Wednesday, the weather service said.
As many as 22 deaths are blamed on the heat, the service said. Spokesman Pat Slattery said that includes 13 deaths in Missouri that officials say could be heat-related.
Excessive heat and humidity are "expected to expand into the Ohio Valley and East Coast states for the remainder of the week," the weather service said in its forecast Thursday.
The highest heat index values -- how hot it feels -- "are expected across parts of the Midwest, Ohio Valley and Mid-Atlantic, where they are forecast to be between 105 and 115 degrees through Friday, with locally higher values possible," the forecast said.
"Excessive heat watches, warnings and heat advisories are in effect over much of the central U.S., Ohio Valley and from the Carolinas northward into New England."
Among the records broken Wednesday were temperatures in Walsh, Colorado, at 104, Garden City, Kansas, at 108, and Gage, Oklahoma, at 107, according to preliminary reports...
http://www.blogger.com/post-create.g?blogID=9062492220703613475
********************************
Hugh Hefner: I missed a bullet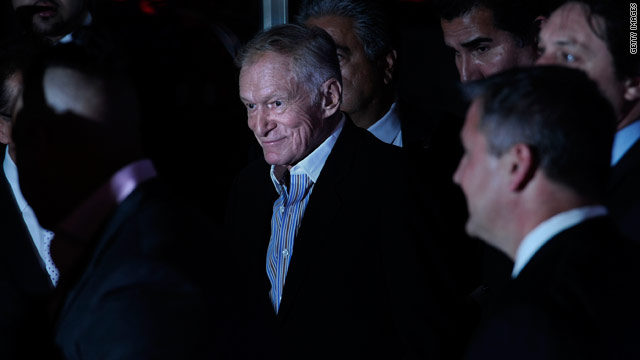 It's been a bit of time now since perpetual playboy Hugh Hefner was jilted by his much younger fiancee, Crystal Harris, and now he says he "missed a bullet" with the scrapped nuptials.
Hef told "Entertainment Tonight" that he is "doing very, very well under the circumstances."
"As Holly [Madison, his ex-girlfriend] observed, she suggested that I missed a bullet, and I think it's probably true," he said.
Hefner, who is as well known for his bevy of decades younger girlfriends as he is for founding Playboy magazine, said he was marrying "to give her that sense of security."
http://marquee.blogs.cnn.com/2011/07/20/hugh-hefner-i-missed-a-bullet/
*****************************
Angelina Jolie: My kids eat crickets
When Angelina Jolie tells her kids to clean their plates, there very well could be an insect or two on them.
"My boys love to eat crickets. It's their favorite thing," she says.
"When I first gave it to them, I thought, I wanted them to understand culturally, I didn't want them to be turned off by something that was their culture," Jolie goes on.
But when they began to get hooked on the crispy treats, she grew a little worried. "They ate them like Doritos and they wouldn't stop. They brought to-go boxes home and I had to actually ban the cricket eating at a certain point because I was afraid they'd get sick from too many."
*********************************************
THURSDAY, JULY 21, 2011
Bright UFO was seen and recorded over London, UK 18-Jul-2011
Latest UFO

sightings

- Unkown bright object was filmed hovering above London, UK on Monday, 18th July 2011 at 9:20 pm.
Witness

report

: 18/07/11 at 21:20 to 25 browsing

on my computer

there was this distinctive light next to the building shown, which at start, I presumed it was a plain. Few minutes after at 21:30 I looked again, out of my

window

and to my suprise the flying object was still there. At 21:32 got my

cell phone

and I started capturing the unidentified flying object. In comparison there happened to be an airplane passing by on the left. It was significantly bigger than the plane and standing still until it started

moving away

really fast. Definitely a UFO, alien ship, I have no idea.