MAMMATUS OVER MINNESOTA: On May 10th, a severe storm captured national attention when it dumped golf-ball-sized hail on a Minnesota Twins baseball game. "I missed the hail," reports John Rogers of New Hope, Minnesota, "but I got a nice view of the clouds that formed after the storm passed." He snapped this picture in waning twilight at 8:30 pm local time: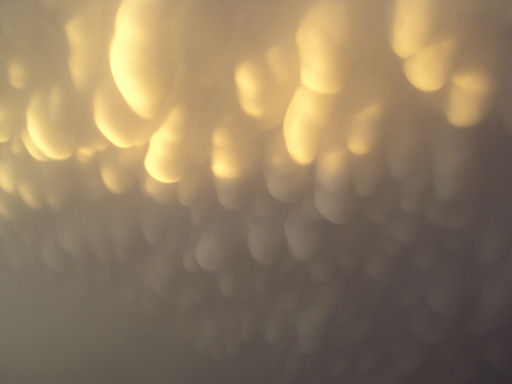 These are mammatus clouds. Named for their resemblance to a cow's underbelly, they sometimes appear at the end of severe thunderstorms when the thundercloud is breaking up. Researchers have called them an "intriguing enigma," because no one knows exactly how and why they form. The clouds are fairly common but often go unnoticed because potential observers have been chased indoors by the rain. If you are one of them, dash outside when the downpour stops; you could witness a beautiful mystery in the sky.
NASA and its lies ? ELENIN 21/May/2011 - 21/Oct/2011,

page 1
For starters I'm not entirely sure whats going to happen 21/5/11 through to the 21/10/11 and I'm not entirely confident with what the governments telling us about the "comet" ELENIN. Maybe its not a comet at all ? a brown dwarf ? an alien craft ? I'm sure you have all heard the different scenarios.

I've been doing a little bit of digging and I think I've found undeniable proof of scientists and NASA pure uneducated guesses about ELENIN or the fact there hiding information about it from the public. I'm quiet surprised this hasn't been noticed before.
The above video is my first attempt at making ANY video lol and I try to show evidence of NASA underestimating or denying the effects of ELENIN. it shows a question and answer session involving a normal public Joe and a top scientist representing NASA.

Link to Question; astrobiology.nasa.gov...
In the question and answer discussion, David Morrison the

Astrobiology

Senior Scientist denies to the utmost of anything happening due to ELENIN, slagging off many conspiracy sites as "absurd" "craziness" "lies".
N
Comet Elenin May Validate Another Nostradamus Prophecy
Posts Tagged 'fukushima radiation may 2011'