Here is what is happening around the world...
Middle-East Revolution:
Airstrikes near Ras Lanuf as people try to flee Libya
March 7, 2011 10:29 a.m. EST
NEW: New airstrike on road heading into Ras Lanuf

The Libyan army appears to be in control of Bin Jawad

U.N.: Fighting in western Libya "threatens even more carnage in the days ahead"

Abdelilah Al-Khatib of Jordan is the U.N.'s new special envoy to Libya
Tripoli, Libya (CNN) -- An air strike targeted the main road heading into the opposition-controlled town of Ras Lanuf on Monday, the latest incident in the air and ground assault by Libyan leader Moammar Gadhafi aimed at crushing the uprising.
Earlier, an air strike hit about 5 kilometers southeast of Ras Lanuf.
Planes flew over the area, and opposition forces fired anti-aircraft guns in their direction. Some families fled the eastern Libyan oil town to get away from the situation.
Gadhafi's forces seemed to make headway in the city of Bin Jawad, where the Libyan army appeared to have control Monday. The city was hotly contested over the weekend, with at least five people killed Sunday, medical sources said.
Anti-government protesters are seeking the ouster of longtime leader Moammar Gadhafi after nearly 42 years of ruling the country -- the kind of revolution that was seen in neighboring Tunisia and Egypt. But unlike in those countries, the uprising has turned into warfare.
In the Middle East, politics has usually been a waiting game, and Syrian President Bashar al-Assad, 45, is better than most at playing it. He has outlasted U.S. neocon threats of regime change, international and Saudi-led regional isolation following the 2005 murder of ex-Lebanese premier Rafik Hariri (at the time widely blamed on Damascus), deftly mitigated the effects of U.S. sanctions and the Iraq war next door, while strengthening his close ties to the region's rising powerbroker, Iran. Now, he may just ride out the youth-led revolts sweeping across the region.
Unlike the ousted pro-American leaders of Tunisia and Egypt, Assad's hostile foreign policy toward Israel, strident support for Palestinians and the militant groups Hamas and Hizballah are in line with popular Syrian sentiment, a view Baathists and state media have keenly pushed to the public to explain why other presidents have fallen and theirs is safe. Much publicized are such acts as driving himself to the Umayyad Mosque in February to take part in prayers to mark the Prophet Mohammad's birthday, and strolling through the crowded Souq Al-Hamidiyah marketplace with a low security profile. These have apparently helped to endear him, personally, to the public.
Yet Syria also shares the corruption, nepotism, high unemployment, widespread poverty, repressive state security apparatus, emergency law and lack of freedom that contributed to the fall of other Arab leaders and now threatens Libya's Muammar Gaddafi.


Read more: http://www.time.com/time/world/article/0,8599,2057067,00.html#ixzz1FvnvlGef
Literary Victory: Banned Books Returning to Egypt and Tunisia
Tunisians crowd around a window to view books for sale in a bookshop window that were previously banned.
Among the citizens' newfound freedoms is the ability to read what they want – a far cry from the information void that appeared in Egypt during the Jan. 25 revolution.
The now-ousted presidents in both Tunisia and Egypt took a hard-line stance toward critical media in their countries. But after Zine el Abidine Ben Ali fled Tunisia and Egyptians forced the resignation of Hosni Mubarak, formerly banned books are allowed to emerge from dusty bookshelves and cellars.


more:http://newsfeed.time.com/2011/03/05/literary-victory-banned-books-returning-to-egypt-and-tunisia/#ixzz1FvoUE11O
Sheen:
Too much Sheen: Good for ratings, bad for Sheen?
NEW YORK (AP) — Of all the thousands upon thousands of words said, written or broadcast about Charlie Sheen in the past week, one pithy tweet may have best summed up the seemingly endless appetite for all things Charlie.
Not to worry — there was much more Sheen to come, and he was still not all right. With production halted on his top-rated "Two and a Half Men," the self-proclaimed "Vatican assassin warlock" was ragging on his bosses, insisting he was clean while barely sounding coherent, and fighting for custody of his twin toddlers. And soon, the apparently unlimited forum he was being given was raising questions about the media's role in all of it.
Were they, to use a term from the addiction world, "enabling" Sheen to continue on what seemed to many a path dangerous to his career, his health and his family? ...
What seemed clear is that we were watching one of the most astonishingly visible celebrity meltdowns in memory. Sheen's ramblings promoting his new lifestyle — not bipolar, but "bi-winning," he called it — took him from NBC's "Today" to CNN's "Piers Morgan Tonight" to ABC's "20/20," and onwards. (The Associated Press also interviewed Sheen.) By the weekend, his record-setting Twitter feed was closing in on 2 million followers, SiriusXM Radio had broadcast 24 hours of straight Sheen on a special channel, Tiger Blood Radio, and he'd done his own 50-minute Internet show, "Sheen's Korner."
"Enabling is exactly the right word," said prominent media blogger Jeff Jarvis. "The drug Sheen is on right now is attention, and he's overdosing on that drug. This is a cynical act by the media. It's exploitation."
"If what we're seeing is bipolar disorder, then it isn't Charlie Sheen we are hearing right now — it's the disorder," he said. "And we are delaying his recovery."
Jarvis wasn't alone. "The coverage has become excessive, even dangerous," wrote Julie Moos on the website of the Poynter Institute. Kansas City Star TV critic Aaron Barnhart wrote that the media should stop returning Sheen's texts and calls, and instead should be "using their journalism to identify the people around Charlie who can actually get him into a rehab facility — against his will if necessary."
Not surprisingly, the networks did not agree.
"Not at all," said ABC's Andrea Canning,... "I dont know if you can really stop the train once people are this interested in it."
"I'm not gonna do it," Craig Ferguson told his audience on CBS' "Late Late Show." He compared the frenzy to an 18th-century practice of people paying a penny to peer into the windows of asylums to watch the mentally ill.
"The spotlight is almost never helpful to people in these situations," Saltz said. "It makes it harder to evaluate mistakes, to think things through, to take a different turn."
And potentially more problematic than the impact on Sheen, she noted, was the impact on his children. Sheen has five kids, the youngest his nearly 2-year-old twins with estranged wife Brooke Mueller Sheen.
http://hosted2.ap.org/apdefault/c9d240e3e96e4b9a8bfb27e9b3a7063c/Article_2011-03-07-Over%20Sheened?/id-468bc430d4ee4722847a4f6416307ed8
AOL & Huffington Post:
AOL completes purchase of Huffington Post
AOL completes its $315 million purchase of The Huffington Post
On Monday March 7, 2011, 9:06 am EST
,
NEW YORK (AP) -- AOL has completed its $315 million purchase of online news hub The Huffington Post. The acquisition is the latest move by CEO Tim Armstrong to reinvent the Internet icon as a go-to source for online news and other content.
This is the largest purchase AOL Inc. has made under Armstrong, a former Google advertising executive hired by AOL to engineer a turnaround.
Huffington Post is one of the top 10 current events and global news sites, with over 27 million U.S. visitors each month. The website covers a host of topics from politics to style to food, combining original work by Huffington Post's staff with links to articles and video from other news outlets.
All told, AOL says the combined site will attract about 117 million U.S. visitors each month and 253 million worldwide.
The deal also adds Huffington Post co-founder Arianna Huffington to AOL managerial roster. She will run AOL's expanding stable of websites, which include popular technology blogs Engadget and TechCrunch, Patch.com's network of suburban news sites and online mapping service MapQuest.
Huffington, a media star in her own right, became a prominent public figure as the wife of a multimillionaire running for the U.S. ...
Afghanistan and U.S. Involvement: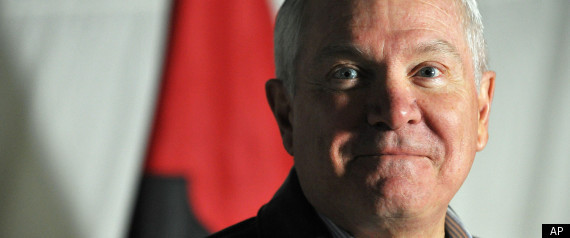 KABUL, Afghanistan — U.S. Defense Secretary Robert Gates says the United States has no interest is setting up permanent military bases in Afghanistan.
The Pentagon chief is in Afghanistan for talks with President Hamid Karzai and a look at battlefields where his commanders say the U.S. and NATO are gaining the edge against the Taliban. He told reporters Monday that while the U.S. is open to some long-term military presence in the strategically important country, he is stressing the plan to halt combat operations by the end of 2014.
Gates also apologized for the accidental deaths of Afghan children in an air strike last week, and Karzai accepted the apology.
THIS IS A BREAKING NEWS UPDATE. Check back soon for further information. AP's earlier story is below.
U.S. Defense Secretary Robert Gates said Monday that both the U.S. and Afghan governments agree the American military should remain involved in Afghanistan after the planned 2014 end of combat operations to help train and advise Afghan forces.
A soldier asked Gates about a long-term military presence, and Gates noted that Washington and Kabul have recently begun negotiating a security partnership. He mentioned no details. He was to meet later in the day with Afghan President Hamid Karzai.
Cyber Attacks:
Cyber attack on France targeted Paris G20 files
The French finance ministry has confirmed it came under a cyber attack in December that targeted files on the G20 summit held in Paris in February.
Budget Minister Francois Baroin said an investigation had been launched, adding: "We have leads".
It follows a report in Paris Match magazine that claimed a sustained cyber attack sought documents related to the G20 and international economic affairs.
More than 150 of the ministry's 170,000 computers were affected.
'Determined professionals'
"We noted that a certain amount of the information was redirected to Chinese sites," an anonymous official was quoted by the French magazine. "But that [in itself] does not say very much."
...The perpetrators were "a number of professional, determined and persistent hackers", according to Patrick Pailloux, director general of the French National Agency for IT Security, who confirmed that they had obtained sensitive information.
"It is the first attack of this size and scale against the French state."
US Selling Taiwan Arms:
China says U.S. must stop Taiwan arms sales
(Reuters) - The United States will put improved relations with Beijing at risk if it does not stop selling arms to Taiwan, China's Foreign Minister said on Monday.
The world's two biggest economies have sought to steady ties after a year that exposed strains over human rights, Taiwan, Tibet and the gaping U.S. trade deficit with China. Chinese President Hu Jintao visited the White House in January.
...
"Of course, it is an objective reality that China and the United States have some differences or even friction over some issues," he added. "What's important is to properly handle these differences on the basis of mutual respect."
Early last year, Beijing reacted with fury to the Obama administration plans for a new round of weapons sales to Taiwan, the self-ruled island that China deems an illegitimate breakaway province, threatening to sanction the U.S. companies involved.
"We urge the United States to ... stop selling arms to Taiwan and take concrete actions to support the peaceful development of cross-Strait relations. This is very important in upholding the overall interests of China-U.S. relations," Yang said.
The United States is obliged under the 1979 Taiwan Relations Act to help the island defend itself.
Japan:
7 March 2011
Last updated at
05:14 ET
Japan Prime Minister Naoto Kan resists resignation call
Mr Kan told parliament that he intended to fulfil his duties until elections, which must be held by late 2013.
The opposition, which controls the upper house, wants an early poll and is threatening to block budget bills.
The resignation of Foreign Minister Seiji Maehara has added to the impression of a government in disarray.
Some political commentators in Japan are predicting that Naoto Kan's government will collapse sooner rather than later - but it seems he is determined to resist.
"Carrying out the administration's duties for a four-year term and then letting the people decide at the ballot box is best for the people themselves," Mr Kan told a parliamentary session.
"I intend to firmly fulfil my duty until that time comes."
Political deadlock
Even before the funding scandal, Mr Kan was battling to stave off opposition calls for an early general election, says the BBC's Roland Buerk in Tokyo.
He wants to implement tax reform to cover the costs of Japan's rapidly ageing society and rein in its massive public debt.
...
UPDATE: Japan Suspends Use Of Some Pfizer, Sanofi Vaccines
By Shawn Schroter
Of DOW JONES NEWSWIRES
TOKYO -(Dow Jones)- Japan's health ministry said it has temporarily suspended the use of Prevnar, made by Pfizer Inc. (PFE), and ActHIB, made by Sanofi- Aventis S.A. (SNY), as it investigates whether the deaths of four children are linked to the pediatric vaccines.
The children, whose ages range between six months and two years old, died after receiving either Prevnar, ActHIB or a combination of vaccinations, the ministry said in a statement. The deaths were reported between March 2-4.
Prevnar is a pneumococcal conjugate vaccine, while ActHIB is a type b haemophilus influenzae vaccine.
In 2009, Pfizer suspended distribution and quarantined a batch of Prevnar in the Netherlands following reports of the deaths of three infants around the time of vaccination.
The health ministry said that the suspension will be in place pending the results of an investigation made by a group of medical experts into the deaths that is expected to be released on March 8.
Pfizer "thoroughly evaluates all reported cases and works closely with health authorities to determine if there is any association with use of our medicines and vaccines," a Pfizer spokeswoman said Monday, noting that the health ministry has posed a number of questions to the drug maker and it is in the process of preparing responses to those inquiries.
Earthquakes:
Christchurch quake: 10,000 homes 'cannot be rebuilt'
New Zealand's Prime Minister John Key has said 10,000 homes in Christchurch cannot be rebuilt after the 22 February earthquake.
He also announced a national memorial day of 18 March, with events planned for Christchurch's Hagley Park.
On Sunday the treasury department said that quake recovery would cost the country NZ$15bn ($11bn; £7bn).
The death toll, at 166 so far, is expected to rise to around 200 as rescue work continues.
Rescue workers were relieved to find no dead in the rubble of the collapsed tower of Christchurch Cathedral; they had earlier pulled about 90 bodies from the Canterbury TV building.
Victims are being identified using fingerprints, DNA, dental records and other personal items such as jewellery.
The painstaking process could take months to complete, officials say, adding to the misery of relatives waiting for news.
Experts say there were cases after previous disasters and accidents overseas where the wrong body was returned to the family, compounding the grief of everyone involved.
2012:
Mayan Elder Explains 2012 and The Mayan Calendar


Carlos Barrios, Mayan elder and Ajq'ij (a ceremonial priest and spiritual guide) of the Eagle Clan. Carlos initiated an investigation into the different Mayan calendars circulating.Carlos along with his brother Gerardo studied with many teachers and interviewed nearly 600 traditional Mayan elders to widen their scope of knowledge.


Carlos found out quickly there were several conflicting interpretations of Mayan hieroglyphs, petroglyphs, Sacred Books of 'Chilam Balam' and various ancient text. Carlos had some strong words for those who may have contributed to the confusion ---


Carlos Barrios: "Anthropologists visit the temple sites and read the inscriptions and make up stories about the Maya, but they do not read the signs correctly. It's just their imagination. Other people write about prophecy in the name of the Maya. They say that the world will end in December 2012. The Mayan elders are angry with this. The world will not end. It will be transformed."


"We are no longer in the World of the Fourth Sun, but we are not yet in the World of the Fifth Sun. This is the time in-between, the time of transition. As we pass through transition there is a colossal, global convergence of environmental destruction, social chaos, war, and ongoing Earth Changes."


He continues: "Humanity will continue, but in a different way. Material structures will change. From this we will have the opportunity to be more human. We are living in the most important era of the Mayan calendars and prophecies. All the prophecies of the world, all the traditions are converging now. There is no time for games. The spiritual ideal of this era is action."


Carlos tells us: "The indigenous have the calendars and know how to accurately interpret it -- not others. The Mayan Calendars comprehension of time, seasons, and cycles has proven itself to be vast and sophisticated. The Maya understand 17 different calendars such as the Tzolk'in or Cholq'ij, some of them charting time accurately over a span of more than ten million years.


"All was predicted by the mathematical cycles of the Mayan calendars. -- It will change --everything will change. Mayan Daykeepers view the Dec. 21, 2012 date as a rebirth, the start of the World of the Fifth Sun. It will be the start of a new era resulting from and signified by the solar meridian crossing the galactic equator and the Earth aligning itself with the center of the galaxy."


...


At sunrise on December 21, 2012 for the first time in 26,000 years the Sun will rise to conjunct the intersection of the Milky Way and the plane of the ecliptic. This cosmic cross is considered to be an embodiment of the Sacred Tree, The Tree of Life, a tree remembered in all the world's spiritual traditions.


Some observers say this alignment with the heart of the galaxy in 2012 will open a channel for cosmic energy to flow through the Earth, cleansing it and all that dwells upon it, raising all to a higher level of vibration.


Carlos reminds us: "This process has already begun. Change is accelerating now and it will continue to accelerate. If the people of the Earth can get to this 2012 date in good shape without having destroyed too much of the Earth, we will rise to a new, higher level. But to get there we must transform enormously powerful forces that seek to block the way."


The date specified in the calendar Winter Solstice in the year 2012 does not mark the end of the world. ...


...The North and South Poles are both breaking up. The level of the water in the oceans is going to rise. But at the same time land in the ocean, especially near Cuba, is also going to rise.


Carlos tells a story about the most recent Mayan New Year ceremonies in Guatemala. He said that one respected Mam elder, who lives all year in a solitary mountain cave, journeyed to Chichicastenango to speak with the people at the ceremony. The elder delivered a simple, direct message. He called for human beings to come together in support of life and light.


"Right now each person and group is going his or her own way. The elder of the mountains said there is hope if the people of the light can come together and unite in some way. We live in a world of polarity -- day and night, man and woman, positive and negative. Light and darkness need each other. They are a balance."


"Just now the dark side is very strong, and very clear about what they want. They have their vision and their priorities clearly held, and also their hierarchy. They are working in many ways so that we will be unable to connect with the spiral Fifth World in 2012."


"On the light side everyone thinks they are the most important, that their own understandings, or their group's understandings, are the key. There's a diversity of cultures and opinions, so there is competition, diffusion, and no single focus."


Carlos believes the dark side works to block unity through denial and materialism. It also works to destroy those who are working with the light to get the Earth to a higher level. They like the energy of the old, declining Fourth World, the materialism. They do not want it to change. They do not want unity. They want to stay at this level, and are afraid of the next level.


The dark power of the declining Fourth World cannot be destroyed or overpowered. It's too strong and clear for that, and that is the wrong strategy. The dark can only be transformed when confronted with simplicity and open-heartedness. This is what leads to unity, a key concept for the World of the Fifth Sun.


Carlos said the emerging era of the Fifth Sun will call attention to a much-overlooked element. Whereas the four traditional elements of Earth, Air, Fire and Water have dominated various epochs in the past, there will be a fifth element to reckon with in the time of the Fifth Sun --- that element is 'ETHER'.


The dictionary defines Ether as a "hypothetical substance supposed to occupy all space, postulated to account for the propagation of electromagnetic radiation through space." Perhaps it could be defined as the "space between space". I would suggest it could be manifest as the alignment of charged particles from our solar system (Sun), and our galaxy (Milky Way) surge.


"The element of the Fifth Sun is celestial. Within the context of Ether there can be a joining of the polarities. No more darkness or light in the people, but an uplifted unity. But right now the realm of darkness is not interested in this. They are organized to block it. They seek to unbalance the Earth and its environment so we will be unready for the alignment in 2012."
...