This may be the question that may be easily answered. What caused the explosion in Kansas City, Missouri? Horizontal Hydraulic Fracking comes to mind immediately. There may be storage underground in the rich mineral resources of Kansas City.
"Reservoirs are typically porous
sandstones
,
limestones
or
dolomite
rocks, but also include "unconventional reservoirs" such as
shale
rock or
coal
beds."
http://en.wikipedia.org/wiki/Hydraulic_fracturing#Mechanics
"

The majority of wells are completed on 640- or 1280-acre spacing resulting in 5000- and 10,000-ft horizontal wellbores, respectively.

"

http://www.undeerc.org
Kansas City Gas Explosion: 1 Body Found, 15 Injured as Restaurant Is Destroyed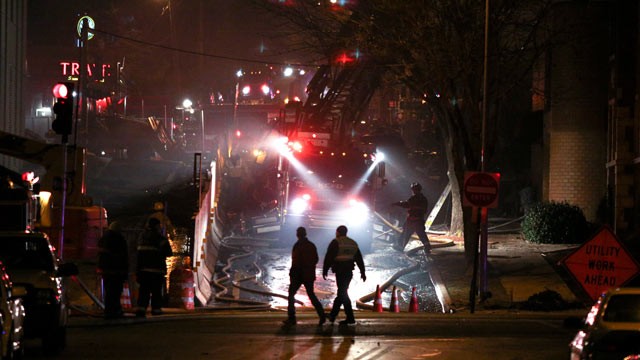 A body was recovered this morning from the scene of a natural-gas explosion that ripped through a popular downtown restaurant in an upscale section of Kansas City, Mo., Tuesday night, leaving 15 people injured.
The body has yet to be identified and three of the injured are in critical condition.
Witnesses say the huge fireball, which engulfed an entire city block Tuesday night, could be seen for miles. The explosion destroyed JJ's restaurant and rattled windows blocks away.
"Everything shook, and you could feel it almost as much as you could hear it," one witness said. "It was by far the biggest explosion I've ever felt in my life."
...It is believed that a contractor might have hit an underground natural-gas line.
Look at the map below and notice that the area (as updated in 2011) is a basin for natural gas. Look at the articles as proof to follow.
Fracking in Kansas pushes water permits to new high
KANSAS CITY, Mo. (AP) – Applications for temporary water permits for oil and gas exploration in Kansas have reached a 30-year high thanks to new oil drilling in Kansas using horizontal hydraulic fracturing, a drilling method that relies on water.
The Kansas Division of Water Resources received more than 600 applications for water permits for oil and gas exploration in 2011, the largest number for that type of application since the 1980s.
Oklahoma City-based Chesapeake Energy and SandRidge Energy are among companies securing land in Kansas, where they've begun drilling using horizontal hydraulic fracturing, or fracking, which involves pumping water, sand and chemicals into the well to help oil and gas flow.
SandRidge expects to have drill several wells in Kansas this year. Each completed well requires about 2.7 million gallons of water.
HYDRAULIC & HORIZONTALLY DRILLED FRACTURING
SO THE FRACKING COULD BE GOING FROM A RURAL AREA TO A LESS RURAL AREA AND COULD CAUSE EARTHQUAKES, SINK HOLES, AND COULD CAUSE EXPLOSIONS FROM LEAKS.
News Release
For More Information:
Heather Anderson
(785) 864-1422
Environmental and industrial representatives, to discuss hydraulic
fracturing at the Dole Institute
LAWRENCE, Kan. — The Dole Institute of Politics Student Advisory Board will host Edward Cross, President of
the Kansas Independent Oil & Gas Association (KIOGA), and Joe Spease, Sierra Club of Kansas, for a
discussion about hydraulic fracturing.
The program, Fracking: An Environmental Debate, is scheduled for 7:30 p.m., Monday, March 5, at the Dole
Institute of Politics at the University of Kansas. It is free and open to the Public.
"Hydraulic fracturing has been in the news so much lately, from stories about earthquakes to oil independence
to alternative energy sources. This program is extremely timely," said Andrew Toth, Dole Institute Student
Advisory Board coordinator. "This fascinating discussion will shed light on the truths and myths about hydraulic
fracturing. With panelists both for and against fracking, it should be of interest to experts and laymen alike."
Hydraulic fracturing is a process which allows companies to recover natural gas and oil from shale formations
deep in the ground by injecting highly pressurized fluid to fracture source rocks. The environmental risks of this
process are highly controversial.
Edward Cross serves as President of the Kansas Independent Oil & Gas Association (KIOGA) where he
oversees all KIOGA business activities and programs. Cross has served in this position since September 2003.
He is responsible for public policy advocacy and interaction with external stakeholders including elected officials,
regulators, government decision-makers, and community thought leaders.
Joe Spease is the Fracking Committee Chair of the Sierra Club of Kansas as well as President and CEO of
WindSoHy. Spease is a high-performance executive whose leadership in the field of renewable energy has
taken many forms. He has published articles on wind, Compressed Air Energy Storage (CAES), hydrogen, and
solar power, and provided frequent expert testimony on various energy-related issues before legislative
committees and as a guest speaker at energy forums and conferences.
This program is co-sponsored by the KU Association of Water and Environment (AWE) and KU Energy Club.
Each semester the Dole Institute of Politics Student Advisory Board (SAB) selects a topic and presents a
program. The SAB is the Dole Institute's student governing body, which is open to all KU students, allows
Kansas Lawmakers Look To Tighten Fracking Rules
A controversial oil and gas drilling process is on the rise in Kansas. Hydraulic fracturing, known as fracking, is a process used to get more gas and oil from wells. But critics of the process are concerned it poses environmental hazards, specifically, the potential to pollute air and groundwater. A Kansas House committee is considering a bill giving the state the option to more tightly regulate the process. More on the story here.
http://www.infrastructureusa.org/interactive-map-fracking-across-the-united-states/
November 6
BY SEAN COCKERHAM


WASHINGTON

— Property owners near shale gas wells are liable to suffer a major loss in value because of worries over water contamination, according to economists from Duke University and the nonprofit research organization Resources for the Future.Their study found Pennsylvania homeowners who use local groundwater for drinking lost up to 24 percent of their property value if they are within a mile and a quarter of a shale gas well.
...The study is among the first attempts to measure the impact on property owners of the shale gas boom sweeping the nation. It comes as the need for new regulations is being hotly debated and shale gas critics allege people are getting sick from hydraulic fracturing, or fracking, the process in which high-pressure water and chemicals are injected underground to free up the natural gas in shale rock.
...The Ohio State researchers found about a 4 percent drop in property value for households that rely on private well water within a mile of a shale gas well. The drop was bigger and lasted longer for more rural homes surrounded by farmland, according to the Ohio State researchers. They saw a dip of more than 7 percent in value.
"We find evidence that households are negatively impacted by shale gas exploration activity, but this impact largely depends on the proximity and intensity of shale activity and diminishes over time as risk perceptions adjust following the (end) of exploration activity," they found.
source: http://www.kansascity.com/2012/11/06/3903782/fracking-can-hurt-property-values.html
February 26
THE ASSOCIATED PRESS
TOPEKA

— The Kansas Senate has tentatively approved a measure allowing oil and gas drilling companies to spread clay shavings produced by fracking operations over fields in Kansas.
EPA gives producers breathing room on fracking air pollution controls
Staff
Kansas City Business Journal
The fracking process has made it much easier to extract oil and natural gas from shale formations, but it also can release harmful pollutants.
Natural gas producers wanted the EPA to phase in the air pollution requirement because they said not enough equipment is available for all of the 13,000 U.S. fracking wells.
"

So even if a Kansas well is less productive, it can still be very profitable. SandRidge Energy of Oklahoma has leased 1.3 million acres in Kansas and claims it's able to get a 55 percent financial return on wells.
"It's a very low risk area that has a high rate of return," CEO Tom Ward said in a conference call with analysts.
The company plans to spend $700 million in Kansas next year and drill 180 to 200 wells.
After being absent from Kansas for nearly three decades, Big Oil has also decided to return.
Shell Oil has leased about 700,000 acres and drilled a dozen wells so far with mixed results. But a company executive believes there is a "huge upside" in Kansas that could last for decades.
"This is for real," said David Todd, vice president of production for the Shell Exploration & Production Co."
"
One mechanism to demonstrate such examples of long-lasting repeated fracturing is the effects of seismic activity, in which the stress levels rise and fall episodically and large volumes of fluid may be expelled from fluid-filled fractures during earthquakes. This process is referred to as "seismic pumping""