my theory...

their ideas..............................................................................................................................
....................................................................................................
Mysticism, Internet fuel Maya 'Armageddon' fears
By Gabriel Stargardter
of Reuters
Mass hysteria in a Russian prison, a Chinese man building survival pods for doomsday and UFO lovers seeking refuge with aliens in a French mountain village are just some of the reports that have sprung up in the final countdown to December 21.
CHICHEN ITZA, Mexico – A few words by an American scholar, a crumbling Mexican monument and the love of a good yarn were all it took to spawn the belief that the world could end on Friday.
December 21 marks the end of an age in a 5,125 year-old Mayan calendar, an event that is variously interpreted as the end of days, the start of a new era or just a good excuse for a party.
Thousands of New Age mystics, spiritual adventurers and canny businessmen are converging on ancient ruins in southern Mexico and Guatemala to find out what will happen.
"No one knows what it will look like on the other side," said Michael DiMartino, 46, a long-haired American who is organizing one of the biggest December 21 celebrations at the Maya temple site of Chichen Itza on the Yucatan peninsula.
It is not the world but "the way we perceive it" that will end, said DiMartino, who pledged his event at ground zero for 2012 acolytes will be a "distilling down of various perspectives into a unified intention for positive transformation, evolution and co-creation of a new way of being."
A mash-up of academic speculation and existential angst seasoned with elements from several world religions, the 2012 phenomenon has been fueled by Hollywood movies and computer games, and relentlessly disseminated by Internet doom-mongers.
Mass hysteria in a Russian prison, a Chinese man building survival pods for doomsday and UFO lovers seeking refuge with aliens in a French mountain village are just some of the reports that have sprung up in the final countdown to December 21.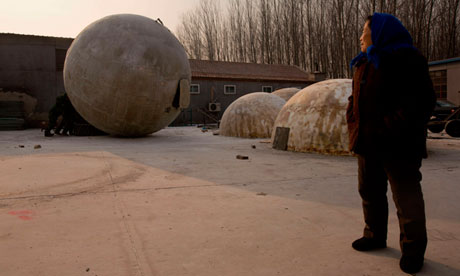 Robert Bast, a New Zealander living in Melbourne who wrote a book called "Survive 2012" on how to cope with the possible catastrophe, believes the Maya may have sent out a warning.
"The most likely thing for me is a solar storm, but that's not going to kill you straight away. It's more of a long term disaster," said Bast, 47, noting a flu pandemic could also strike the planet. "I feel the world isn't as safe as we think it is. The last couple of generations have had it very cozy."
When dawn breaks on Friday, according to the Maya Long Count calendar, it marks the end of the 13th bak'tun – an epoch lasting some 400 years – and the beginning of the 14th.
This fact would probably have languished in academic obscurity had not a young Maya expert named Michael Coe written in the 1960s that to the ancient Mesoamerican culture the date could herald an "Armageddon" to cleanse humanity.
Since then, the cult of 2012 has snowballed.
Among the sun-bleached pyramids, shaded mangroves and deep cenotes of the Maya heartland, there are hopes December 21 will bring a spiritual re-birth.
Nobody seems quite sure what to expect on Friday, but this has not stopped people getting their hopes up.
"This is the Arab Spring of the spiritual movement," said Geoffrey Ocean Dreyer, a 52-year-old U.S. musician wearing a sombrero and Mardi Gras beads. "We're going to create world peace. We're going to Jerusalem and we're going to rebuild Solomon's temple."
The words of Coe, a highly respected Maya scholar, were published in 1966 at the height of the Cold War, stirring fears in a world haunted by the prospect of nuclear holocaust.
Coe could not be reached for comment for this article, but friends and academics who know him insist he never meant to inspire a vision of apocalypse when he committed them to paper.
Stephen Houston, a Maya expert at Brown University in Rhode Island and student of Coe's, said too much has been read into the end of the 13th bak'tun, which was little more than a "dull mathematical declaration" used to bracket dates.
"I see it all as an expression of present day anxiety and not much more than that," Houston said.
Few remaining inscriptions refer to the event, and the best known one is part of a monument recovered from a Maya site in Tabasco state called Tortuguero – much of which was torn down in the 1960s to make way for the construction of a cement factory.
Still, the mix of religion, ancient inscriptions and media-driven speculation about impending doom remains potent.
"I got an email the other day from a mother who was contemplating taking her own life, because she didn't know what was really going to happen, she didn't want her children to live through this ordeal," said David Stuart, a Maya expert at the University of Texas. "We can dismiss it as a kooky idea, which it is, but they're still ideas and they still have power."
U.S. space agency NASA has sought to allay fears of impending catastrophe, noting that "our planet has been getting along just fine for more than 4 billion years, and credible scientists worldwide know of no threat associated with 2012."
Nothing has given the 2012 theories more oxygen in the run-up to the big day than the Internet, noted John Hoopes, a Maya anthropologist at the University of Kansas.
"Computers come straight out of the same people who were smoking pot and protesting at Berkeley and Stanford," he said, referring to U.S. student movements in the 1960s.
"This Maya calendar stuff has been part of hacktivism lore for 40 years, since the beginning, and with every significant change in computer technology, it's gotten another boost."
Many of those gathering in Chichen Itza praised the Internet as a discussion forum and organizing tool for New Age events.
"We don't need leaders now we have the Internet," said Muggy Burton, 66, who had traveled to Mexico from Canada with her 15-year-old, blue-haired granddaughter, Talis Hardy.
The two, who communicate with each other by whistling, plan to live in Mexico for six months, according to Burton, who is going to homeschool Hardy. "It's the end of the world for her, and the beginning of a new one," she added.
Mexico's federal government is not officially marking the phenomenon, but the country's tourism agency has launched a "Mundo Maya 2012" website with a countdown to December 21.
Up to 200,000 people are expected to descend on Chichen Itza alone for the night of December 20.
Among modern descendants of the Maya, the idea it could all come to an end on Friday generally raises a wry smile. But they are happy to play along if it makes money.
"It's a psychic epidemic," said Miguel Coral, 56, a cigar salesman in Merida, a colonial town and capital of Yucatan state. "It's all about business, but that's fine. It helps our country. I think it's excellent we've exported this idea."
Nearby, workers built a pyramid of spray-painted polystyrene blocks for the opening of the town's Maya festival.
"If people who believe in this joke want to come, let them," said Jose May, a Merida tourism official of Maya descent. "Nobody here believes that. Those people were sold an idea."
Hazy rumors have helped feed the sense of anticipation.
A few hours' drive south of Merida in the remote Maya town of Xul, which means "the end," media reports began circulating as early as 2008 that a group of Italians were readying themselves for impending doom by building apocalypse-proof bunkers.
Today, the settlement dubbed the "end of the world resort" is open for business as "Eco Spa Las Aguilas."
"There's no truth in it," said deputy manager Andrea Podesta, 45, referring to speculation it was a cult.
"Some people came here, took some hidden photos, and published some very unpleasant articles about us," he added, noting the glistening new spa was booked up well into 2013.
Inside, a group of elderly Italians, mostly dressed in white, were watching the path of an asteroid on a giant screen. A black-and-white image of Christ's face hung from the wall and a large stone statue of a robed woman greeted visitors.
Whatever lies in store for the planet, even Maya academics who have fought to play down the hype surrounding the passing of another 24 hours feel there could still be some surprises.
"I think there may be some mischief on December 21 because the whole world is watching," said Hoopes in Kansas, citing rumors hacktivist group Anonymous was planning a stunt. "It's a very fertile opportunity for a tremendous prank."
Mayan apocalypse mania grips Russia
Officials try to calm fears as Russians buy up emergency supplies before the Mayan calendar runs out on Friday
The apocalypse is surely near when Ramzan Kadyrov emerges as the voice of reason.
The ruthless leader of Chechnya is among dozens of Russians officials, priests, doctors and psychiatrists aiming to calm an anxious populace frantically preparing for the end of the world later this week.
"People are buying candles saying the end of the world is coming," Kadyrov said in comments published on his official website last week. "Does no one realise that once the end of the world comes, candles won't help them?"
.......................................................................................................................................................
Mayan apocalypse? Doomsday? Asteroid? How the world will end
Published December 17, 2012
Wondering what could cause the Mayan Apocalypse? Just look up at the stars.
For years, conspiracy theorists, numerologists, and armchair prophets have predicted the end of the world will take place on December 21, 2012. They point to several apocalyptic events: a long-period comet hurtling toward Earth, or a massive solar storm that causes complete power grid failure.
And they take the stories seriously. Rob Skelton, who runs Survive2012.com and has studied a possible Mayan doomsday event for 15 years, says there is a reason to be concerned. For the long-period comet, he admits we would normally have spotted one by now -- unless it had gone dark and lost its reflective ice. For the solar storms, he says the Mayans could have found a pattern in low-latitude auroras and predicted a coming disaster.
"Both are only predictable via periods of observation longer than the modern scientific era," he told FoxNews.com. "All I've done is find a reason why it could happen this December."
According to Skelton, a solar storm could wreak havoc in the U.S., knocking out the power grid for months. The U.S. relies on the grid to keep nuclear power plants safe, run factories, and communicate between fire and police forces. Without this key infrastructure, there will be mass pandemonium and destruction, he said.
But will these events happen on December 21? That's extremely unlikely, says one NASA scientist.
"This is purely an Internet phenomena," said David Morrison, an astrobiologist at NASA. Comets that cause destruction on Earth are extremely rare – they could happen once every 500 million years.
........................................................
'There are no objects out there that will impact the Earth.'
- David Morrison, an astrobiologist at NASA
..................................................
Mysterious objects have been known to strike planets in the past. In 1994, a series of comets struck Jupiter, the largest planet in our solar system. Most scientists agree that solar storms are relatively common events and can cause electrical disruptions. And comets do tend to be harder to track in our solar system until they pass by the sun. But nothing like that is imminent, Morrison said.
"There are no objects out there that will impact the Earth," he told FoxNews.com.
As for the massive solar storms, Morrison says they do happen. "The power does go out, and that's not a nice thing and it means people are not happy. But that doesn't kill millions." In most cases, even with a major outage, it can take weeks at most, not month, to regain power, he said.
"Solar storms are relatively common events," agreed Chris De Pree, a professor at Agnes Scott College and author of The Complete Idiot's Guide to Astronomy. "Other than disrupting communications and putting on a great boreal light show, the long term effects would probably not be great."
NASA operates the Solar and Heliospheric Observatory (SOHO) to track comets and asteroids, and also runs the Spaceguard Survey, a ten-year project intended to track near-Earth objects in our solar system. There are no hidden secrets, De Pree said: NASA publishes the report online
.
About those comets? Morrison says comets are well-known to have dark surfaces. NASA still tracks them, as well as asteroids – which are "dark as a lump of coal."
Morrison is most skeptical about the Mayan predictions. "There is nothing special about that date," he said. "The Mayans never predicted anything will happen. There are thousands of people who run Web sites and make YouTube videos about catastrophes who are not scientists."
He says the Mayan calendar works a bit like our own calendar: When you reach the end, you flip over a page and start a new calendar. What will the doomsday predictors turn to next? That's hard to say, but history has shown that there will be yet another catastrophic event to worry about.
"Claims about the end of the world are a time-honored way to sell things," De Pree said.


Read more: http://www.foxnews.com/science/2012/12/17/mayan-apocalypse-doomsday-asteroid-how-world-will-end/#ixzz2FS2tqtS1
China Arrests 500 Over Mayan Apocalypse Rumors
DOOMSDAY SCENARIO CITED AS MOTIVE FOR SCHOOL STABBING SUSPECT
Posted Dec 17, 2012 9:21 AM CST
(NEWSER)

– In the US, we mostly laugh off the Mayan-predicted apocalypse that will probably eradicate us all in a few days. But in China, it's serious business. Authorities there have now arrested more than 500 members of the banned Christian "Almighty God" cult for allegedly spreading doomsday prophesies, the AP reports. Police also seized leaflets, DVDs, books, and other materials warning of the impending apocalypse. The cult believes that the "sun will not shine and electricity will not work for three days beginning on December 21," the state-runXinhua news service reported.
Then again, perhaps China has good reason to try to clamp down on the rumors; according to another report, such prophesies were a motivating factor in the knife attack on 23 children at an elementary school on Friday. The suspected slasher, identified as Min Yongjun, "had been strongly psychologically affected by rumors of the upcoming end of the world," Xinhua reported. If you are similarly being psychologically affected, we urge you to calm down and read this or this.
How the world's Mayan apocalypse believers are waiting for the end
Around the world, believers are preparing for Doomsday this Friday - and restaurants are offering 'End of the World' specials.
Around the world, believers are preparing for Doomsday this Friday - with a senior Chechen politician saying, "Candles won't help you," to a panicky populace.

In China, dozens of believers have been arrested, and DVDs of 'apocalyptic propanda' seized.

Hotels near a Serbian mountain have seen hundreds of booking requests from believers who think a buried UFO might save them from doom on Friday.

In America, 'doomsday preppers' have fled to underground shelters - while TGI Friday is offering a 'Rib Eye to End All Rib-Eyes' as part of a special 'End of the World' menu.

In Britain, of course, most people have kept calm - with the AA advising motorists to allow extra time for their journeys as the end of the world approaches.

Here's how countries around the world have prepared for 'the end'.
China
The 'Mayan apocalypse' poses a serious danger in China – where 100 believers have been arrested for spreading rumours about the 'end' this Friday.
The state-run Xinhua News Agency said police arrested 101 believers and confiscated leaflets, DVDs and other apocalyptic propaganda in eight provinces across the country.
Nearly half of those detained are reported to be members of the group Almighty God, which is also called Eastern Lightning.
The group preaches that Jesus has reappeared as a woman in central China and has been accused of kidnapping and beating Christians to force conversions.
Russia
In Russia, fears over the 'Mayan apocalypse' prompted government minister Vladimir Puchkov to issue a statement saying that he had used "methods of monitoring planet Earth" to determine that the planet was not at risk.
Other politicians have been less reassuring.
Chechen President Ramzan Kadyrov said on his website, ""People are buying candles saying the end of the world is coming. Does no one realise that once the end of the world comes, candles won't help them?"
In the northern town of Chelyabinsk, believers have built a Mayan archway out of ice.
Other towns reported panic buying of essential supplies. The mining town of Novokuznetsk saw 60 tonnes of salt bought in one week as believers laid in supplies.
Serbia
Hundreds of doomsday believers have flocked to a 'mystical' mountain in Serbia where an alien pyramid supposedly lies buried.
Mount Rtanj, in the Carpathians, supposedly contains alien relics with a special power that will preserve people on Doomsday.
Local hotels have seen hundreds of booking requests.
"In one day we had 500 people trying to book rooms. People want to bring their whole families," hotel manager Obrad Blecic told The Telegraph.
France
The village of Bugarach, in the foothills of the Pyrenees, has become a focus for Doomsday believers - some of whom think the village will be the only part of Earth to survive.
Believers think that UFOs will rescue people from the impending apocalypse.
The local mayor has said that 100 gendarmes will seal the town from 19-23 December to keep out Doomsday cultists.
Mayor Jean-Pierre Lord said,"My message is very simple. I am telling people don't come here to Bugarach for a simple reason there will be nothing to see here. So I insist don't come here - there will mainly be the police here," he said.
Britain
Britons have largely 'kept calm and carried on' - although some 'Doomsday preppers' are ready for the worst.
British sci fi author Edward O'Toole is so convinced disaster is inevitable that he has already moved to Slovakia to prepare for the end.
He says, "I think there will be a new Dark Age and I want my children to have a good chance of survival."

Other organisations have kept a stiff upper lip.

The London Fire Brigade spokesman advised: "Fit a smoke alarm on each level of your home, then at least you might stand a chance of knowing that the end of the world is nigh ahead of those who don't.
"If you survive the apocalypse you'll be alerted to a fire more quickly should one ever break out."

The AA said: "Before heading off, take time to do the basic checks on your car and allow extra time for your journey."

Mexico
Ethnic Mayans themselves are largely uninterested in the so-called 'prophecy'.

The 800,000 Mayans who live in Mexico's Yucatan area have been immune to the hysteria – but it has inspired some Mayans to take an interest in traditional beliefs.

"The Western belief in the end date 'long count calendar' has inspired a resurgence in interest in the Mayans' own traditional beliefs in Mexico and Guatemala," said Andrew Wilson, a University of Derby academic who studied the phenomenon.

Self-styled 'Mayan Elder' Hunbatz Men has written extensively about the calendar, and about how the Mayans had eight separate calendars – many extending far beyond the so-called 'end date.'

Men, and other Mayans, do not predict the world will end on December 21.

America

The American government released a statement reassuring its citizens, saying "The Maya celebrated the end of every calendar cycle, they did not consider them as predictions of a global catastrophe."

'Doomsday preppers' in America are ready for apocalypse - but hotels and restaurant chains are also prepared.

T.G.I Friday's has an 'end of the world' special called "Last Friday" in Chicago, Los Angeles, Miami, Orlando, Tampa and Washington D.C.

The "End-of-the-World" Menu offers a Mayan Margarita, the Last First Bite appetizer, the Rib-Eye to End All Rib-Eyes entree and Final Countdown dessert.

NASA has an entire website devoted to debunking the so-called 'Mayan Apocalypse' - particularly claims that a 'rogue planet' wil collide with Earth.

The space agency claims that scientists would have been tracking any such object for at least a decade, saying, "The story started with claims that Nibiru, a supposed planet discovered by the Sumerians, is headed toward Earth.