American killed in Libya during protests about Prophet Muhammad video
NBC's Andrea Mitchell reports on the death of the U.S. ambassador to Libya in an attack on the U.S. consulate in Benghazi. The envoy is the first American ambassador killed on duty since 1979.
Updated at 5:22 a.m. ET: A State Department officer was killed after armed protesters stormed the U.S. Consulate in Benghazi, Libya, furious about an amateur video that has been viewed as insulting to the Prophet Muhammad.
Secretary of State Hillary Clinton confirmed the American's death in a statement on Tuesday evening.
"Some have sought to justify this vicious behavior as a response to inflammatory material posted on the Internet," Clinton said in the statement. "The United States deplores any intentional effort to denigrate the religious beliefs of others."
The attack left much of the consulate burned, witnesses said, and came hours after demonstrators in Egypt climbed the walls of the U.S. Embassy in Cairo to protest the video.
In Benghazi, protesters from various groups joined together to pull down the American flag in the embassy's courtyard and tried to raise a black flag with the words: "There is no God but Allah and Muhammad is his messenger."
Once the U.S. flag was hauled down, protesters tore it up, with some showing off small pieces to television cameras. Then others burned pieces of the flag before riot police arrived. Most of the 2,000 in the crowd later left. Some reports said warning shots were fired.
The video, clips of which are online, shows a portrayal of the prophet having sex and calling for massacres, the AP reported. It was allegedly produced in the United States.
Egyptian media have been reporting on it for several days, with ultraconservative clerics going on air to denounce it.
"This movie must be banned immediately and an apology should be made ... This is a disgrace," said 19-year-old Ismail Mahmoud, a member of the so-called "ultras" soccer supporters who played a big role in the uprising that brought down Hosni Mubarak last year.
Esam Omran Al-Fetori / Reuters
The U.S. Consulate in Benghazi is seen in flames during a protest by an armed group said to have been protesting a film being produced in the U.S., on Sept. 11.
Many Muslims consider any depiction of the Prophet Muhammad to be offensive.
Filmmaker calls Islam 'a cancer'
Sam Bacile, a 56-year-old California real estate developer who identifies himself as an Israeli Jew and who said he produced, directed and wrote the two-hour film, "Innocence of Muslims," said he had not anticipated such a furious reaction.
US ambassador to Libya killed in attack on embassy
A truck was set on fire in the US consulate compound during an attack that killed US Ambassador to Libya Chris Stevens and three other Americans.
CAIRO — The US ambassador to Libya, J. Christopher Stevens, was killed along with three of his staff members in an attack on the US Consulate in Benghazi on Tuesday night by an armed mob angry over a short US-made video mocking Islam's founding prophet, White House and Libyan officials said Wednesday.
In a statement confirming the four fatalities, President Barack Obama said he strongly condemned the killings and had ordered increased security at US diplomatic posts around the world. It was the first death of a US envoy abroad in more than two decades.
The attack at the compound in Benghazi was far more deadly than administration officials first announced Tuesday night, when US Secretary of State Hillary Rodham Clinton said one American had been killed and one injured.
Another of those killed was Sean Smith, an information management officer who joined the foreign service 10 years ago, Clinton said in a statement. The State Department did not identify the other two, pending notification of their relatives. Smith, who was a husband and father of two, previously served in Iraq, Canada and the Netherlands.
''This is an attack that should shock the conscience of people of all faiths around the world,'' Clinton said in a televised statement. ''We condemn in the strongest terms this senseless act of violence, and we send our prayers to the families, friends and colleagues of those we've lost.''
Clinton described the Benghazi assailants as ''a small and savage group, not the people or government of Libya.''
Obama's statement did not disclose details of the attack. Stevens, the ambassador, took up his post in Tripoli in May after having served as an envoy to the Libyan rebels who overthrew Libya's leader, Moammar Gadhafi, last year.
''While the United States rejects efforts to denigrate the religious beliefs of others, we must all unequivocally oppose the kind of senseless violence that took the lives of these public servants,'' Obama said, calling Stevens ''a courageous and exemplary representative of the United States'' who had ''selflessly served our country and the Libyan people at our mission in Benghazi'' and, as ambassador, ''supported Libya's transition to democracy.''
Libya attack may have been planned and organized, U.S. officials say
WASHINGTON - The attack that killed the U.S. ambassador and three other American diplomats in Benghazi, Libya, may have been planned and organized in advance, U.S. government officials said on Wednesday.
Iran Accused of Being Behind the 9/11 Attacks.

U.S. Court Judgment, December 2011 (Havlish v. Iran)
Global Research, September 10, 2012
Global Research Editor's Note
We bring to the attention of our readers a carefully documented study by Global Research's Julie Levesque published in May 2012 pertaining to a high profile Manhattan lawsuit launched in 2004 against the Islamic Republic of Iran.
The Havlish v. Iran lawsuit accuses Iran of having supported the 9/11 hijackers.
At this historical juncture, with Iran being the object of numerous threats both byTel Aviv and Washington, The Havlish v. Iranjudgment could be used as a justification for a waging a preemptive attack on Iran.
In the context of the commemoration of 9/11, the issue of Iran's alleged role as a "state sponsor" of terrorism is likely to surface in media coverage as well as in the commemoration speeches off both Barack Obama and Mitt Romney.
The investigation into Tehran's alleged role in the 9/11 attacks was launched by the Havlish lawyers in 2004, pursuant to a recommendation of the 9/11 Commission "regarding an apparent link between Iran, Hezbollah, and the 9/11 hijackers". The 91/11 Commission's recommendation was that the this "apparent link" required "further investigation by the U.S. government." (9/11 Commission Report , p. 241). (See Iran 911 Case ).
The Havlish lawyers built their case against Iran using the testimonies of "expert witnesses" as well as "evidence", which was in large part fabricated.
In the December 2011 court judgment (Havlish v. Iran) "U.S. District Judge George B. Daniels ruled that Iran and Hezbollah materially and directly supported al Qaeda in the September 11, 2001 attacks and are legally responsible for damages to hundreds of family members of 9/11 victims who are plaintiffs in the case".
According to the plaintiffs attorneys "Iran, Hezbollah, and al Qaeda formed a terror alliance in the early 1990s. Citing their national security and intelligence experts, the attorneys explained "how the pragmatic terror leaders overcame the Sunni-Shi'a divide in order to confront the U.S. (the "Great Satan") and Israel (the "Lesser Satan")". Iran and Hezbollah allegedly provided "training to members of al Qaeda in, among other things, the use of explosives to destroy large buildings." (See Iran 911 Case ).


Syria Disinformation Campaign: Social Media Circulates Fake Documents
According the Syrian News Agency SANA, Western media outlets and online social media sites are circulating fake documents which they claim to have obtained from the Syrian government sources. Fake documents of letters and correspondence are being circulated on the internet
The Foreign and Expatriates Ministry said that some mass media outlets and social networking sites are circulating documents and claiming them to be from the Foreign and Expatriates Ministry, stressing that these documents are fake and were never issued by the Ministry despite the presence of a forged Ministry seal and official header.

The Ministry cited as an example of these fake documents some letters addressed to the foreign ministers of Saudi Arabia, Qatar and Egypt, a letter issued by a fictional bureau attributed to the Ministry called "Bureau of Foreign Follow-up and Tracking" which doesn't even exist in the Ministry's structure.

The Ministry hoped that mass media and sites would communicate directly with it to verify the authenticity of any alleged documents attributed to the Foreign and Expatriates Ministry and are circulated to harm Syria as part of the campaign of misdirection and lies waged against it.
The Ministry said it will verify or refute the authenticity of any document issued by it out of concern for the objectivity and professionalism of mass media outlets that respect themselves and their professional history. (SANA, September 10, 2011)
Clinton: Russia-Proposed UN Resolution On Syria Lacks 'Teeth'

9/10/2012 4:58 AM ET
(RTTNews) - U.S. Secretary of State Hillary Clinton on Sunday rejected a Russian-proposed U.N.

Security

Council (UNSC) resolution on Syria, stating that Moscow's proposal lacked the "teeth" required to persuade the Assad regime to stop attacking its own people.
Clinton made the U.S. position clear at a news

conference

held after talks with her Russian counterpart Sergei Lavrov and President Vladimir Putin on the sidelines of the Asia-Pacific Economic Co-operation (APEC) summit in the Russian city of Vladivostok.
Incidentally, Russia wants U.S. backing for securing UNSC approval for a Moscow-proposed resolution on Syria demanding the implementation of a peace plan agreed in June in the Swiss city of Geneva. That plan calls for a ceasefire and peaceful political transition in Syria.
Clinton said she had informed Lavrov that any U.N. action on Syria would "only be effective if it includes consequences for noncompliance." She also noted that "there's no point passing a resolution with no teeth, because we've seen time and time again that Assad will ignore it and keep attacking his own people."
"With respect to Syria, I made the international community's case again yesterday to both the Foreign Minister and the President that we have to bring more pressure to bear on the Assad regime to end the bloodshed and begin a political democratic transition," she said.
Nevertheless, the top U.S. diplomat expressed willingness "to work with Foreign Minister Lavrov to see if we can revisit the idea of putting the Syria transition plan that we agreed to in Geneva earlier this summer into a Security Council resolution."
Acknowledging the differences between Washington and Moscow on the Syrian issue, Clinton admitted that the United States and its allies "haven't seen eye-to-eye with Russia on Syria," and noted that Washington's differences with Russia on the Syrian issue "may continue."
"And if it does continue, then we will work with like-minded states to support the Syrian Opposition to hasten the day when Assad falls, and to help prepare Syria for a democratic

future

and help it get back on its feet again," she added.
Notably, Russia and China had used their veto powers at the UNSC in July to block a West-backed resolution that would have threatened the Syrian regime with sanctions if it failed to implement an earlier agreed peace plan. It was the third time in nine months that the two nations vetoed resolutions on Syria.
read more here http://www.rttnews.com/1962195/clinton-russia-proposed-un-resolution-on-syria-lacks-teeth.aspx?type=gn&utm_source=google&utm_campaign=sitemap
Panetta: US has a year if Iran decides on a nuke
PHOTO: REUTERS/LARRY DOWNING
WASHINGTON - If Iran decides to make a nuclear weapon, the United States would have a little more than a year to act to stop it, US Defense Secretary Leon Panetta said on Tuesday.
"It's roughly about a year right now. A little more than a year. And so ... we think we will have the opportunity once we know that they've made that decision, take the action necessary to stop (Iran)," Panetta said on CBS's "This Morning" program.
He said the United States has "pretty good intelligence" on Iran. "We know generally what they're up to. And so we keep a close track on them."
Panetta said the United States has the capability to prevent Iran from building an atomic bomb.
"We have the forces in place to be able to not only defend ourselves, but to do what we have to do to try to stop them from developing nuclear weapons," he said.
The United States and Israel believe Iran is working toward developing nuclear weapon development capability. Israel, widely thought to be the Middle East's only atomic power, says a nuclear-armed Iran would be a threat to its existence.
Iran says its nuclear work is for peaceful energy purposes only.
Libya Diplomats Expelled From Canada, Five Days To Leave The Country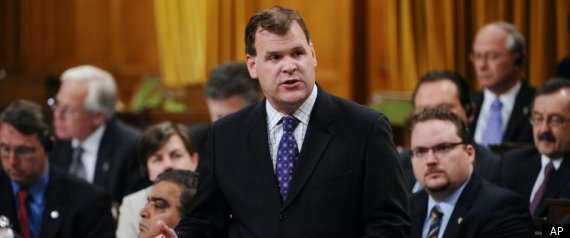 OTTAWA - Ottawa is expelling all remaining Libyan diplomats from the country, a move aimed at further isolating the regime of Moammar Gadhafi.
Foreign Affairs Minister John Baird says in a statement that Canada has declared the diplomats persona non grata, effective immediately.
Baird calls the decision the latest step in Canada's efforts to delegitimize the Gadhafi regime.
The diplomats have five business days to vacate the Libyan Embassy in Ottawa and leave the country.
Baird says the government is also cutting off the diplomats' access to the embassy's bank accounts.
Canada is part of the NATO mission enforcing a UN-sanctioned no-fly zone over Libya that aims to protect the North African country's citizens from attacks by Gadhafi's forces.
Baird visited the Libyan rebel stronghold of Benghazi in June to meet with members of the National Transitional Council, a collection of mainly lawyers and academics.
Canada severs diplomatic ties with Iran, citing safety concerns
A woman and a man shield their faces as they make their way into the Iranian embassy in Ottawa on Friday, Sept. 7, 2012. (Fred Chartrand / THE CANADIAN PRESS)
CTVNews.ca Staff
Published Friday, Sep. 7, 2012 9:57AM EDT
Last Updated Friday, Sep. 7, 2012 10:34PM EDT
Canada abruptly closed its embassy in Iran and expelled Iranian diplomats in Ottawa Friday, citing safety concerns in Tehran and the long-standing view that Iran is a significant threat to global peace.
"The Iranian regime has shown blatant disregard for the Vienna Convention and its guarantee of protection for diplomatic personnel," Foreign Affairs Minister John Baird said Friday, formally listing Iran as a state sponsor of terrorism.
"Under the circumstances, Canada can no longer maintain a diplomatic presence in Iran," he said in a statement. "Our diplomats serve Canada as civilians and their safety is our No. 1 priority."
A senior official told CTV News there was a credible threat to Canadian diplomats in Iran.
Baird said the Iranian regime's support of Syrian president Bashar Assad, Iran's refusal to comply with the UN's resolutions on its nuclear program and its regular threats to Israel make it "among the world's worst violators of human rights."
"This was a decision that we took very seriously," Baird told CTV's Power Play Friday afternoon in a telephone interview from Russia, where he is attending the Asia-Pacific Economic Co-operation forum with Prime Minister Stephen Harper.
Baird denied that the move was a preemptive response to a planned Israeli attack on Iran, as some observers have speculated.
Israeli Prime Minister Benjamin Netanyahu has repeatedly hinted that he is prepared to authorize an attack on Iran's nuclear facilities if international sanctions and diplomatic measures don't do the trick.
"We've received no notice from any other country…that there is any imminent military action," Baird said, adding: "Unequivocally no."
He said Ottawa waited to formally sever ties with Iran until all Canadian diplomats and embassy staff safely left the country. The last members of the group left Iran yesterday, he said.
Iranian diplomats in Ottawa have been instructed to leave within five days.


Read more: http://www.ctvnews.ca/canada/canada-severs-diplomatic-ties-with-iran-citing-safety-concerns-1.946127#ixzz26Hii8uQ3