Posted: Saturday, 01 September 2012 2:12PM
Isaac updates from Louisiana state authorities
WWL First News received the following news releases from the Louisiana Joint Information Center Saturday Afternoon:
High water, strained lock threatens Louisiana homes
updated 4:51 PM EDT, Sun September 2, 2012
Slidell, Louisiana (CNN) -- Authorities dropped a mandatory evacuation order Sunday for neighborhoods threatened by a strained lock on a southeast Louisiana canal, but still recommended people stay away.
"As there is still a potential threat, even though reduced, a voluntary evacuation remains in place until the Army Corps of Engineers deems the lock stable and safe," the president and sheriff of St. Tammany Parish announced late Sunday morning. "Please stay vigilant."
The lock authorities feared would fail was on a man-made canal that juts off the Pearl River, along the Mississippi state line. The river has been swollen by rain from last week's Hurricane Isaac, forcing authorities to relieve pressure on the structure by releasing water Saturday and Sunday.
Earlier Sunday, St. Tammany Parish President Pat Brister told CNN the water level at the lock has been reduced "tremendously" since Saturday night, and "We feel a lot better."
But the waters were still rising Sunday afternoon. Christina Garcia stopped by a boat ramp around the corner from her home periodically, counting off heel-to-toe steps from the waterline to the top to track the river's rise.
"When I first started, it was like, 14, and now I'm down to probably 10," Garcia said. The river "is starting to come up slowly, but there is some concern. We are trying to take all precautions."
Forecasters predict the Pearl to crest Monday at 19.5 feet, more than five feet above flood stage. That will result in "major flooding" of at least two subdivisions near the banks and threaten areas in the southeastern corner of the parish, according to the National Weather Service.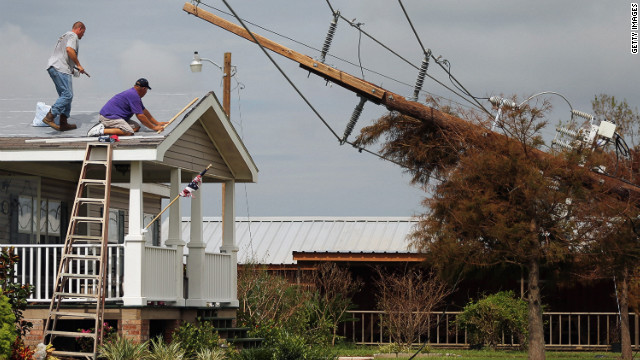 The remains of Isaac drifted over the Ohio River valley on Sunday, bringing stormy weather from Nashville, Tennessee, to Indianapolis.
The remnants of Isaac, meanwhile, moved to the northeast on Sunday after scattering much-needed rain on parts of the lower Midwest. But the system skirted most of the Midwestern and Plains states, where this year's drought is the worst.
"Certainly, it helped some locations in our far eastern counties in Oklahoma, but there was very little beneficial rain," said Pete Snyder, a National Weather Service meteorologist in Tulsa.
Nearly all of Oklahoma, Arkansas, Missouri, Iowa, Nebraska and Kansas fall under the worst two drought categories. Isaac dumped heavy rain across southern Arkansas last week, with some flooding reported around Little Rock and Pine Bluff. But the northwestern city of Fayetteville, which is nearly 11 inches below its normal rainfall totals for the year, got just over an inch, Snyder said.
Flood warnings remained posted for parts of two northeastern Arkansas counties along the Cache River on Sunday. Parts of Missouri and Illinois saw up to six inches of rain Saturday, and the National Weather Service issued a flash flood warning early Sunday for portions of southern Illinois.
Isaac is blamed for at least 19 deaths in Haiti and at least four more in Louisiana and Mississippi after making landfall last week as a Category 1 hurricane -- on the seventh anniversary of Hurricane Katrina -- near the mouth of the Mississippi River.
The storm posed the first real test to New Orleans following a $14.5 billion federal effort to reconstruct the city's flood control system after it failed during Katrina in 2005. Katrina killed nearly 1,800 people, most when the storm overwhelmed the levee system and flooded the city.
Though much weaker than Katrina when it came ashore, Isaac moved slowly and dumped enormous amounts of rain on Louisiana and Missouri. In Plaquemines Parish, near the mouth of the Mississippi River, homes and businesses flooded after a parish-maintained back levee failed. Officials were intentionally breaching levees in strategic areas in the parish, in hopes of getting "the bulk of this water out in five to seven days," Plaquemines Parish President Billy Nungesser said Saturday.
Threat of flooding from troubled Louisiana canal lock eases; remnants of Isaac push north
A Louisiana official says crews are working to relieve pressure on a lock in danger of failing and flooding homes near a canal in St. Tammany Parish. NBC's Gabe Gutierrez reports.
Updated at4:36 p.m. ET: Engineers on Sunday were assessing the integrity of a lock along a canal north of New Orleans that threatened to fail and send water from the Hurricane Isaac-swollen Pearl River flooding through neighborhoods.
A flash-flood warning was in effect for east-central St. Tammany Parish, a community north of New Orleans in southeast Louisiana but officials said the threat of disaster had eased.
Parish President Pat Brister on Sunday changed the evacuation of the area between Bush and Hickory, east of Highway 41, from mandatory to voluntary.
"The Army Corps of Engineers Vicksburg District has lowered the pressure on Lock 2 near Bush. The Corps informed President Brister this morning that the threat level is lowered significantly," St. Tammany Parish officials said in a statement on their website.
St. Tammany Sheriff Jack Strain Jr., left, walks over Lock 2 of the Pearl River Navigational Canal in Bush, La., on Saturday. Officials opened a valve on the lock to relieve pressure on the overflowing Pearl River Navigational Canal.
"As there is still a potential threat, even though reduced, a voluntary evacuation remains in place until the Army Corps of Engineers deems the Lock stable and safe."
read more at
http://usnews.nbcnews.com/_news/2012/09/02/13620370-threat-of-flooding-from-troubled-louisiana-canal-lock-eases-remnants-of-isaac-push-north
Louisiana visit recalls often strained relationship between Obama, Jindal
President Obama will survey
storm damage in Louisiana on Monday, just two years after an alleged confrontation with Gov. Bobby Jindal (R) during the BP oil spill.
The conservative Republican governor and prominent Mitt Romney surrogate has been loudly critical of Obama and his handling of Gulf Coast disasters.
Jindal caused a stir in his 2010 autobiography, "Leadership and Crisis," which painted Obama as thin-skinned and image-obsessed in the aftermath of the BP spill.
People Return to Swampy Louisiana, Battered Yet Again
HURRICANE ISAAC HARDLY THE FIRST DISASTER TO STRIKE PLAQUEMINES PARISH
By Neal Colgrass, Newser Staff
(NEWSER)

– Sad sights litter the road as people return by boat to southern Louisiana: scattered steel drums, warped telephone poles, stranded cattle, a shrimp boat on its side. But residents devoted to the country life and independent spirit of Plaquemines Parish—a stretch of marshy land at the state's southeastern end—are used to disasters like Hurricane Isaac. "Call me crazy," one tells the New York Times. "I don't want to be nowhere else. If this happened a hundred times, I'm going to move back a hundred times."
A hundred times it may be, considering that Hurricanes Katrina, Rita, Gustav, and the BP oil spill have all struck since 2005. What's more, a slab of Louisiana no smaller than Delaware has vanished into the Gulf over the past 80 years, and Plaquemines is growing ever thinner. For now, roads remain under water and no power is expected before Christmas. One shrimper's decision to live in a trailer, not a house that can be washed away, probably says it all. "My lifetime, my kids' lifetimes, we ain't going to be here no more," he says. "How much can you take?"
Jindal seeks Isaac FEMA cash from Obama, hides sinkhole, conservatism
Gov. Bobby Piyush Jindal has done it again.
Just when you think he can't get any more arrogant, he responds by flexing his string bean Barney Fife-like muscles at President Obama over—you guessed it—federal funds.
It all started with an Aug. 26 request from Jindal to Obama for reimbursement "for all emergency protective measures" against the threat of tropical storm and soon-to-be hurricane Isaac.
What the state got instead was a federal declaration of emergency that provided only for direct federal assistance. "Unfortunately, your limited declaration does not provide for reimbursement of expenses that the state is taking to prepare for the storm," Jindal said.
Remember, this is the governor who eschews federal grants on the grounds that federal money means federal interference and control.
Now it appears that he wants to cherry pick what he does and does not want in the way of federal funds.
Jindal's response was all too typical of his wanting everything his way—whether it involves public education, higher education, health care, or oil spills in the Gulf of Mexico.
Everything, that is, except that Bayou Corne sinkhole in Assumption Parish. The sinkhole, the size of three football fields and 380 feet deep, is only 1500 feet from a butane-filled cavern. That's one place Jindal has never shown his face despite–or maybe because of–the lingering threat of a major explosion.
That could be because on Jan. 21, 2011, Texas Brine Co. notified the Department of Natural Resources (DNR) by letter of a "failed mechanical integrity test (MIT) of the company's subject brine production well. At the time, Texas Brine was in the process of sectioning out a portion of the lower cemented casing to allow additional salt extraction. Testing indicated the well lacked sufficient integrity for continued production.
DNR apparently concealed documents showing that the cavern may have had problems since 2010.
In an earlier letter dated Aug. 25, 1995, Texas Brine notified DNR that low levels of naturally occurring radioactive material (NORM). DNR responded that it had "no objection" to Texas Brine's "returning the NORM along with otherwise uncontaminated soil to the salt dome cavern."
Last week, a non-government group, Louisiana Environmental Action Network, said radiation levels at the sinkhole were 15 times higher than the state limit.
Former DNR Secretary Scott Angelle resigned in the middle of the crisis, ostensibly to seek a seat on the Louisiana Public Service Commission in a move some regarded as a callous disregard for the safety of the residents around the sinkhole.
Considering the fact that the Bayou Corne crisis came about on Jindal's watch and considering there was no one else to blame (BP, a hurricane or the federal government), Piyush has kept a conspicuously low profile in this ongoing saga.
It would seem, therefore, that Jindal only shows up at a crisis when there might be political points to be gained.
Following is the text of Jindal's Aug. 27 letter to Obama:
Dear Mr. President:
I have received your approval of a limited federal declaration of emergency for Tropical Storm Isaac for the State of Louisiana. We appreciate your response to our request and your approval. However, the State's original request for federal assistance dated August 26, 2012 included a request for reimbursement for all emergency protective measures. The federal declaration of emergency only provides for direct federal assistance.
In a release issued by the White House today, it said "the declaration builds on resources already deployed by FEMA and makes Federal funding available for certain emergency activities undertaken by the state to prepare for and respond to the storm." Unfortunately, your limited declaration does not provide for reimbursement of expenses that the state is taking to prepare for the storm.
As of 5 p.m. Central time today, the National Weather Service forecasts this storm to strengthen to a Category 2 hurricane and squarely impact the State of Louisiana. The increased urgency of the situation necessitates that we re-emphasize the request for full federal assistance for the State.
The projected path of the storm has continued to shift westward and now threatens the entire State of Louisiana. The rapidity of the path's westward movement has increased the potential impact of this storm from a slight chance of affecting southeastern Louisiana to now threatening the entire state. The speed with which this threat developed has necessitated extraordinary emergency protective measures at the State and local government level.
Since the State of Louisiana is faced with a rapidly developing situation that threatens a large percentage of our population, please consider the following developments as a supplement to the request submitted yesterday.
At this time 34 parishes have declared a state of emergency:
Acadia, Allen, Ascension, Assumption, Avoyelles, Cameron, East Baton Rouge, East Feliciana, Franklin, Iberia, Iberville, Jefferson, Jefferson Davis, Lafourche, Livingston, Morehouse, Natchitoches, Orleans, Ouachita, Plaquemines, Pointe Coupee, Rapides, St Bernard, St Charles, St Helena, St James, St John, St Martin, St Mary, St Tammany, Tangipahoa, Terrebonne, Washington, West Baton Rouge.
We request that you expand the designations to include all of these parishes. We expect more parishes to declare a state of emergency.
There are currently nine areas covered by mandatory evacuation orders:
Jefferson – Grand Isle
Jefferson –Town of Jean Lafitte
Jefferson – Crown Pointe
Jefferson – Barataria
Lafourche – Low lying parishes
Plaquemines – From Braithwaite to White Ditch on the East Bank
Plaquemines – From Ironton South to Venice
St Charles – Parish Wide Evacuation
Tangipahoa – Town of Winnsboro, Lee's Landing, and low-lying areas
As of this morning, I have activated 4,126 Louisiana National Guardsmen, an emergency contract for over 300 commercial buses, and over 5,000 shelter spaces to respond to the wide ranging projected path of this storm, move our citizens out of harm's way and provide them with shelter. The school districts in the path of the storm have cancelled school until this dangerous storm passes.
All of these actions are appropriate and necessary responses to the threat of this storm. While Tropical Storm Isaac has yet to strike the state, it has necessitated significant amounts of State and local government expenditures. The State's expenditures for emergency protective measures are already approximately $8,000,000 and exceed the State of Louisiana's threshold when making a request for a major disaster declaration.
Given the extraordinary developments of this storm and its approaching impact on the State of Louisiana, I ask that you exercise your discretion to approve the State's pending request for all emergency protective measures. Further, I ask that you consider a cost-share adjustment to eliminate the State's non-federal share of the costs for this event. When threatened with extraordinary disasters, states depend upon the availability of the full spectrum of assistance available under the Stafford Act.
Finally, a core responsibility of the federal government is to protect the lives and property of its citizens when threatened. This disaster declaration will help ensure that we best protect life and property in our state.
Sincerely,
Bobby Jindal
Governor
Could it be that Obama was concerned that Jindal might use federal funds to construct another $250 million disposable berm?
Or perhaps he just wants Piyush to do more with less.
Could it also be, as one reader pointed out, that Piyush spends so little time in Louisiana that he does not know that the Winnsboro he alluded to in his letter to Obama is in Franklin Parish in north Louisiana, not Tangipahoa? We assume he meant Waynesboro but a little closer proofreading of a letter to the President would seem to be in order here.
Hurricane Issac and Agenda 21--The Anti-Planning Movement
Maybe I hang out with the wrong people and read all the negative stories, listen to the wrong radio stations and watch the wrong television stations. But, it seems to me that people do not like to be told where they can or cannot live, build or do business. "It is a free country!"
Watching the results from Hurricane Issac it would appear to me that people are living where it is no longer feasible to live--long term. While the $14B spent on improving the levees around New Orleans worked this was after all only a category I storm. Add in the quickly rising oceans and disappearance of marshes that once protected the city and I think there will be another Katrina like disaster in that city's future. It is easy for politicians to say "we will rebuild," but I question the wisdom of trying to hold back Mother Nature as humans. We can look pretty feeble in our attempts to contain disaster impacts when we insist on spotting the disaster 30 points by living in the wrong location to start with.
Which brings me to Agenda 21. Quoting fromGoverning Magazine, "For those of you among the 85 percent of Americans who have no idea what this is about, Agenda 21 is a nonbinding resolution the United Nations passed in 1992 that encourages development in dense areas and conservation of open land." I hear many a conspiracy theory about how we are being set up to be governed by the United Nations. How they will tell us what to do or not do. While all of this is baloney, there are those who believe it and tell it to their friends, etc. These types of stories feed the anti-government and anti-planning rhetoric that pervades the print and airways in certain circles.
Which brings up the anti-planning attitude that exists. Building codes that require certain standards like drainage, electrical, plumbing and the like irks people. They think that these requirements are also baloney. A way for government to gouge the taxpayer for the fees associated with getting a building permit and having their plans reviewed. What they fail to see is that mistakes compounded by many multiple, perhaps thousands of times, are what usually causes the larger community problems. Surface water flooding is but one example of how urbanization has paved over the land so that there is no place for the water to go.
As for where people should be able to build and live--let them build where they want if they are not hurting other people. Let them take the risks, buy "private" insurance and when something bad happens don't bail them out with government grants and subsidies. People who live in recurring disaster zones will quickly learn that it is not in their best interests to stay put. Like some who experienced Katrina and now Issac they are saying, "No more" and are packing up and moving. Natural selection and economics will drive those decisions.
Note: The other thing that irks people about permits is the cost of obtaining them. What they don't understand is that in many instances they are a direct fee based structure. Instead of general tax revenues supporting building permits, it is the permits themselves that directly pay for the building plan reviews. Only those getting the plans pay for the service. It helps keep general tax obligations lower, a fact that they normally disregard. We all want something for nothing!