3 times Chernobyl equals Fukushima. Weather warfare units activated.
March 15th, 2011 1:48 pm ET

Continue reading on Examiner.com: 3 times Chernobyl equals Fukushima. Weather warfare units activated. - National Human Rights | Examiner.com http://www.examiner.com/human-rights-in-national/3-times-chernobyl-equals-fukushima-weather-warfare-units-activated#ixzz1GhhgJuZX
Tokyo (CNN) -- After three explosions and a fire in four days, the situation at Japan's earthquake-stricken Fukushima Daiichi nuclear plant grew more serious Tuesday, chasing all but a handful of workers from the site and raising fears of a far more dangerous radiation threat.
The latest incidents, an explosion Tuesday at the plant's No. 2 reactor and a fire in a cooling pond used for nuclear fuel at the No. 4 reactor, briefly pushed radiation levels at the plant to about 167 times the average annual dose of radiation, according to details released by the International Atomic Energy Agency.
That dose would quickly dissipate with distance from the plant, and radiation quickly fell back to levels where it posed no immediate public health threat, Chief Cabinet Secretary Yukio Edano said.
But the deteriorating situation and concerns about a potential shift in wind direction that could loft radiation toward populated areas prompted authorities to warn people as far as 18.6 miles (30 kilometers) away from the plant to stay inside.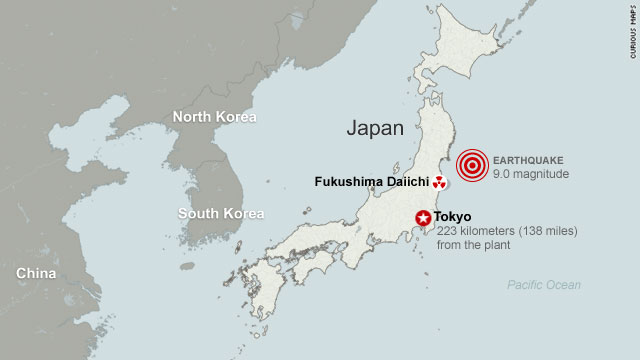 "There is still a very high risk of further radioactive material coming out," Prime Minister Naoto Kan said, asking people to remain calm.
About 200,000 people living within a 12.4-mile radius of the plant already had been evacuated.
Authorities also banned flights over the area and evacuated most workers from the plant.
Those who remained behind continued a seesaw, last-ditch effort to flood reactors with seawater to keep them cool and prevent a wider environmental and public health catastrophe.
The beleaguered crew had to abandon the plant control room Tuesday night because of high radiation levels, Kyodo News reported, citing plant owner Tokyo Electric Power Company.
"Their situation is not great," said David Brenner, director of the Center for Radiological Research at Columbia University. "It's pretty clear that they will be getting very high doses of radiation. There's certainly the potential for lethal doses of radiation. They know it, and I think you have to call these people heroes."
Troubles at the plant began shortly after the 9.0-magnitude earthquake that struck Friday off the shore of northeast Japan.
Although the plant's three functioning reactors shut down automatically when they detected the quake, the tsunami that followed swamped the diesel generators that provided backup power to the reactor cooling systems.
Crews eventually were able to restore backup power, but problems keeping the reactors cool eventually forced plant officials to take the drastic step of flooding them with seawater in a bid to keep the temperatures down. Still, pressure buildups, problems with valves and even a failure to fill a generator's gas tank have led to explosions and other problems with keeping the reactors under control.
Tuesday's incidents appeared to escalate the situation: Edano said the radiation releases from the explosion and fire were the first that appeared to pose a threat to human health, if only briefly.
On Sunday, this reporter printed:
Mariotte is leading a national campaign to halt the Obama administration from its planned support for more American nuclear facilities.
Continue reading on Examiner.com: Emergency 'US Nuclear Resource Public Conference Call' Monday - National Human Rights | Examiner.com http://www.examiner.com/human-rights-in-national/emergency-us-nuclear-resource-public-conference-call-monday#ixzz1GhlTf3jQ