Official: Spent fuel rods exposed, 'extremely high' radiation resulted
March 16, 2011 8:32 p.m. EDT
STORY HIGHLIGHTS
NEW: IAEA says temperatures in spent fuel pools are rising
NEW: "No data" for Unit 4, IAEA says
"Extremely high" levels of radiation, says NRC chief
Situation is "very, very serious," says nuclear expert
Tokyo (CNN) -- Spent fuel rods in Unit 4 of Japan's stricken Fukushima Daiichi nuclear plant have been exposed, resulting in the emission of "extremely high" levels of radiation, the head of the U.S. Nuclear Regulatory Commission said Wednesday.
"What we believe at this time is that there has been a hydrogen explosion in this unit due to an uncovering of the fuel in the fuel pool," Gregory Jaczko told a House energy and commerce subcommittee hearing. "We believe that secondary containment has been destroyed and there is no water in the spent fuel pool, and we believe that radiation levels are extremely high, which could possibly impact the ability to take corrective measures."
The water served to both cool the uranium fuel and shield it. But once the uranium fuel was no longer covered by water, the zirconium cladding that encases the fuel rods heated, generating hydroge... "This is a situation where people may be called in to sacrifice their lives. ... It's very difficult for me to contemplate that but it's, it may have reached that point."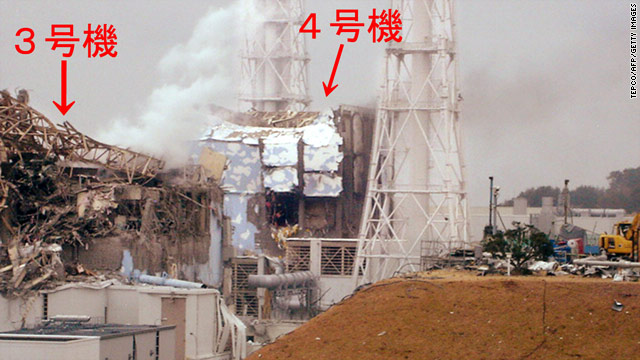 ...A Japanese Self-Defense Force helicopter aborted its mission to drop water over the reactor because of the high radiation levels in the area...
The International Atomic Energy Agency said the temperature of water in spent fuel pools is typically kept below 25 degrees Celsius (77 degrees Fahrenheit). That requires a constant cooling source, which requires a constant power source, something not available at the plant in the aftermath of Friday's earthquake and tsunami.
"The concern about the spent fuel pools at Fukushima Daiichi is that sources of power to cool the pools may have been compromised," IAEA said ...
...Three reactors were being cooled with seawater and their primary containment vessels were described as "functional," he said.
But core cooling was "not stable" for unit No. 2, he said. Though the primary containment appeared to be functioning, "we believe that the spent fuel pool level is decreasing."
At unit No. 3, he said, the integrity of the spent fuel pool appeared to have been compromised and there may have been a reaction between the zirconium cladding and the water.
Jaczko's grim announcement confirmed fears that the nuclear crisis would worsen...
Tests on tap water in Fukushima city, 80 kilometers (50 miles) away, found radiation, though at levels not harmful to the human body...
IAEA Director General Yukiya Amano said Wednesday he will travel to Japan "as soon as possible, hopefully (Thursday)" to get the latest on the situation and to see how the U.N.'s nuclear watchdog agency can best help Japanese authorities, he said. He will stay one night, he added
...Military officials said they had deployed an atmospheric detection aircraft, the WC-135W Constant Phoenix, to assist in detecting radioactive materials in the atmosphere around Japan.
The aircraft can "detect radioactive 'clouds' in real time," according to the Air Force...
Officials told workers at the plant to evacuate Wednesday after the vapor rose above the plant and radiation levels spiked. Radiation levels later fell, and authorities allowed the workers to return, the Tokyo Electric Power Company said.
The number of nuclear workers remaining on site was slashed Tuesday from 800 to 50 but had grown to 180 by Wednesday afternoon, the power company said.
About 200,000 people living within a 20-kilometer radius of the plant have been evacuated; those living 20 to 30 kilometers from the site have been told to remain inside. Authorities also have banned flights over the area...
U.S. President Barack Obama was briefed Wednesday by the chairman of the U.S. Nuclear Regulatory Commission on the "deteriorating situation" of the damaged nuclear reactors, Carney said...
Between Units 3 and 4, Japanese authorities said they had measured radiation dose rates of up to 400 millisieverts per hour, IAEA reported Tuesday. That's equivalent to about 2,000 chest X-rays per hour, the agency said on its website. "This is a high dose-level value, but it is a local value at a single location and at a certain point in time," it added.
Nuclear crisis a tangle of ominous, hopeful signs
Earlier, however, another utility spokesman said officials' greatest concerns were the spent fuel pools, which lack the protective shells that reactors have.
"We haven't been able to get any of the latest data at any spent fuel pools. We don't have the latest water levels, temperatures, none of the latest information for any of the four reactors," Masahisa Otsuki said.
If Jaczko is correct, it would mean there's nothing to stop the used fuel rods from getting hotter and ultimately melting down. The outer shells of the rods could also ignite with enough force to propel the radioactive fuel inside over a wide area...
"My understanding is there is no water in the spent fuel pool," Jaczko told reporters after the hearing. "I hope my information is wrong. It's a terrible tragedy for Japan."
He said the information was coming from NRC staff in Tokyo who are working with the utility in Japan. He said the staffers continue to believe the spent fuel pool is dry.
Other countries have complained that Japan has been too slow and vague in releasing details about its rapidly evolving crisis at complex of six reactors along Japan's northeastern coast, which was ravaged by Friday's magnitude-9.0 earthquake and subsequent tsunami.
The chief of the U.N. nuclear agency, Yukiya Amano, said he would go to Japan to assess what he called a "very serious" situation and urged Tokyo to provide better information to his organization.
Several countries have advised their citizens to consider leaving Tokyo and earthquake-affected areas. The White House recommended Wednesday that U.S. citizens stay 50 miles (80 kilometers) away from the Fukushima Dai-ichi plant, not the 20-mile (32-kilometer) radius recommended by the Japanese government.
Japanese officials raised hopes of easing the crisis, saying early Thursday that they may be close to bringing power back to the plant and restoring the reactors' cooling systems. The earthquake and tsunami knocked out power and ruined backup generators.
Analysis: Japan nuclear crisis reaches new levels
(Reuters) -
Japan
's nuclear crisis may have taken its most dangerous turn yet after a U.S. official said one of the pools containing highly radioactive spent fuel rods at the stricken plant had run dry.
One nuclear expert said that there was now even a possibility that the disaster may approach the extent of the Chernobyl accident, the worst ever in the industry's history. When the Chernobyl plant in Ukraine exploded in 1986 it spewed a radiation cloud over a large area of Europe.
And a nuclear engineer said that it may be time to consider ways to bury or cover the entire complex in some kind of material that would stop radiation from leaking into the atmosphere.
Triggering the new levels of alarm were comments by U.S. Nuclear Regulatory Commission Chairman Gregory Jaczko in Congress on Wednesday. "There is no water in the spent fuel pool and we believe that radiation levels are extremely high, which could possibly impact the ability to take corrective measures," he said.
To read a confirmation at IAEA about
Japanese Earthquake Update (16 March 22:00 UTC)
Temperature of Spent Fuel Pools at Fukushima Daiichi Nuclear Power Plant
U.S. Calls Radiation 'Extremely High' and Urges Deeper Caution in Japan
DigitalGlobe, via Reuters


WASHINGTON — The chairman of the United States Nuclear Regulatory Commission gave a far bleaker appraisal on Wednesday of the threat posed by Japan's nuclear crisis than the Japanese government has offered, saying that American officials believe the damage to at least one crippled reactor was much more serious than Tokyo has acknowledged, and advising Americans to stay much farther away from the plant than the perimeter established by Japanese authorities.