One by one, homes sinking in California subdivision
By Tracie Cone / The Associated Press
Published:
May 15. 2013 4:00AM
PST
Jagtar Singh gazes from the doorway into one of the bedrooms that collapsed as the ground gave way beneath his home in Lakeport, Calif. Shortly after Singh moved his wife, 4-year-old daughter and his parents, the hill behind his home collapsed.
Rich Pedroncelli / The Associated Press
LAKEPORT, Calif. — Scott and Robin Spivey had a sinking feeling that something was wrong with their home when cracks began snaking across their walls in March.
The cracks soon turned into gaping fractures, and within two weeks their 600-square-foot garage broke from the house and the entire property — manicured lawn and all — dropped 10 feet below the street.
It wasn't long before the houses on both sides collapsed as the ground gave way in the Spivey's neighborhood in Lake County, about 100 miles north of San Francisco.
"We want to know what is going on here," said Scott Spivey, a former city building inspector who lived in his four-bedroom, Tudor-style dream home for 11 years.
Eight homes are now abandoned and 10 more are under notice of imminent evacuation as a hilltop with sweeping vistas of Clear Lake and the Mount Konocti volcano swallows the subdivision built 30 years ago.
The situation has become so bad that mail delivery was ended to keep carriers out of danger.
"It's a slow-motion disaster," said Randall Fitzgerald, a writer who bought his home in the Lakeside Heights project a year ago.
Unlike sinkholes of Florida that can gobble homes in an instant, this collapse in hilly volcanic country can move many feet on one day and just a fraction of an inch the next.
A mystery
Officials believe water that has bubbled to the surface is playing a role in the destruction. But nobody can explain why suddenly there is plentiful water atop the hill in a county with groundwater shortages.
"That's the big question," said Scott De Leon, county public works director. "We have a dormant volcano, and I'm certain a lot of things that happen here (in Lake County) are a result of that, but we don't know about this."
Other development on similar soil in the county is stable, county officials said.
While some of the subdivision movement is occurring on shallow fill, De Leon said a geologist has warned that the ground could be compromised down to bedrock 25 feet below and that cracks recently appeared in roads well beyond the fill.
"Considering this is a low rainfall year and the fact it's letting go now after all of these years, and the magnitude that it's letting go, well it's pretty monumental," De Leon said.
County officials have inspected the original plans for the project and say it was developed by a reputable engineering firm then signed off on by the public works director at the time.
"I can only presume that they were checked prior to approval," De Leon said.
The sinkage has prompted county crews to redirect the subdivision's sewage 300 feet through an overland pipe as manholes in the 10-acre development collapsed.
Consultant Tom Ruppenthal found two small leaks in the county water system that he said weren't big enough to account for the amount of water that is flowing along infrastructure pipes and underground fissures, but they could be contributing to another source.
"It's very common for groundwater to shift its course," said Ruppenthal of Utility Services Associates in Seattle. "I think the groundwater has shifted."
If the county can't get the water and sewer service stabilized, De Leon said all 30 houses in the subdivision will have to be abandoned.
Looking for help
The owners of six damaged homes said they need help from the government.
The Lake County Board of Supervisors asked Gov. Jerry Brown to declare an emergency so funding might be available to stabilize utilities and determine the cause of the collapse. Last week, state Sen. Noreen Evans, D-Santa Rosa, wrote a letter of support asking Brown for immediate action. The California Emergency Management Agency said Brown was still assessing the situation.
The state has sent a water resources engineer and a geologist to look at the problem. Sen. Dianne Feinstein sent a representative as well.
Lake County, with farms, wineries and several Indian casinos, was shaped by earthquake fault movement and volcanic explosions that helped create the Coast Ranges of California. Clear Lake, popular for boating and fishing, is the largest fresh water lake wholly located in the state.
It is not unusual for groundwater in the region to make its way to the surface then subside. Many natural hot springs and geysers receded underground in the early 1900s and have since been tapped for geothermal power.
Homeowners now wonder whether fissures have opened below their hilltop, allowing water to seep to the surface. But they're so perplexed they also talk about the land being haunted and are considering asking the local Native American tribe if the hilltop was an ancient graveyard.
Entire neighborhood in Northern California sinking
into the ground for unknown reason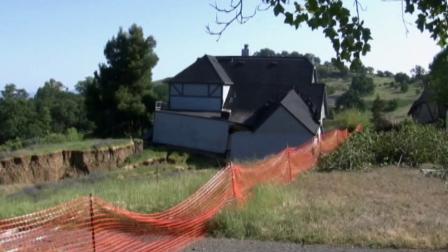 LAKEPORT, Calif. (KABC) --
A slow-moving disaster in a Northern California community is taking its toll on homeowners.
An entire neighborhood of homes in Lakeport is literally being swallowed by the Earth. No one knows exactly what's causing the huge cracks in the ground, but a dormant volcano could be the cause.
This all began in March when a homeowner noticed cracks snaking across walls. Those cracks turned into fractures, and within weeks, several homes were beginning to sink.
As of Monday morning, 30 homes were threatened; eight have already been abandoned and 10 are under notice of imminent evacuation.
"Anybody would be afraid of here. It's only because of the unknown. You don't know what's going to happen. I'm told I'm safe, I assume I'm safe, but does anybody really know yet?" said resident Alberta Diaz.
Officials have suspended mail delivery to keep carriers out of danger. They've also redirected sewage because manholes collapsed.