Iran commander: If Israel attacks, 'nothing will remain'
Posted:
Sunday, September 16, 2012 12:17 pm
|
Updated: 3:09 pm, Sun Sep 16, 2012.
(JTA) -- Iran's top Revolutionary Guard commander warned that "nothing will remain" if Israel takes military action against Iran over the Islamic Republic's nuclear activities.
"Our response to Israel is clear: I think nothing will remain of Israel" should it attack Iran, Gen. Mohammad Ali Jafari said Sunday, providing more specifics than are typically included in Iranian threats, according to The Associated Press.
"Given Israel's small land area and its vulnerability to a massive volume of Iran's missiles, I don't think any spot in Israel will remain safe," he said.
Jafari also warned that Iran might close the Straits of Hormuz if it is attacked, withdraw from the Nuclear Non-Proliferation Treaty and hit U.S. bases in the Middle East, AP reported.
"The U.S. military bases sprawled around Iran are considered a big vulnerability. Even the missile shields that they have set up, based on information we have, could only work for a few missiles, but when exposed to a massive volume of missiles the shields will lose their efficiency and will not work," he said.
Jafari's comments come as Israeli Prime Minister Benjamin Netanyahu has been calling for the United States to set "red lines" on Iran's nuclear program.
Iran Responds to Massive U.S. Armada Gathering in the Persian Gulf
Kurt Nimmo
Infowars.com
September 16, 2012
Following a story published in The Telegraph reporting an armada of U.S. and British ships amassing in the Persian Gulf, a top commander in Iran's Revolutionary Guard warned Sunday that "nothing will remain" of Israel if his country is attacked.
"Our response to Israel is clear: I think nothing will remain of Israel (should it attack Iran). Given Israel's small land area and its vulnerability to a massive volume of Iran's missiles, I don't think any spot in Israel will remain safe," said Gen. Mohammad Ali Jafar.
He also said Iran would close down the Strait of Hormuz, strike U.S. bases in the Middle East, and withdraw from the Nuclear Non-Proliferation Treaty.
"The US military bases sprawled around Iran are considered a big vulnerability. Even the missile shields that they have set up, based on information we have, could only work for a few missiles but when exposed to a massive volume of missiles, the shields will lose their efficiency and will not work," he explained.
According to The Telegraph, leaders in the West are certain Iran will move to close down the Strait of Hormuz if its nuclear facilities are attacked. Approximately 35 per cent of the world's oil supply currently moves through the Strait.
"If a war breaks out where one side is Iran and the other side is the West and U.S., it's natural that a problem should occur in the Strait of Hormuz. Export of energy will be harmed. It's natural that this will happen," said Ali Jaffer.
The Telegraph says Iran's Islamic Revolutionary Guards Corps navy will use an "access-denial" strategy and directly target warships and attack merchant shipping.
The newspaper reports warships from more than 25 countries, including the United States, Britain, France, Saudi Arabia and the UAE, began a 12-day exercise on Saturday in the Gulf. The multi-national force includes three US Nimitz class carrier groups hosting more aircraft than Iran's entire air force.
The war game is the largest ever conducted in the region. It will concentrate on breaking an Iranian blockade of the Strait of Hormuz and perform drills to counter Iranian mining.
In October, Iran will stage its own exercises in the Persian Gulf to demonstrate its ability to defend the country against the threat of attack. Iran is showcasing the exercise as the "biggest air defense war game in the Islamic Republic's history, and will be its most visible response yet to the prospect of an Israeli military strike," according to The Telegraph.
During the exercise, Iran will use aerial drones, surface-to-air missiles, and radar described as state-of-the-art. In an effort to ward off an Israeli air attack, the Revolutionary Guard will test the defenses of 3,600 strategic locations around the country.
Sources inside the Obama administration believe an attack is inevitable and will come prior to the election in November.
In late August, it was reported that Israel will strike Iran before the election. Alon Ben-David, described by the Daily Mail as a well-informed military correspondent for Israel's Channel 10 News, claimed that Israel was "closer than ever" to a strike against Iran.
Iran could strike American bases if Israel attacks: Hezbollah
Tuesday, 04 September 2012
By
AL ARABIYA WITH AGENCIES
The leader of Lebanon's Iranian-backed militant group Hezbollah warned late Monday that Iran could hit U.S. bases in the Middle East in response to any Israeli strike on its nuclear facilities – even if American forces played no role in the attack

"A decision has been taken to respond and the response will be very great," Hezbollah Secretary-General Sayyed Hassan Nasrallah said in an interview with the Beirut-based al-Mayadeen television.

"The response will not be just inside the Israeli entity - American bases in the whole region could be Iranian targets," he said, citing information he said was from Iranian officials. "If Israel targets Iran, America bears responsibility."

Meanwhile, the Hezbollah leader denied that his group possessed chemical weapons.

"We don't have chemical weapons and we cannot use them for reasons linked to the Sharia and for humanitarian reasons," Nasrallah.
At the end of July, a number of Israeli officials warned against a possible transfer of Syrian chemical weapons to Hezbollah, an ally of Damascus.

The Syrian regime, gripped by an unprecedented revolt for 18 months, admitted in July for the first time that it possessed chemical weapons and threatened to use them in the event of foreign military intervention.

Nasrallah, who rarely grants interviews, said that in the case of "enemy attacks" against Lebanon, Hezbollah would not be content to "defend itself" but would "enter Galilee".

In February 2011, the armed movement threatened to invade this region of northern Israel in the event of an Israeli attack.

Following Hezbollah's abduction of two Israeli soldiers on the border, the Israeli army launched an offensive into Lebanon in July and August 2006 to punish a movement that managed to fire 4,000 rockets into northern Israel.

Last week, Israeli Prime Minister Benjamin Netanyahu threatened to strike Lebanon if Hezbollah provokes the Jewish state, Haaretz newspaper reported.

Netanyahu said he believes that Hezbollah is a part of the Lebanese government, warning the government that it will be held "responsible for whatever happens in its jurisdiction."

The Israeli premier's message was relayed through "a Western diplomat he met in Jerusalem several weeks ago," Haaretz reported.

According to a senior official who was close to the meeting between Netanyahu and the U.S. official, if if the resistance party should attack Israel, Netanyahu said the Israeli army would "strike back forcefully – without differentiating between Hezbollah and the state of Lebanon."

Heightened Israeli rhetoric about Tehran's nuclear facilities, which the West says could be part of a weapons program, has stoked speculation that it may attack Iran before U.S. elections in November.

Netanyahu urged world powers on Sunday to set a "clear red line" to convince Iran they would prevent it from obtaining nuclear arms.

Israel, thought to be the Middle East's only nuclear-armed power, views Iran's nuclear program as a threat to its regional dominance and to its very existence. Tehran says the atomic work is for peaceful purposes only.

But Netanyahu's cabinet is divided over the wisdom of attacking Iran, and Israeli officials have dropped heavy hints of a climbdown strategy, under which Netanyahu would shelve threats of an attack now in return for a stronger public pledge from President Barack Obama on conditions that would provoke U.S. action in future.

Nasrallah said there were divisions in Israel over attacking Iran. "Personally I do not expect the Israeli enemy - at least in the coming months or foreseeable future - (to wage) an attack on the Islamic Republic of Iran," he said.

Nasrallah pointed to the fragile global economy, which would be weakened further by any sharp rise in crude oil prices stemming from conflict in the Gulf, and to likely Israeli casualties in any war with Iran.

"Netanyahu and (Defense Minister Ehud) Barak inflate the benefit and play down the cost," he said, referring to Barak's estimates that Israel could suffer up to 500 fatalities in any conflict aimed at wiping out Iran's nuclear facilities.
U.S. bases might be at risk if Israel attacks Iran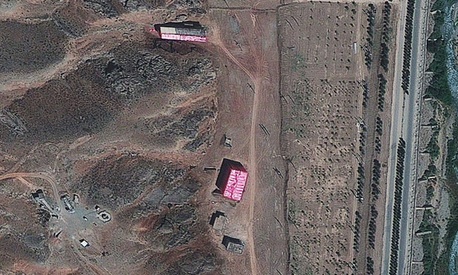 Analysts say te Parchin military complex is being shrouded with a pink tarp to stop the U.N nuclear agency from monitoring Tehran's efforts to develop a weapon.

Institute for Science and International Security
Israel and Iran have been sparring over Iran's nuclear development for months, but, after news leaked the U.S has been quietly trying to diffuse any potential of an attack, a warning was issued that U.S. bases might be included in the retaliation should anything happen.
Israel's been debating a strike against Iran's controversial nuclear facilities for weeks. Ban Ki-Moon announced he was attending the Nonaligned Summit in Iran last week despite rumors of an impending Israeli strike against Iran's nuclear facilities. On Monday morning, the New York Times reported that the U.S. have publicly and privately been making small moves to try and prevent and Israeli strike against Iran, while also trying to discourage Iran from furthering their nuclear program. Israel's Prime Minister Benjamin Netanyahu said recently that Iran must see "a clear red line and such determination," otherwise "it will not stop the progress of its nuclear project."
But now Reuters reports a Hezbollah representative said if Israel does make the decision to attack Iran's nuclear facilities, then American bases in the area would be included in the responding strikes. "A decision has been taken to respond and the response will be very great," Sayyed Hassan Nasrallah, the leader of the Iranian-backed Hezbollah in Lebanon, told a Beirut-based television station. "The response will not be just inside the Israeli entity - American bases in the whole region could be Iranian targets," he said. "If Israel targets Iran, America bears responsibility."
Big radiation risk unlikely if Israel strikes Iran: experts
(Reuters) - Any Israeli attacks on Iran's nuclear facilities are unlikely to cause a Fukushima-scale disaster unless a Russian-built reactor is destroyed, experts say.
They could, however, release toxic chemicals - rather than high levels of radiation - causing local contamination affecting health and the environment. That was also the case from U.S.-led strikes on nuclear facilities in Iraq during the Gulf Wars.
"I doubt that the radiation effects would be great," said Hans Blix, a former head of U.N. nuclear watchdog the International Atomic Energy Agency (IAEA).
Iran says all its facilities are for peaceful purposes. Israel, which in 1981 bombed Iraq's Osirak nuclear reactor before it came online, has led international accusations that Tehran is secretly developing atomic bombs.
"There could be some chemical hazard (from an Israeli attack on Iran's uranium refining plants) but I'd think it would be limited to any nearby communities," said Edwin Lyman, a nuclear expert at the Union of Concerned Scientists in Washington.
The Vienna-based IAEA and Iran failed on Friday to strike a deal aimed at allaying concerns about Tehran's nuclear program. Diplomatic sources say Iran has installed many more uranium enrichment centrifuges at Fordow, a fortified underground site and a likely target in any attack.
Bellicose rhetoric from some Israeli politicians has fanned speculation that Israel might hit Iran's nuclear sites before the November U.S. presidential vote. Washington has said there is still time for diplomatic pressure to work, but it might be drawn into any war between the two Middle East foes.
Most experts contacted said that Israel would probably not target the Bushehr nuclear reactor on Iran's Gulf coast, which started providing electricity to the grid last September. Such an attack could release a Fukushima-style radioactive plume that could spread to the entire region - including Israel.
"An attack against Bushehr nuclear power plant would probably be a violation of international law," Blix said.
Attacks on Iran's other nuclear sites - such as the Natanz and Fordow enrichment plants and a uranium conversion facility east of the city of Isfahan - may have a localized health and environmental impact on a similar scale caused by the bombing of Iraqi nuclear sites Tuwaitha and Al Qaim in the Gulf Wars.
"Uranium is a very heavy metal, chemically and physically," so it would not be transported far on the wind if Iranian enrichment facilities were attacked, said Malcolm Grimston, of Imperial College, London.
"It is about as poisonous as lead ... the issue would be in the immediate area trying to prevent people from ingesting it for its chemical poisonous properties," he said.
Uranium before it is introduced into a nuclear power plant is also much less radioactive than fissile reactor material.
"It is not like a reactor where you got the volatile fission products - the iodines and caesiums - which can be carried in principle all around the world by wind," Grimston said.
Iraqi plants have not become global bywords for disaster, unlike the 1986 Chernobyl reactor explosion in what is now Ukraine and the Fukushima Daiichi plant in Japan that suffered a meltdown after an earthquake and tsunami last year.
"The health effects (in Iraq) were very localized," said Robert Kelley, of the Stockholm International Peace Research Institute and a former director of IAEA inspections in Iraq.
Others say health risks linger in Iraq, and estimates of long-term health risks near the sites are difficult because of a lack of monitoring of cancer rates.
"In Tuwaitha, they have never seen full decontamination," said Mike Townsley of environmental group Greenpeace. He and colleagues found a ruptured container of raw uranium "yellowcake" near the plant in 2003.
About 1,000 people live near the Tuwaitha reactor complex south of Baghdad, the former site of Saddam Hussein's nuclear research program destroyed by U.S.-led forces in 1991 and 2003. Al Qaim, where uranium was extracted at a fertilizer factory, was bombed in 1991.
Paul Sullivan, a professor of economics and adjunct professor of security studies at Georgetown University in the United States, said there were double standards in judging risks.
"If there were a chance of an attack on such facilities in France, Germany, the U.S., Japan and the like there would be constant and very loud cries about the potential environmental and human health impacts," he said.
Iran says it needs to refine uranium as a fuel for nuclear power. But extra refinement can make uranium for a bomb.
The other main way to build a bomb is to use plutonium, from the waste of spent nuclear fuel rods from power plants. But experts say Bushehr is ill-designed for such uses, and that would also require a separate reprocessing plant.
"Iran's plutonium program is thought to be less advanced than its uranium program," said Karl Dewey, a nuclear analyst at IHS Jane's in England.
Any attack on Bushehr, perhaps to cripple nearby buildings without rupturing the reactor, would involve big risks, he said.
The extent of the fallout from any strike on the reactor would depend on what capacity level it had operated on and for how long, experts say. An IAEA report in May said it operated at 75 percent of its power after being shut down in January.
Israel would probably want to destroy the Arak heavy water research reactor, which is not yet online but which experts say is more suited to producing plutonium than Bushehr.
The United Nations said in 2005 that the main impact of the 1986 disaster at Chernobyl would be up to 4,000 thyroid cancer deaths. About 30 people died at the plant, mainly from radiation exposure. Some environmentalists project far more deaths.
A Stanford University study in July estimated that radiation from Fukushima Daiichi might eventually cause anywhere from 15 to 1,300 deaths.
Radiation poisoning can cause nausea, vomiting, diarrhea, headaches and fatigue in lower doses. In bigger doses, it can cause burns, hemorrhages, cancer and death.
Radiation can also damage plants and animals, poisoning food for human consumption. A type of butterfly near Fukushima has been found with high rates of mutation, such as deformed wings and eyes.
Part of the risks of enrichment is that the process involves heating uranium to a gas form, Dewey said.
PAPER DETAILS OBAMA ADMIN'S ALLEGED SECRET NOTE SENT TO IRAN: IF ISRAEL ATTACKS, WE WON'T GET INVOLVED
The Israeli newspaper Yediot Ahronot published a startling report Monday detailing a message it says was conveyed by the Obama administration – via two European countries – to Iranian officials. The request: if Israel decides to strike Iranian nuclear facilities, the U.S. will not support it and the Islamic Republic should refrain from retaliating on U.S. military installations in the Persian Gulf.
From the report by the well-connected diplomatic correspondent Shimon Schiffer [translated via hard copy by TheBlaze in Israel]:
The message that the U.S. conveyed to Iran via the most sensitive secret channels is unequivocal: if Israel attacks, we won't stand behind her and we won't be drawn into war.

In recent days, senior American administration officials turned to their Iranian counterparts via two countries in Europe which act as a back-channel during times of crisis. They made clear to the Iranians that the U.S. does not intend to be sucked into a campaign if Israel decides to strike unilaterally and without advance coordination [with the U.S.], and they said that they expect from Iran that it will not attack strategic American targets in the Persian Gulf. That means, among other things, Army bases, Navy ships and aircraft carriers sailing in the region.
Accompanying the article, the newspaper created a graphic map (pictured above) of various U.S. assets in the region including troops in Afghanistan, Kuwait, Bahrain, Oman, Qatar, Saudi Arabia as well as U.S. vessels in the Gulf.
The secret contacts with the Iranians combined with a public statement last week by Chairman of the Joint Chiefs of Staff Gen. Martin Dempsey that he won't be "complicit" in an Israeli attack is being interpreted in Israel as a message from the U.S. that the Jewish state is on its own in stopping Iran from obtaining a doomsday weapon with which to threaten the very existence of Israel. President Mahmoud Ahmadinejad and other Iranian leaders have articulated a desire to wipe Israel off the map. Schiffer writes:
Israeli sources point to the unprecedented low-point in relations between the U.S. and Israeli defense establishments. It appears that the Obama administration decided to warn decision-makers in Israel of the destructive results of an attack without coordinating with the U.S. […]
If true, the report begs the question: If he truly wants to stop Iran from developing a nuclear weapons capability, why is President Obama investing in secret contacts with Iran about an Israeli strike aimed at destroying – or at least setting back – the nuclear program? Wouldn't his efforts be better focused on warning Ahmadinejad of the dire consequences of his apparently accelerated efforts at one day possessing a military nuclear capability?
Why Israel shrugs at retaliation after attack on Iran
The threat of a simultaneous war with Iran's proxies – Hezbollah, Syria, and Gaza militants – is a key consideration for Israel as it weighs an attack on Iran. But Iran's allies may not be as keen about going to war for the ayatollahs as Tehran would like, and the Israelis know it.

TEL AVIV Last week Iran sent a high-level envoy, Saeed Jalili, on a particularly controversial public-relations tour to Lebanon and Syria, the most explosive corner of the region. After ruffling feathers during a Beirut stopover, Mr. Jalili traveled to Damascus to meet with President Bashar al- Assad, where he declared the ties between Iran, Syria, and Hezbollah to be an "axis of resistance."


Israel's Posturing: Behind Netanyahu and Barak's Threats to Attack Iran
Posted: 08/21/2012 10:18 am
Successive Israeli governments have consistently inhibited in the past any public discussion about Iran's nuclear program and what Israel might do to prevent Iran from acquiring nuclear weapons. In recent weeks however, Prime Minister Netanyahu and Defense Minister Barak have been openly discussing the issue while intimating their readiness to take whatever actions necessary to eliminate the Iranian threat. The question is why Netanyahu and Barak have chosen to "advertise" their deep concerns now and why they have such an urgency to act at this particular juncture, both of which have prompted newspaper reporters and pundits to speculate about what the real intentions are behind this public exposure and what is to be expected. Meanwhile, former and current officials, including President Peres, have expressed pointed objections to taking any unilateral military strikes against Iran, insisting that if such action became necessary, it must certainly be led by the U.S. to shield Israel from being singled out and blamed for the potentially disastrous regional consequences.
Having concluded that sanctions and diplomacy have failed as Iran is either technologically nearing the point of no return or achieving a zone of immunity that will make their most advanced nuclear plants at Fordo (near Qom) impregnable to air attack, the Netanyahu government has decided on a new strategy designed to achieve multiple purposes. While Israel's determination to prevent Iran from acquiring nuclear weapons has not changed, the new strategy is meant to strongly convey that Israel is not bluffing. Israel's groundwork for the new strategy is as follows: Israel will alert its closest ally, the U.S., alarm its European friends, credibly threaten Iran and gather more information, warn other enemies such as Hezbollah and Hamas, test the private sentiments and public reactions of the Sunni Arab states, and will finally prepare the Israeli public while laying in wait for the right moment to strike, should everything else fail.
The Netanyahu government has already expressed its displeasure with the strategy the Obama administration has adopted to prevent Iran from obtaining nuclear weapons. Whereas many Israelis believe that President Obama's credibility is on the line and he will act militarily should it become necessary, others, including Netanyahu and Barak, are not so sure. They are concerned that Obama may eventually have to choose between preventing or containing Iran and will settle on the latter by providing Israel and other Arab allies in the region with some kind of security umbrella.
Netanyahu and Barak are troubled by the fact that Obama has relied excessively on a diplomatic solution knowing full well that the Iranians are masters of playing for time. Moreover, he chose to impose gradual sanctions to which the Iranian government was able to adjust instead of inflicting real, crippling sanctions, especially after the failure of the first few sets of negotiations, which could have forced Tehran to change course. This approach, from the Israeli perspective, played into Iran's hand while engaging the P5+1 (the U.S., the United Kingdom, France, Russia and China plus Germany) in futile negotiations that have never stood a chance of success.
By asking the P5+1 to declare that the talks with Iran have failed, Netanyahu is alerting the U.S. that time is of the essence and challenging Obama to take more decisive actions against Iran. Netanyahu's rationale is that since Obama seeks to prevent an Israeli attack in an election year, he will be under immense pressure from his presidential rival, Mitt Romney, not only to adopt a final set of truly crippling sanctions but to be clear about his willingness to use force against Iran before it reaches the point of no return or enters the zone of immunity.
Netanyahu's message of alarm is directed against the EU, Turkey and China, which will be the most affected by the potential disruption of oil supplies should the Strait of Hormuz become imperiled. Netanyahu and Barak are convinced that the EU in particular is engaged in wishful thinking, believing that continuing diplomatic efforts coupled with stiffer sanctions will force the Mullahs to come to their senses. The EU clearly view Netanyahu as overzealous about Israel's national security, are extremely worried about an Israeli attack and are convinced that the repercussions will be catastrophic. Thus, for them, no attack should be contemplated as long as Iran is willing to continue to talk.
Using the repeated Iranian existential threat against Israel, and while observing the Western powers' ineptitude in the past in dealing with the genocide in Bosnia, Sudan and now the wholesale slaughter in Syria, Netanyahu has little faith in what the EU can, or will, do to bring Iran to a halt. The EU, from Netanyahu's perspective, could have done a great deal more to cripple Iran economically but it still has yet to do so. At the same time, the EU refuses to declare Hezbollah, Iran's prime surrogate but Israel's staunchest enemy, as a terrorist organization while it continues to allow Hezbollah to freely raise tens of millions of dollars in Europe, when much of it is used for buying armaments to target Israel.
The direct threat against Iran is based on Netanyahu and Barak's calculation that although public discussion about the potential attack on Iran provides Tehran more time to prepare for the worst, it will provide Israel with certain advantages. Fear of an imminent Israeli attack will force the Iranian authorities to take additional security measures to protect their nuclear facilities, which will reveal Iran's preparedness and capabilities, and expose its weaknesses and how much of its boastings of a damaging counter-attack against Israel are in fact accurate. Importantly, Israel will also be in a position to better assess the Iranian public's reaction and whether the rumors of an imminent attack will precipitate panic, which may reveal how the Iranian authorities react and pacify the public. More than anything, Israel wants Iran to take its threats seriously, which explains why Netanyahu and Barak openly stated that when it comes to Israel's national security, Israel must, in the final analysis, rely only on itself.
Netanyahu's and Barak's exposé is also intended to warn all those who might think of coming to Iran's aid by engaging Israel on another front (in particular with groups such as Hezbollah and Hamas) that they should think twice before they dare to provoke Israel. By openly discussing their intentions, Netanyahu and Barak want these groups or states to assume that Israel would not have discussed such a sensitive national security matter had it not taken into full consideration their potential involvements. The message to Hezbollah is clear: there will not be a repeat of the 2006 war, Israel will break its back and that this time around no one will come to its aid considering Syria is in shambles and Iran is under intense economic pressure and too busy to deal with the potentially catastrophic effects of an Israeli attack.
The other target of Israel's open discourse on attacking Iran is to test the Sunni Arabs, especially the Gulf States led by Saudi Arabia. There have been ongoing tacit discussions between Israel and the Gulf States about the potential Israeli strike and how that might affect both their public reactions and their private interests and concerns. There is no doubt that all Sunni Arab states would prefer to prevent Iran from attaining nuclear weapons peacefully. But after failing to do so by diplomatic means, they would support an attack on Iran's nuclear facilities, whether the attack is carried out by Israel, the U.S. or through a joint effort. Saudi Arabia in particular sees the conflict between Shiites verses Sunnis in terms of regional domination with a focus on the Gulf, and views Iran with nuclear weapons as a nightmarish scenario that must be prevented at all costs.
Finally, Netanyahu's and Barak's message was intended for the Israeli public not only to prepare them for a potential Iranian counter-attack but to begin psychological and logistical preparations ( including the distributions of gas masks, stocking underground shelters with food and water) to avoid public panic and rally the nation around the government's prospective actions. Although the Netanyahu government is not dismissive of the voices of the Israelis who consider a unilateral attack as ill-conceived and extremely risky, Netanyahu and Barak want to demonstrate unshakable resolve in the face of an existential threat and that the public can ultimately trust their judgment. Moreover, such an exercise, even if a strike is avoided either because of the United States or because of Netanyahu's/Barak's readiness to act, will be good for Israel and good for the entire region as long as Iran never acquires nuclear weapons.
Israel has time and again stated in the past that it will not allow Iran to acquire nuclear weapons or the technology to quickly assemble such arsenals. The Israelis insist that whatever repercussions arise from attacking Iran's nuclear facilities will be far less ominous than allowing Iran to obtain nuclear capabilities, which will have far more reaching geopolitical and security implications that will adversely affect every state in the region.
In the final analysis, an Israeli strike on Iran's nuclear facilities may not come as soon as many predict. The strike can and may well happen but it is very unlikely that such an incredibly ominous undertaking will occur without a minimum of U.S. acquiescence, if not outright support and direct involvement. Regardless of how much Netanyahu and Barak may be sure of themselves and Israel's military capabilities, they cannot afford to make any mistakes or miscalculations because Israel's future is on the line.
Yet, exactly because of that, no one should think for a moment that Israel is bluffing. Netanyahu and Barak have concluded that diplomacy has run its course and only extraordinary, crippling and immediate sanctions may still have a slim chance of success. Once Israel determines that Iran has either achieved the point of no return or is about to reach the zone of immunity and the U.S. is not prepared to take military action, Israel will attack Iran singlehandedly and no consequences of such an attack, from the Israeli perspective, will fare against such an existential threat.
older articles...
After an Israeli Strike on Iran
The consequences wouldn't be cataclysmic.
H

ow would Iranians respond to an Israeli strike against their nuclear infrastructure? The answers given to this question matter greatly, as predictions about Iran's response will affect not only Jerusalem's decision, but also how much other states will work to impede an Israeli strike.
Analysts generally offer best-case predictions for policies of deterrence and containment (some commentators even go so far as to welcome an Iranian nuclear capability) while forecasting worst-case results from a strike. They foresee Tehran doing everything possible to retaliate, such as kidnapping, terrorism, missile attacks, naval combat, and closing the Strait of Hormuz. These predictions ignore two facts: Neither of Israel's prior strikes against enemy states building nuclear weapons — Iraq in 1981 and Syria in 2007 — prompted retaliation; and a review of the Islamic Republic of Iran's history since 1979 points to, in the words of Michael Eisenstadt and Michael Knights, "a more measured and less apocalyptic — if still sobering — assessment of the likely aftermath of a preventive strike."
Eisenstadt and Knights of the Washington Institute for Near Eastern Policy provide an excellent guide to possible scenarios in "Beyond Worst-Case Analysis: Iran's Likely Responses to an Israeli Preventive Strike." Their survey of Iranian behavior over the past three decades leads them to anticipate that three main principles would likely shape and limit Tehran's response to an Israeli strike: an insistence on reciprocity, a caution not to gratuitously make enemies, and a wish to deter further Israeli (or American) strikes.
The mullahs, in other words, face serious limits on their ability to retaliate, including military weakness and a pressing need not to make yet more external enemies. With these guidelines in place, Eisenstadt and Knights consider eight possible Iranian responses, which must be assessed while keeping in mind the alternative to preemptive action — namely, apocalyptic Islamists controlling nuclear weapons:
1. Terrorist attacks on Israeli, Jewish, and U.S. targets. Likely, but causing limited destruction.
2. Kidnapping of U.S. citizens, especially in Iraq. Likely, but limited in impact, as in
the 1980s in Lebanon
.
3. Attacks on Americans in Iraq and Afghanistan. Very likely, especially via proxies, but causing limited destruction.
4. Missile strikes on Israel. Likely: a few missiles from Iran getting through Israeli defenses, leading to casualties likely in the low hundreds; missiles from Hezbollah limited in number due to domestic Lebanese considerations. Unlikely: Hamas getting involved, having distanced itself from Tehran; the Syrian government interfering, since it is battling for its life against an ever-stronger opposition army and possibly the Turkish armed forces. Overall, missile attacks are unlikely to do devastating damage.
5. Attacks on neighboring states. Likely: especially using terrorist proxies, for the sake of deniability. Unlikely: missile strikes, for Tehran does not want to make more enemies.
6. Clashes with the U.S. Navy. Likely, but, given the balance of power, doing limited damage.
7. Covertly mining the Strait of Hormuz. Likely, causing a run-up in energy prices.
8. Attempted closing of the Strait of Hormuz. Unlikely: difficult to achieve and potentially too damaging to Iranian interests, because the country needs the strait for commerce.
The authors also consider three potential side effects of an Israeli strike. Yes, Iranians might rally to their government in the immediate aftermath of a strike, but in the longer term Tehran "could be criticized for handling the nuclear dossier in a way that led to military confrontation."
read more at http://www.nationalreview.com/articles/303966/after-israeli-strike-iran-daniel-pipes#
What Happens if Israel Attacks Iran
Intelligence consultant George Friedman rates the odds that Israel strikes Iran's nukes at one-in-four. But if it does, casualties could be heavy and $300-a-barrel oil is likely.


The Bottom Line
An Israeli-Iranian conflict would have a big human and economic toll, and Syria's civil war is a more important issue right now. If Assad survives, Iran will be even more powerful.
What Happens After Israel Attacks Iran
Public Debate Can Prevent a Strategic Disaster