ACTIVE ACTIVE ACTIVE!!!!!!
HERE IS A GREAT SITE TO FIND YOUR AURORA FORECAST.
ALERT:
YOUR AIR TRAFFIC MAY BE DIVERTED TO LOWER LATITUDES DUE TO HIGH AND ACTIVE PROTONS AND RADIATION THAT MAY CAUSE HARM TO THOSE IN AIRPLANES AND OTHER AIR TRAFFIC.
2012-03-10 20:55 UTC Solar Radiation Ongoing, Geomagnetic Storming ExpectedRegion 1429 remains active with another R2 (Moderate) Radio Blackout event at 1744 UTC March 10 (12:44 p.m. EST March 10). This event did have a coronal mass ejection associated with it and analysis continues to estimate what impact this could have on Earth. Meanwhile, Solar Radiation Storm levels remain above the S2 (Moderate) threshold, their decay being slowed by the continued activity. The coronal mass ejection associated with the R2 (Moderate) Radio Blackout that occurred at 0353 UTC March 9 (10:53 p.m. EST March 8) is expected to cause more geomagnetic storming beginning early on March 11, with intensities likely to reach the G3 (Strong) level. Updates here as conditions warrant.
WEEKEND SOLAR FLARE:
Sunspot AR1429 is still erupting this weekend. On Saturday, March 10th, it produced a powerful M8-class flare that almost crossed the threshold into
X-territory
. In New Mexico, amateur radio astronomer Thomas Ashcraft recorded a series of shortwave bursts emanating from the blast site:
audio
. Also, the explosion propelled yet another CME toward Earth:
forecast track
. The cloud is expected to hit our planet's magnetosphere on March 12th around 1800 UT. A CME from an earlier explosion will arrive much sooner, however. Continue reading.....
INCOMING CME:
A CME from sunspot AR1429 is nearing Earth. According to analysts at the Goddard Space Weather Lab,
the cloud
will arrive on March 11th at 0649 UT (+/- 7 hr). NOAA forecasters say the odds of a strong geomagnetic storm at that time is 50%.
Aurora alerts:
text
,
phone
.
The same eruption that hurled the CME toward Earth also produced a monsterous tsunami of plasma on the sun. NASA's Solar Dynamics Observatory recorded the shadowy but powerful wave rippling away from the blast site: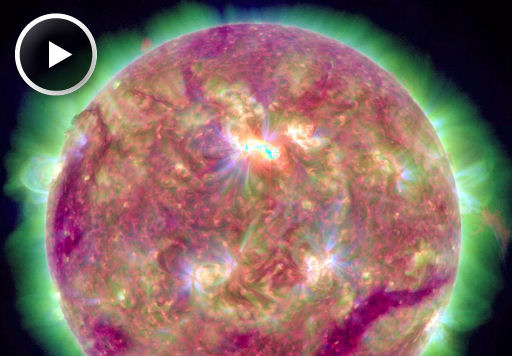 The tsumani was about 100,000 km high and raced outward at 250 km/s with a total energy of about 2 million megatons of TNT. Such waves often underlie CMEs like the one en route to Earth now.
Animated forecast tracks show that the CME will also hit the Mars Science Lab (MSL) spacecraft on March 12th followed by Mars itself on March 13th. Mars rover Curiosity onboard MSL might get some interesting readings as the cloud passes by.

Solar wind
speed: 431.5 km/sec
density: 2.9 protons/cm3
explanation | more data
Updated: Today at 0146 UT
X-ray Solar Flares
6-hr max: M7
1800 UT Mar10

24-hr: M8
1745 UT
Mar10
explanation | more data
Updated: Today at: 2359 UT
SPACE WEATHER

NOAA Forecasts

Updated at: 2012 Mar 10 2200 UTC

| | | |
| --- | --- | --- |
| FLARE | 0-24 hr | 24-48 hr |
| CLASS M | 80 % | 80 % |
| CLASS X | 40 % | 40 % |

Geomagnetic Storms:

Probabilities for significant disturbances in Earth's magnetic field are given for three activity levels:active, minor storm, severe storm

Updated at: 2012 Mar 10 2200 UTC

Mid-latitudes

| | | |
| --- | --- | --- |
| | 0-24 hr | 24-48 hr |
| ACTIVE | 30 % | 25 % |
| MINOR | 35 % | 30 % |
| SEVERE | 35 % | 25 % |

High latitudes

| | | |
| --- | --- | --- |
| | 0-24 hr | 24-48 hr |
| ACTIVE | 05 % | 15 % |
| MINOR | 15 % | 25 % |
| SEVERE | 75 % | 55 % |