M-CLASS SOLAR FLARE:
Departing sunspot AR1410 is growing in size and magnetic complexity as it approaches the sun's northwestern limb. The region is now crackling with solar flares, highlighted by this
M1-class
eruption on Feb. 6th at 20:01 UT: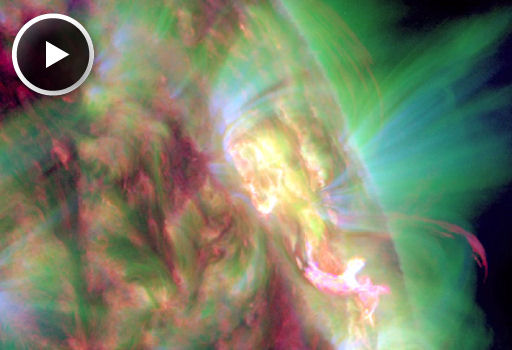 NOAA forecasters estimate a 30% chance of more M-flares during the next 24 hours. Any eruptions from AR1410 are unlikely to be Earth-directed as the active region continues to turn away from our planet.
Planetary K-index
Now: Kp=

4

unsettled


24-hr max: Kp= 4
unsettled
explanation | more data
SPACE WEATHER


NOAA Forecasts

Updated at: 2012 Feb 07 2200 UTC

| | | |
| --- | --- | --- |
| FLARE | 0-24 hr | 24-48 hr |
| CLASS M | 30 % | 01 % |
| CLASS X | 01 % | 01 % |

Geomagnetic Storms:
Probabilities for significant disturbances in Earth's magnetic field are given for three activity levels: active, minor storm, severe storm

Updated at: 2012 Feb 07 2200 UTC

Mid-latitudes

| | | |
| --- | --- | --- |
| | 0-24 hr | 24-48 hr |
| ACTIVE | 40 % | 40 % |
| MINOR | 20 % | 20 % |
| SEVERE | 01 % | 01 % |

High latitudes

| | | |
| --- | --- | --- |
| | 0-24 hr | 24-48 hr |
| ACTIVE | 50 % | 50 % |
| MINOR | 30 % | 30 % |
| SEVERE | 05 % | 05 % |