....................................................................................
Computer analysts have previously testified
that someone from the Anthony family home searched under Casey Anthony's profile for things such as "chloroform," "neck breaking" and "household weapons."
Cindy Anthony said today that she searched for "chloroform," "alcohol," "acetone," "peroxide" and "inhalation."
She told jurors that she searched for chloroform because she suspected her smallest dog might be getting poisoned from eating leaves in the backyard. Her search started with "chlorophyll" and spiraled to "chloroform," she said.
Prosecutors were aware that she had searched for for "chlorophyll" but her testimony about searching for "chloroform" appeared to catch them off-guard.
Cindy Anthony then searched for things relating to hand sanitizer after a work colleague told her that the substance was possibly dangerous to young children, she told jurors.
"That scare came out in March, and during the same timeframe I was looking up the issues about the dogs," Cindy Anthony said. "I was looking up ingredients in the hand sanitizer, the alcohol, and that prompted me to look up other things we had in the house."
She said she started searching for the ingredients in household products such as acetone in nail polish remover and hydrogen peroxide, things that were used on or around Caylee.
Anthony also said that she did searches on her home computer because she didn't have access to regular Internet at work.
....................................................................Cindy Anthony's Chloroform Testimony Prompts Experts to Ask: Did She Commit Perjury?

The surprise testimony by

Casey Anthony's

mother that she was the one who repeatedly

looked up "chloroform"

on the Internet has raised questions by experts about whether she could now be vulnerable to charges of perjury.

Cindy Anthony's claims under oath Thursday clearly blindsided prosecutors who had claimed in their opening statement that Casey Anthony had looked up "chloroform" and "how to make chloroform" 84 times as well as other incriminating Internet searches such as "neck breaking."

It is a key piece of prosecutors'

circumstantial case

because they say that Casey Anthony used chloroform to subdue her 2-year-old daughter, Caylee, and then suffocated her with duct tape over her nose and mouth.

Cindy Anthony's testimony, which drew gasps from the court observers Thursday, came a day after her lawyer retracted comments suggesting that Casey Anthony's parents thought she was guilty of killing Caylee. If convicted, Casey Anthony could face the death penalty.

Cindy Anthony's claim that she carried out the many chloroform searches occurred at a time when her time card as a nurse showed that she was working. Cindy Anthony claims she left work early on those days.

"We already know that on the state's witness list they've got the record keeper for Cindy's work. ... If they have her computer records, they're going to be able to show she was absolutely at work and if the defense set her up for a perjury charge, it's on them," former prosecutor Nancy Grace said today on "Good Morning America."

Cindy Anthony's Testimony on Chloroform Angered Prosecutors

Dan Abrams, also appearing on "Good Morning America," said he wasn't certain that Cindy Anthony would be charged with perjury. He pointed out, however, unusual aspects, "when your memory gets better over time, when you're able to offer this many more details over time as to exactly how she was doing the searches when she was doing the searches, why she was doing the searches."

Grace agreed that some of the details of Cindy Anthony's recall of what happened three years ago were remarkable. "When it came to 'neck breaking,' the way she explained that was three years later she remembers a pop up came up. ... I don't remember a pop up from yesterday. How does she remember a pop up three years later?"

Abrams thought, however, that the prosecutors were too rough on Cindy Anthony when it was their turn to ask about her surprise testimony.

"The prosecution was so aggressive with Cindy Anthony that I think there's a real risk of engendering sympathy for her even if the jurors don't necessarily believe everything she's saying," he said.

Grace disagreed. "When you are prosecuting a 'murder-one' case and you have a witness take the stand who you believe is lying, you've got to do what you've got to do," she said.

Abrams speculated that Cindy Anthony might have reduced the danger of her daughter's being convicted of the top count and easing the threat of capital punishment.

................................................................................................................


Cindy Anthony Testimony Stunner: I Ran Chloroform Search...
Cindy Anthony shocked courtroom observers today when she testified in the trial of her daughter, Casey, and proclaimed:
"I searched for chloroform."
Mrs. Anthony was referring to the revelation that searches for disturbing terms - such as "chloroform" and "neck breaking" - were found in deleted space on the hard drive of the family's laptop.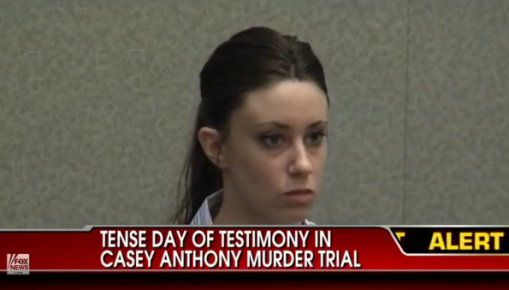 But Cindy tried to convince jurors today that there was an innocent explanation for it all:
"I was searching for 'chlorophyll' because I was worried that it might affect my dogs. I was worried about them eating bamboo," she said, adding about the term chest injuries: "A friend of mine was in a car accident, and I looked up certain injuries...
"I did not search for neck breaking, but there was a pop up for a YouTube video of a skateboarder doing a 'neck breaking' stunt."

Read more celebrity gossip at: http://www.thehollywoodgossip.com/2011/06/cindy-anthony-testimony-stunner-i-ran-chloroform-search/#ixzz1QDPbV3Vl
..........................................................................................
Florida death penalty deemed unconstitutional, may affect Casey Anthony case

Continue reading on Examiner.com Florida death penalty deemed unconstitutional, may affect Casey Anthony case - National US Headlines | Examiner.com http://www.examiner.com/us-headlines-in-national/florida-death-penalty-deemed-unconstitutional-may-affect-casey-anthony-case#ixzz1QDOyisCY
..........................................................................................................................
Lee Anthony, Casey's Brother, Breaks Down on the Stand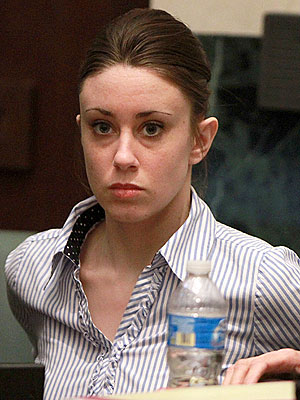 Immediately after Cindy Anthony testifiedon her daughter Casey Anthony's behalf, Casey's brother, Lee Anthony, took the stand with emotional testimony of Caylee's birth – and the dysfunctional, secret-keeping dynamic within the Anthony family.
Lee Anthony testified that he didn't know that Casey was pregnant until he happened to see her late one night as she emerged from their shared bathroom.
"I could see her midsection and it was showing," he testified. "I didn't expect it. I was like, 'What the hell is that?' and she waved me off."
At the memory, Casey Anthony, who is charged with murder, smiled.
Lee Anthony says he confronted Casey once more when the pregnancy was "brutally" obvious. The family didn't talk about it again until Caylee was born. Lee was not present at the birth.
"I was angry," he testified, his voice breaking. "I didn't want to be there."
"Why were you angry?" asked defense attorney Jose Baez.
"I was angry at my mom and at Casey," said Lee as he broke down in tears. "They didn't want to include me."
Lee also testified that he had previously owned the white Pontiac Sunfire that Casey was driving at the time that Caylee died – and his testimony cast doubt on the idea that the stains in the trunk were from a body decomposing.
"When you owned this car, was there a stain in the trunk?" asked Baez.
"There were a few, yes," answered Lee.
"And were they there when you purchased the car?"
"Yes," replied Lee. "They were."
The testimony was difficult for Lee Anthony, who sniffled as he rode the elevator during his lunch break. Cindy Anthony comforted him by putting her arm around him.
..........................................................................................................
Casey Anthony: How weird is this family?
Cindy, Lee and Casey Anthony were all crying in the courtroom this morning.
"Seems like Jose Baez is trying to paint a picture about the odd interactions this family had together," WKMG-Channel 6 anchor Matt Austin said. "You just heard Lee Anthony say he didn't even really know his sister was pregnant until just a few days before little Caylee was born."
Casey Anthony is charged with first-degree murder in Caylee's death.
WKMG's Mike DeForest agreed with Austin's take that Baez was trying to show "how weird this family is" and deliver on the defense's opening statement. The split screen showed Lee and Casey wiping away tears.
"What a day in court," said WFTV-Channel 9 anchor Greg Warmoth.
WFTV's Steve Barrett kept track of the tears. "Emotional on all sides in the Anthony family," he said. "You just saw Lee Anthony come to tears, but he's not the only one crying this morning. Casey was brought to tears at one point. And Cindy Anthony brought to tears on the stand as she looked at pictures and video of the last days of little Caylee's life."
WESH-Channel 2's Amana Ober talked about Lee's pain at being left out of Casey's pregnancy. "It hurt him so much that he chose not to go to the hospital to visit Casey when Caylee was born," Ober said.
Ober's take: "It does look like the defense is trying to get in front of the jury this morning some testimony about dysfunction going on in the Anthony family home."
WOFL-Channel 35 legal analyst Diana Tennis said Lee's emotion seemed related "to the sorrow and dysfunction" of a family that couldn't "own up to little sis is pregnant." Tennis was struck by Casey's becoming emotional at Lee's testimony, which suggested a strong sibling connection.
"Will Lee give them something, a nugget on the incestuous family dynamic? I don't know," Tennis said.
But Mark Lippman, attorney for George and Cindy Anthony, answered questions about the family dysfunction. Lippman told NBC's "Today" that the couple don't "condone or support the theory that they [the defense team] have levied against George Anthony and the allegations of molestation or him helping move the body or cover up anything that Casey may have done."
WFTV legal analyst Bill Sheaffer saw problems with Baez's leading questions, which suggest what the lawyer wants to hear. "I am now led to believe that Mr. Baez does know how to ask a question on direct that's not leading, but he's deliberately doing this in order to tell the witness what answer he wants," Sheaffer said. "The witness just reads back … what Mr. Baez wanted."
In federal court, Baez would have been told to sit down for all the leading questions, Sheaffer said. "This judge is letting him have his lead on this case," Sheaffer said. "The judge doesn't want this to come back on the grounds that he didn't let the defense have their day in court, even though these questions are improper in the manner they are asked."
What do you think?
...................................................................................................
Cindy Anthony: Caylee Could Climb into Pool By Herself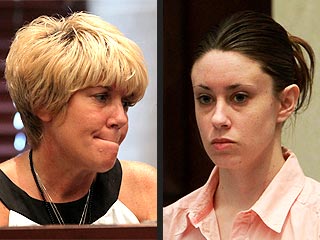 Red Huber/Orlando Sentinel/Landov; Joe Burbank/Landov
A day after Cindy Anthony took the stand to claim that she was the one who performedincriminating searches on the family computer, she was back testifying on behalf of her daughter, Casey Anthony, who is charged with murder.
In a hushed courtroom, Cindy Anthony told jurors that she returned home from work on June 16, 2008, to find the pool ladder had been left standing against the pool, ready for use.
"I thought it was strange," she testified. "I told my co-workers about it."
Defense attorney Jose Baez showed Cindy several pictures of 2-year-old Caylee and the Anthony's above-ground pool. One of the pictures showed Caylee climbing the three-rung ladder into the pool with the help of Cindy.
The pictures caused Cindy Anthony to weep, while Casey wiped her eyes with a tissue.
"She could climb into the pool by herself," Anthony testified, explaining that they swam together daily. "She was anxious to get in."
"We took extra precaution every day to keep the ladder off the pool," Cindy continued. "We taught Caylee she had to be with us to swim."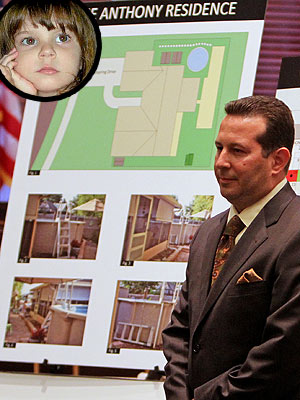 Red Huber / Orlando Sentinel / MCT / Getty; Inset: AP
The defense then showed a picture of Caylee opening the sliding glass door that led to the pool. "Could Caylee open the door?"
"Yes, she could do it herself," Anthony answered.
The defense team says that Caylee accidentally drownedon June 16, 2008. The prosecution maintains that Casey Anthonykilled her daughterand dumped her body in the woods.
The trial is ongoing. If convicted, Casey Anthony could get the death penalty.
..................................................................................................


Casey Anthony's brother testifies on stains in car
ORLANDO, Fla. — Casey Anthony's brother is testifying about stains found in the trunk of the woman's car.
Prosecutors claim the body of Casey Anthony's 2-year-old daughter, Caylee, was in the car trunk and then dumped near her Orlando home. They have argued that Casey Anthony suffocated the girl.
Earlier Friday, attorneys for Casey Anthony showed the jury photos of Caylee climbing into the family's swimming pool.
The attorneys had hoped to boost their argument that the toddler accidentally drowned in the pool and wasn't murdered. The photos showed the toddler's grandmother, Cindy Anthony, supporting her from behind.
Cindy Anthony also testified that Caylee could open a sliding glass door that led to the pool in the family's backyard.
.......................................................................................
Casey Anthony ratings: WFTV was tops Thursday
.................................................................................................................