Today, February 24, 2011...
Solar Activity:
EASTERN BLAST:
The quiet didn't last long. Earth-orbiting satellites detected an M3-class solar flare at 0735 UT on Feb. 24th. The source was an active region located just behind the sun's eastern limb. The eruption also produced strong radio emissions, a coronal mass ejection...
http://www.spaceweather.com/
Weather:
NOAA wants your opinion regarding the possible map change. What do you think?
Current Map: http://www.weather.gov/
New Proposed Map: http://www.srh.noaa.gov/ridge2/newmap/
You'll have to go to the link to view...
Earthquakes:
Ark. cities feel unexplained surge in earthquakes
"
LITTLE ROCK, Ark. – Jim Sutterfield was briefly puzzled by a thumping sound that seemed to slam the back of his office chair. But when the small-town Arkansas fire chief turned and saw no one was around, he quickly realized it was just an earthquake — again.
"That was only my second time to feel one, but others here have felt them for three or four months now," Greenbrier chief Jim Sutterfield said after feeling the latest tremor on Wednesday. "Now when it happens, people say, 'Well, there's another one.'"
Several small earthquakes ranging in magnitude from 1.8 to 3.8 have rattled the north-central Arkansas cities of Greenbrier and Guy this week, and the cause is unknown."
http://news.yahoo.com/s/ap/20110217/ap_on_re_us/us_arkansas_earthquakes
Check out the swarm of earthquakes located in Arkansas. This is not normally a hot spot location for quaking...
http://earthquake.usgs.gov/earthquakes/recenteqsus/Maps/US2/34.36.-93.-91.php
Hopes fade for NZ quake missing
Hopes are fading of finding survivors beneath collapsed buildings in the aftermath of Tuesday's earthquake in the New Zealand city of Christchurch.
Ninety-eight bodies have now been recovered and taken to a temporary mortuary. Prime Minister John Key said that number could rise substantially.
Police have said 226 people are missing - up to 120 of them at one site alone.
But they have also insisted it remains a rescue operation and that specialists are still hunting for signs of life.
Darpa:
Darpa's New Recruits: You, Your Grandpa and Your Dog
"
Perhaps you think you're too fat, too old or too busy to help fight America's wars. Perhaps you're not even a human being. The Pentagon's way-out research arm begs to differ. The military can use your talents — whether you stand or four legs or on two.
Right now, only 1 percent or so of America's population contributes to the country's defense (and offense). In its
new budget
, Darpa announces a $25 million effort to build tools that'll rope in the other 99 percent. (Doesn't exactly explain how. But think crowd-sourcing, plus a touch of machine learning to pair peeps up.) The program is called "Unconventional Warfighters," and the idea is to tap three pools of potential contributors." ...
http://www.wired.com/dangerroom/2011/02/darpas-new-recruits-you-your-grandpa-and-your-dog/
Middle East Unrest:
Gadhafi: Bin Laden behind Libya uprising
"BENGHAZI, Libya
(AP) — Leader Moammar Gadhafi says al-Qaida chief Osama bin Laden is behind the uprising in Libya and al-Qaida followers give young Libyans hallucinogenic pills in their coffee to get them to revolt."
Broken Promises: How We Failed Afghanistan's Girls
Imagine that nine years ago, a rich philanthropist decided that your community needed an elementary school. He constructed a nice building, furnished it with desks and blackboards, and maybe even gave you a playground. Now imagine that the school was right in the middle of a vicious turf war between two rival gangs. The teachers at the school have a 10th grade education – and that's in the classes that have teachers. Most don't, because a teacher salary wouldn't cover rent in the neighborhood, and few are willing to brave gunfire to get to work. Now, eight years on, the philanthropist is wondering why literacy rates haven't improved in your community. Do you want to smack him yet?

Read more: http://globalspin.blogs.time.com/#ixzz1EtPuFNIY
Iraq suicide bomber strikes Ramadi
A suicide bomber in the Iraqi city of Ramadi has killed at least eight people, officials say.
The attack wounded the deputy governor of Anbar province, Hikmet Khalaf, and killed a number of policemen.
The bombing came hours after Prime Minister Nouri Maliki warned Iraqis not to participate in planned "day of rage" protests on Friday.
Oil prices hit fresh highs on Libya unrest fears
Oil prices have hit their highest levels in two-and-a-half years after violence in Libya disrupted output and markets feared that the unrest could spread to larger oil producing nations.
Brent crude hit $119.79 a barrel in early Thursday trade, before falling back to $115.04.
US light crude earlier reached $103.41 a barrel before slipping to $100.95.
This has lead to concerns about the impact sustained high prices could have on the world economy.
Russian Prime Minister Vladimir Putin, whose country is the world's biggest oil producer, has said they could be "a serious threat" to global growth.
http://www.bbc.co.uk/news/business-12563063
Libya: Tripoli residents 'quiet but confused'
As anti-government protests in Libya continue, an eyewitness in the capital Tripoli gave this account to BBC News.
Tripoli is still quiet for the most part. Everything is still shut down and people don't really know what is happening. They are very confused.
Many are hoping that other people - anti-government protesters and troops who have defected - will come in from the towns or cities around Tripoli, to try to help residents here achieve something.
Let me tell you about some specific incidents that have happened here over the last two days.
Could the Arab Spring Have Removed Saddam?
I've watched two Arab regimes toppled and half-a-dozen others wobbled by nonviolent people power. If Saddam had been in power now, would he too be brought down?
The more I've thought of it, the more convinced I've become that Na'il was right. The Tunisian and Egyptian uprisings succeeded because the military forces of those countries refused to protect the regimes by cracking down on their own countrymen. The Egyptian military's self-image is that of a force that protects the nation and the people, not Hosni Mubarak.
Read more: http://globalspin.blogs.time.com/2011/02/23/could-the-arab-revolution-have-removed-saddam/#ixzz1EtTVZpEr
From Revolution to Revolution: How Egyptians View Libya
Egyptian medics have been at the forefront of coming to the aid of their neighbors. One of the organizing groups is the

Egyptian Doctors' Syndicate is one of several running convoys into Libya

. One 13-person group about to head in was made up mostly Egyptian paramedics and doctors, accompanied by a volunteer entourage of armed Libyans for protection.



Read more: http://www.time.com/time/world/article/0,8599,2053207,00.html#ixzz1EtYQDJ5l
Although initially wrong-footed by the uprisings across the Arab world, European nations eventually collected themselves, welcomed the new eras in Tunisia and Egypt, and blessed the yearning for democracy that is spreading across the region. But the European Union's delicate diplomatic dance has been tainted by a conflicting message of hostility: while throwing their support behind the Arab protests, officials are simultaneously shrieking at the prospect of Arab migrants seeking refuge in Europe.
Read more: http://www.time.com/time/world/article/0,8599,2053365,00.html#ixzz1EtTtmjLm
Africa:
Ivory Coast: army and ex-rebels 'breach ceasefire'
Fighting has erupted in western Ivory Coast, breaching the six-year ceasefire between ex-rebels and government troops, the United Nations says.
A UN spokesman told the BBC there were clashes in the village of Teapleu in the early hours of Thursday morning.
He said given the political stalemate, the reports were very "worrying".
Tensions have been rising since President Laurent Gbagbo's refusal to hand over to Alassane Ouattara, widely seen as the winner of November's poll.
An armed rebellion in 2002 split the world's largest cocoa producer between the north, held by New Forces rebels, and the government-controlled south.
November's presidential vote was supposed to reunify the West African nation.
Hundreds fleeing
http://www.bbc.co.uk/news/world-africa-12569372?utm_source=twitterfeed&utm_medium=twitter
Yemen: Somali refugees drown after boat capsizes
Fifty-seven Somali refugees have drowned off the coast of Yemen after a boat capsized earlier this week.
The UN Refugee Agency says it ran into bad weather.
The sole survivor, who lost his wife and three children on the vessel, swam for a whole day before reaching the Yemeni coast, the UNCHR said.
Yemen is a popular destination for Somalis fleeing fighting at home, but the trip can be risky as smugglers use boats that are not seaworthy.
The UNCHR says this is the largest loss of life between the waters of Somalia and Yemen since 2008, when 114 people drowned after smugglers forced them into the water.
The 42-year-old man who survived grabbed a plastic container from the wreckage to help keep him afloat.
The BBC's East Africa correspondent Will Ross says every day at least one boat is reaching Yemen - packed full of Somalis fleeing the conflict back home.
http://www.bbc.co.uk/news/world-africa-12567825
United States:
Another Runaway General: Army Deploys Psy-Ops on U.S. Senators
The U.S. Army illegally ordered a team of soldiers specializing in "psychological operations" to manipulate visiting American senators into providing more troops and funding for the war, Rolling Stone has learned – and when an officer tried to stop the operation, he was railroaded by military investigators.
http://www.rollingstone.com/politics/news/another-runaway-general-army-deploys-psy-ops-on-u-s-senators-20110223
Dead Animals:
Dead Baby Dolphins In Gulf Of Mexico: 5 More Found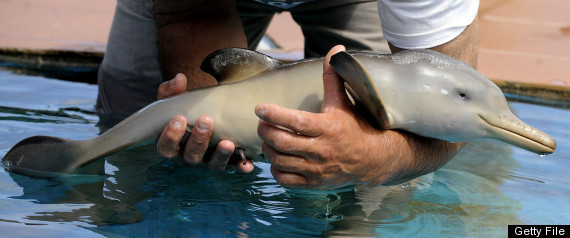 GULFPORT, Miss. — Scientists say five dead baby dolphins have been found on two islands in the northern Gulf of Mexico, adding to what they say is an unusually high tally of dead dolphins in recent months off Mississippi and Alabama.
Researchers say they're seeking clues as to what caused the deaths. They report that 28 dolphins of all ages have been found dead in waters off the two states since the start of 2011, compared with 89 dead dolphins in all of 2010.
http://www.huffingtonpost.com/2011/02/24/dead-baby-dolphins-in-gul_n_827590.html
William Manning / Corbis
What is killing the octopus of Vila Nova de Gaia? That question has obsessed the Portuguese city — located just across the Douro River from Porto — since Jan. 2, when 1,100 lb. (500 kg) of dead octopus were found on a 1.8-mile (3 km) stretch of local beach. The following day, another 110 lb. (50 kg) appeared; later there was just one expired creature. "It's very strange that so many should be killed, and in such a confined area," says Nuno Oliveira, director of the Gaia Biological Park, a nature refuge on the outskirts of Vila Nova de Gaia. "There's nothing in the scientific literature for this kind of mass mortality among octopus."


Read more: http://www.time.com/time/world/article/0,8599,1951644,00.html#ixzz1EtbUckim
100 dead Eiders in Andenes
Enlisted to help with deadly haul
DELWYN DICKEY
About 10 tonnes of mostly dead fish were found in part of a commercial fishing net drifting 2.5 nautical miles south of Kawau Island on December 13.
A trail of dead fish about three kilometres long was seen, the Fisheries Ministry says.
A ministry patrol boat went to investigate, while the HMNZS Hawea also searched for the net, along with an air force Seasprite helicopter. Both defence units were on exercise in the area. An air force Orion also became involved in the search with crew members taking photographs of the floating fish after it was spotted by the Hawea, the fisheries patrol vessel directed to it. The net was too heavy for the Hawea to lift, so HMNZS Manawanui arrived to take the net and its contents aboard.
Some live fish recovered were returned to the sea, along with most of the dead ones.
http://www.stuff.co.nz/auckland/local-news/rodney-times/4477740/Enlisted-to-help-with-deadly-haul
Died about 4 000 birds in lakes of Guanajuato: MP
rate:

| There

0

Feedback

La Jornada
06-Jan-2011
Water pollution, cold or botulism, probable causes, said Carlos Chacón. PVEM lawmaker says perish also fish in reservoirs of the entity

The death of thousands of birds in various regions of the world, like USA, Sweden and Mexico, remains an enigma. Photo: AP

León, Gto. At least 4 000 birds have died in several dams and lakes in Guanajuato during the past three months, as a result of pollution in these water bodies, botulism and even the cold of the season, said Carlos Chacon, deputy Party local Green Ecology of Mexico (PVEM).

Have indicated that ducks and other birds found dead in dams Silva, in the municipality of San Francisco del Rincón, El Tigre, Manuel Folding; of Palote, Leon, and the Laguna de Yuriria. Although figures are not alarming, they are considering, I reckon this season and we go counting as 4 000 dead birds in all the reservoirs in the state, said the legislator.
http://www.vanguardia.com.mx/hanmuertounas4milavesenlagosdeguanajuatodiputado-625630.html
Fishy deaths near Tambun cemetery
IPOH: Hundreds of fish believed to be poisoned were found dead in a pond near a cemetery in Tambun here.
Graveyard worker Bala Sudunapala, 42, said he arrived at the cemetery and was hit with a stench.
"Then I saw the fish floating in the pond," he said, adding that he recalled seeing two men emptying a bottle of liquid into the pond on Saturday afternoon.
Mystery over mass antelope deaths in Kazakhstan
Royal Ontario Museum investigates sudden bee death
A Toronto museum is investigating the sudden death of thousands of bees in a glass-enclosed beehive exhibit.
Officials at the Royal Ontario Museum said 20,000 bees in a biodiversity exhibit had died within two days last week, though they had appeared healthy.
Scientists have ruled out staff error and starvation, but said poor ventilation, disease or a lack of worker bees could be to blame.
The museum plans to replace the colony in the spring.
"The queen stops laying eggs in early- to mid-October and starts laying again in late February," University of Guelph researcher Janine McGowan told the Toronto Star newspaper.
"If she didn't lay enough winter worker bee eggs to make sure the hive and honey is kept warm during the winter, that could have contributed to the die-off."
http://www.bbc.co.uk/news/world-us-canada-12437121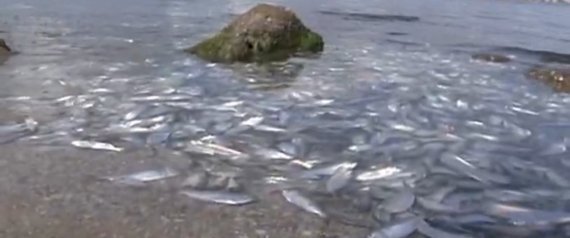 Read More:
Animals
,
Dead Fish
,
Dead Fish FL
,
Dead Fish Florida
,
Dead Fish Sebastian Inlet
,
Dead Fish Thousands
,
Dead Fish Wash Ashore
,
Dead Fish Wash Up
,
Dead Menhaden
,
Florida Dead Fish
,
Mass Animal Deaths
,
Thousands Of Dead Fish
,
Video
,
Green News
Thousands of dead fish
washed ashore a Florida state park beach on Friday, WPBF 25 News reports. Florida Fish and Wildlife Conservation Commission biologists believe a lack of oxygen resulted in the
deaths of thousands of menhaden fish
at Sebastian Inlet State Park. The officials say this type of fish is especially prone to dying from a lack of oxygen when they swim closer to shore in such large numbers.
WATCH:



Get HuffPost Green On Twitter and Facebook
http://www.huffingtonpost.com/2011/02/07/thousands-of-dead-fish-wa_n_819725.html

Briefs | Fish likely died from no oxygen

FORT COLLINS — Hundreds of fish found dead in an irrigation ditch likely died from lack of oxygen.
A resident spotted the dead fish in an irrigation ditch north of Willox Street, on the north end of Fort Collins, and called the Colorado Division of Wildlife.
An area wildlife manager responded and determined it was likely the fish became trapped in an area with low oxygen levels.
When water levels go down, so do oxygen levels, which can be deadly for fish, officials said.
"It's a winter kill," said Jennifer Churchill, spokeswoman for the Division of Wildlife. "We have one or two of these around the state each year."
In 2008, about 200 fish died from oxygen deprivation in a pond near the Loveland Recycling Center, 300 N. Wilson Ave.
This occurred in the summer, but wildlife experts determined oxygen levels in the water decreased because of a severe temperature drop with rain and runoff that carried organic matter into the pond.
http://www.timescall.com/news_story.asp?ID=25147
Cold weather kills 10,000 heads of cattle
The Veterinary Department of the Ministry of Agriculture and Rural Development (MARD) announced about huge losses in cattle caused by the long cold spell in recent days.
The department stated the costly deaths occurred despite the best efforts of local authorities and people to save their livestock.
Following statistics at 4pm on January 16, total of 9,248 heads of cattle died in provinces including Lang Son, Yen Bai, Cao Bang, Bac Can, Ha Giang, Tuyen Quang, Son La, Quang Ninh, Hoa Binh, Lao Cai, Bac Giang, Lai Chau, Ha Tinh and Quang Binh.
Cao Bang province suffered the greatest losses, with 1,996 heads of cattle dead, followed by Lang Son (1,380 heads of cattle) and Son La (1,300 heads of cattle).
The Veterinary Department appointed delegations to cities and provinces to coordinate with local animal health departments to fight against hunger and chill for cattle.
Prime Minister requested the chairmen of provincial people's committees in cities and provinces nationwide send task forces to closely control and actively use the local budget to support materials and expenditure for poor households and farmers.
The Ministry of Finance, in coordination with the MARD and the Ministry of Natural Resources and Environment, was requested to carry out measures to guide, check and assist localities in fighting against cold weather and restoring production of cattle.
http://english.vovnews.vn/Home/Cold-weather-kills-10000-heads-of-cattle/20111/123200.vov
Odds and Ends:
Nine strange giant rings appeared over Australia in January and February 2010. Could HAARP have been involved? That would explain the massive floods which occurred 1 year after the rings appeared, in 2011.
A year ago, Colin Andrews received an email from someone in Australia claiming that he has discovered a bizarre ring over Australia's South East region.
The South West weather ring was definitely very strange and totally looks artificial. Similar rings later appeared in two more places. The large clearly defined ring had slowly dissipated but still was just visible on a time loop which was spiraling counter clockwise (Low Pressure system).
http://www.eutimes.net/2011/01/huge-rings-appear-over-australia-is-haarp-involved/
People are always blaming their circumstances for what they are. I don't believe in circumstances. The people who get on in this world are the people who get up and look for the circumstances they want, and, if they can't find them, make them. ~G.B. Shaw, Mrs. Warren's Profession, 1893